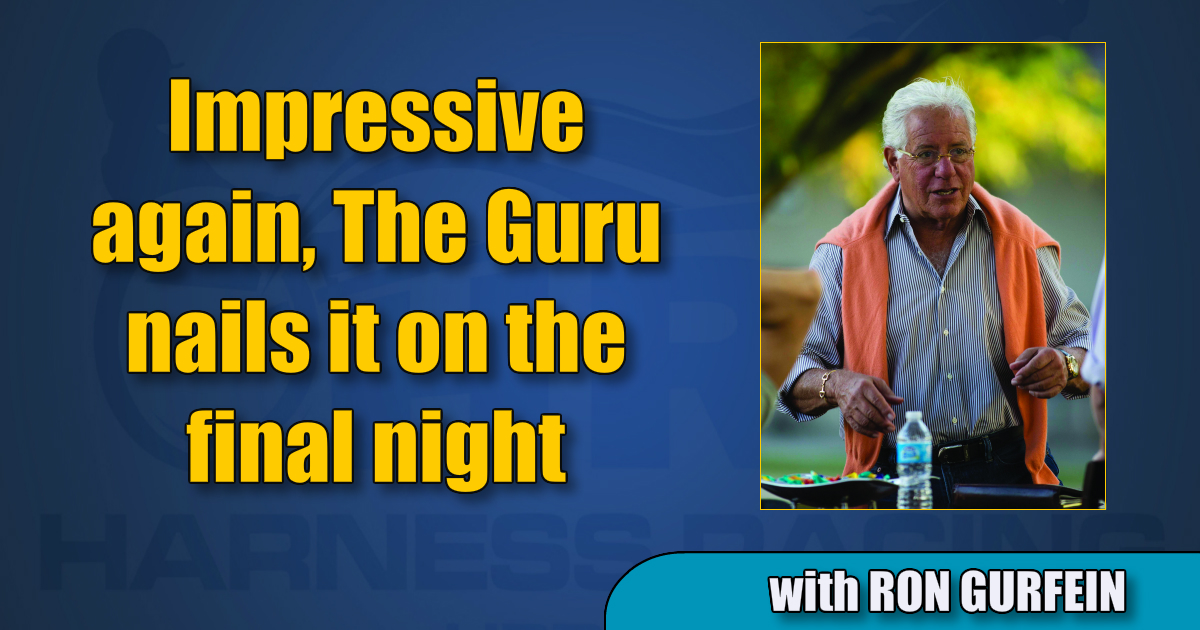 Impressive again, The Guru nails it on the final night
You have to hand it to him, The Guru knows his yearlings. Consider that on the final night of the Lexington sale four of his Top 5 picks actually landed in the Top 10 and the fifth ended up at #11. That the other five finished up the track doesn't matter. This was a tough assignment and The Guru nailed it.
When he filed his final picks, The Guru's only comment was, "This idea was very challenging to say the least. Although some of my selections were way off the money mark I am reassured in my findings due to the fact that the best trainers took them home. So let's let time and performance be the final judge and we will return to the list this time next year to see how I truly did."
Reminder, we received The Guru's predictions for the Top 10 horses to be sold, by price, during the second session BEFORE they actually went into the ring — and kept the emails to prove it in case anyone asks.
Here's how he did the first four nights:
Night 1 | Night 2 | Night 3 | Night 4
Here is his Top 10 for Friday's final session, compared with the actual Top 10:
The Guru's Top 10
1. Hip #785 CROWN N HALO — Fabulous filly Ontario eligible with a true Grand Circuit pedigree. From the immediate family of Muscle Hill and Mets Hall. She can trot fast and has an exceptional hind end.
Actual Rank: 6th at $100,000
2. Hip #731 CLARIDGE HALL — Out of a sister to the phenomenal CR Kay Susie this great looking Cash Hall colt is quick on his feet and is dual Eligibility in Kentucky and Ohio which makes him a fine prospect.
Actual Rank: 11th at $75,000
3. Hip #728 PORT PENELOPE — This is a very big, very fast great looking Swan For All filly. From a good filly Grand Circuit family that includes major stakes winners NY Starlet, and My Starlet.
Actual Rank: 7th at $87,000
4. Hip #858 SWANNA BEE — Only the second foal of the dam this lass comes from another of my favorite filly families. She has the looks and talent to be a good one. Her immediate family includes Breeders Crown winner Musical Victory and American National winner Musical Mystery.
Actual Rank: 8th at $87,000
5. Hip #710 PEBBLE BEACH — The first foal of a sister to the great Vintage Master winner of $2,100,000. I rarely watch pacing videos but the pedigree caught my eye and he can fly in the paddock, and gets high marks on the floor as well.
Actual Rank: 9th at $85,000
6. Hip #820 APRIL VALLEY — From the family of a horse that's near and dear to me the Hambletonian winner Victory Dream, this filly has it all. She is beautiful to look at and quick in the field She is also eligible in Ohio and Kentucky.
Actual Rank: 100th at $17,000
7. Hip #685 KING KACTUS — This colt is a brother to the late year sensation Beads winner of $250,000 in just a few starts this year and recording a 1:51.2 mile in the process. He is from the immediate family of Almost an Angel a nearly $1,000,000 winner.
Actual Rank: 38th at $40,000
8. Hip #718 ANGIE'S VALENTINE — This filly does not fit the category of perfect conformation. There are some minor issues. However, she can trot like hell in the paddock and she is a sister to Hayek, an almost $200,000 winner that has Ontario Gold in his resume.
Actual Rank: 64th at $25,000
9. Hip #750 WYATT BLU — Another talented Ohio and Kentucky eligible colt and the first foal of a Cantab Hall daughter of Ma Chere Hall $689,000 winner of the Kindergarten Series Final. From the family of the marvelous Hannelore Hanover.
Actual Rank: 53rd at $30,000
10. Hip #705 SEASIDE BEAUTY — Another filly I can find minor faults with, but had to include as she is eligible to Kentucky and Ohio and has speed galore in her immediate pedigree. Her dam has four winners from five foals and three have very fast 2-year-old records. Her second dam is Mattaroni 1998 2-year-old pacing filly Champion.
Actual Rank: 26th at $50,000
The Actual Top 10 sold
836 — Sea Lionness — $200,000
794 — Bythemissal — $135,000
730 — Coastal Front — $115,000
721 — Noa Blu — $100,000
737 — Gulf Shores — $100,000
785 — Crown N Halo — $100,000
728 — Port Penelope — $87,000
858 — Swanna Be — $87,000
710 — Pebble Beach — $85,000
860 — Desperado Hall — $82,000
In summary, how about a standing ovation for The Guru? Overall, he was great on nights #1 and 4 and 5, was decent on night #3 and god-awful on night #2. One off night out of five? That's damn impressive, my friends.
Final Grade: A