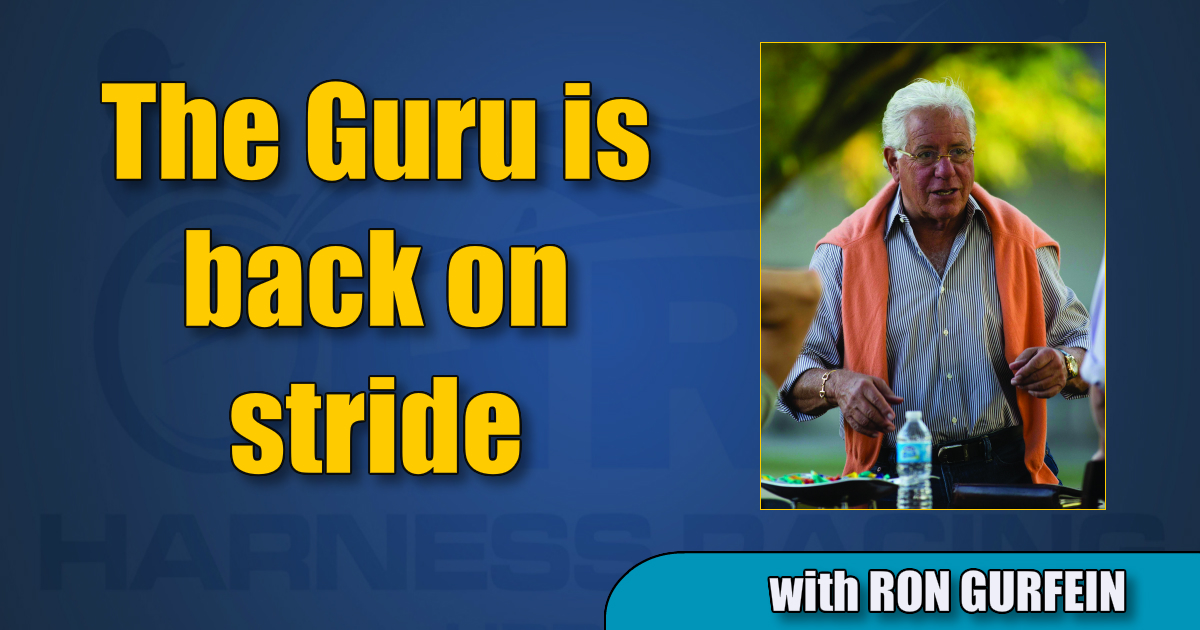 The Guru is back on stride after the third session
The Guru was on the mark with his yearling handicapping for Monday's opening session of the Lexington Selected Yearling Sale (session one story), but much less so with his picks for Tuesday's second session (session two story).
How did he do in Wednesday's third session? Take a look (below).
Reminder, we received The Guru's predictions for the Top 10 horses to be sold, by price, during the second session BEFORE they actually went into the ring — and kept the emails to prove it in case anyone asks.
Here is his Top 10, compared with the actual Top 10:
The Guru's Top 10
1. Hip #392 PLAY FIERCELY — Second foal of Woman's Will a winner of $600,000 at two and three. From the breeder of Greenshoe, this Walner colt can trot a hole in the wind. From the family of European World Champion Viking Kronos. I like the change in Sires.
Actual Rank: 2nd at $160,000
2. Hip #468 I OWN THE ROAD — By the very successful European sir Love You, already the sire of the great International Moni and winner of the first Mohawk Million, Venerate. From a daughter of the speedy Vernon Blue Chip dam of at least nine stakes winners. Colt is great in the field.
Actual Rank: 45th at $50,000
3. Hip #446 FIRE FLOWER — Very talented Chapter Seven filly. Bred a lot like the ill-fated Woodside Charm. She may be small but looked real big flying across the paddock.
From the family of Hambletonian winner Victory Dream she has wonderful residual value.
Actual Rank: 100th at $26,000
4. Hip #422 BUR BON — First foal of a daughter of Elusive Desire, winner of $1,275,000 and O'Brien Award winner at 2 and 3. This colt is by the hottest European Sire on the planet Googoo Gaagaa. Not only is he a good looking individual few horses this year have shown me the talent he displays in the paddock.
Actual Rank: 6th at $105,000
5. Hip #417 CALIFORNIA GOLD — First foal of a daughter of $975,000 winner To Dream On. He is not perfect, but any colt from this family certainly has major upside. What he lacks in beauty he makes up for in talent.
Actual Rank: 4th at $120,000
6. Hip #393 ALWAYS BE MIKE — Great looking ridgling from a daughter of the great Worldly Beauty. If he wasn't missing some equipment he would have been higher on the list. He is a brother to Odds On Lauderdale p.3, 149.1.
Actual Rank: 122nd at $20,000
7. Hip #401 TWINKLE IN HEREYE — I am over-looking some minor defects in this lovely Bettors Delight filly because on day three of a sale we find the offspring of a 100% producing mare. Her dam Ashlee's Star has had five previous foals and five winners.
Actual Rank: 82nd at $32,000
8. Hip #376 U BAKE THE CAKE — First foal of a daughter of the great producer Maple Frosting. She the dam of Chocolatier and Sugar Trader. Talented colt is by Cantab Hall who at nineteen is still producing top stakes winners.
Actual Rank: 67th at $40,000
9. Hip #368 TRUE BLUE LINDY — Another selection from a 100% producing mare this Always B Miki colt is a man amongst boys. Even though he is the giant economy size he still is quite a good athlete. From the family of Big Jim, he is dual eligible.
Actual Rank: 105th at $25,000
10. Hip #339 SOUTHWIND DUBAI — First foal of the nearly $800,000 winning multiple stakes winner UF Dragons Queen . By the hot sire Always B Miki, she looks outstanding in the field.
Actual Rank: 66th at $40,000
The Actual Top 10 sold
477 — Knockout Lindy — $172,000
392 — Play Fiercely — $160,000
391 — American Classic — $120,000
417 — California Gold — $120,000
470 — Bettor Dance — $120,000
422 — Bur Bun — $105,000
473 — Lilbitalexis —$105,000
364 — Totality — $100,000
397 — Theresa Blue Chip — $100,000
403 — Mother Nature — $100,000
In summary, yes, there were some predictions that were way off the mark, but nailing three in the Top 10, especially on the third night of the sale is pretty impressive. That The Guru's #1 choice was actually the second-highest yearling sold, is about as good as it gets. Overall, let's say his performance was in the middle between his gangbusters opening night predictions and not great ones in night #2. This one had some huge hits, but also some huge misses. Grade: B-
Be sure to check out The Guru's picks for the fourth night of the sale in Friday's HRU.