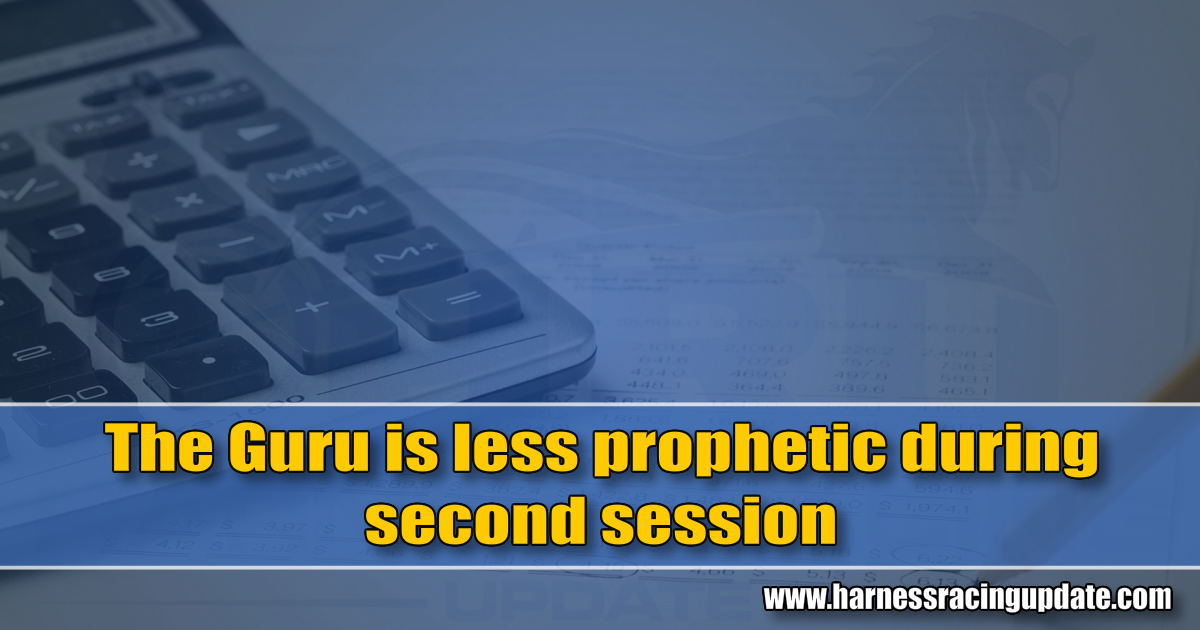 The Guru is less prophetic during second session
The Guru was on the mark with his yearling handicapping for Monday's opening session of the Lexington Selected Yearling Sale (full story here), but much less so with his picks for Tuesday's second session.
Reminder, we received The Guru's predictions for the Top 10 horses to be sold, by price, during the second session BEFORE they actually went into the ring — and kept the emails to prove it in case anyone asks.
Here is his Top 10, compared with the actual Top 10:
The Guru's Top 10
1. Hip #187 WALK THE MOON — Not easy to find a bad looking horse in this family. This lass has it all — pedigree, conformation, athletic ability and, of course, pedigree. She is the perfect example how deep this sale is simply because she sells on day two.
Actual Rank: 51st at $75,000
2. Hip #156 ROAD TEST MIKI — Third foal of Road Bet a Bettors Delight mare with almost $400,000 in earnings. This big filly has a few minor conformation issues but a major update. She is a sister to a new world champion Cattlewash winner last Sunday of the Bluegrass Stake in 1:46.4. Very little downside here.
Actual Rank: 9th at $155,000
3. Hip #183 EDEN ONTHEHILL — This top colt is the fifth foal of Taylor Jean. He is a full brother to the 2020 sensation Southwind Tyrion who was a $145,000 dollar prospect in his own right. At this writing he has won close to $250,000. He represents the highly popular Muscle Hill on Cantab Hall mares proven success.
Actual Rank: 18th at $115,000
4. Hip #153 SNORTING COPPER — This beautiful horse is the most perfect athlete in the sale on Tuesday night. He receives my highest marks for appearance and ability. It's the same cross as the above colt but in reverse. Cantab Hall on Muscle Hill mare. Another plus to me he is a February foal.
Actual Rank: 146th at $27,000
5. Hip #176 DUCASSE — Named for one of the greatest French chefs of our time, this colt is gorgeous. He is big strong and can fly in the paddock. Watching him turned out I remarked he can catch flies. Only once was the mare bred to a commercial stallion and she had a $500,000 winner, the Father Patrick will be amazing.
Actual Rank: 24th at $100,000
6. Hip #164 CLENCHED FIST — Third foal of $500,000 winner Smexi winner of the Goldsmith Maid at 2. The colt from the family of Hambletonian winner Marion Marauder gets high marks on appearance but higher on performance.
Actual Rank: 4th at $190,000
7. Hip #190 BOLD AND BEAUTIFUL — Aptly named filly is a beauty. Fourth foal of Too Dream On, winner of close to $1 million and 2-year-old trotting filly of her year, she is all trot. From the family of the fabulous Pampered Princess and O'Brien 2-year old colt winner Was It A Dream. Add to this she was raised at the farm where the great Greenshoe developed.
Actual Rank: 67th at $60,000
8. Hip #294 COLD TRUTH — First foal of a full sister to the 2020 sensation Cricket Fashion winner of a leg of the KYSS and over $120,000. Although a bit on the smaller side, he has a great hind end and is a horse possessed when he hits the paddock.
Actual Rank: 13th at $130,000
9. Hip #193 LOCK BRIDGE — Sister to the multi-stakes winner and $1 million earner Bedroomconfessions. She is a great big filly with a sensational hind end. She has a wonderful attitude and looks like a filly that could pace all day.
Actual Rank: 38th at $90,000
10. Hip #235 ANCIENT WALL —Great looking Walner colt, first foal of a Muscle Massive filly that won 11 races at 2 and 3 and over $330,000. He receives high marks on the floor and in the field and was raised on as good a piece of dirt that exists in our business.
Actual Rank: 42nd at $85,000
The Actual Top 10 sold
277 — Style For A Mile — $225,000
288 — Max Contract — $200,000
314 — Zappa — $200,000
164 — Clenched Fist — $190,000
225 — Muscle Mavarick — $190,000
141 — Sweet Omen — $185,000
175 — One Of The Guys — $170,000
179 — Southwind Oncore — $160,000
156 — Road Test Miki — $155,000
276 — Dracones — $145,000
In summary, to be fair, predicting session toppers will only get tougher as the sale progresses. While half of The Guru's picks did sell for $100,000 or more — and he did pick the fourth-highest yearling sold Tuesday in his Top 10 — the rest of his choices weren't sterling when judged by where they actually ranked.His top choice actually ranked 51st. One of his picks — Hip #153 Snorting Copper — completely failed to draw interest and sold for just $27,000 and three other Guru picks ranked 67th, 42ndand 38th. Not great, but as we know,the only true ranking that will matter will come after the horses hit the track.
Be sure to check out The Guru's picks for the third night of the sale in Thursday's HRU.