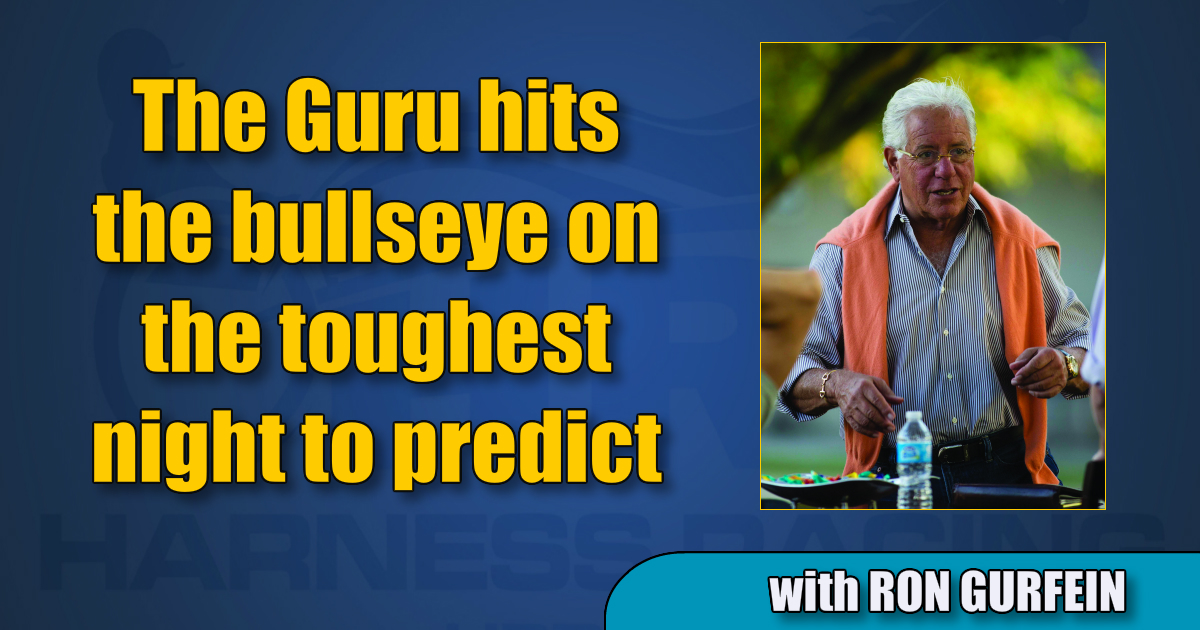 The Guru hits the bullseye on the toughest night to predict
When The Guru sent in his picks, his only comment was, "On this one I may as well have used a dart board. The price differential form best to worst will be significantly less Thursday night." Well, if he used a dart board, he hit a bullseye with his first pick and was damn impressive with three others.
Reminder, we received The Guru's predictions for the Top 10 horses to be sold, by price, during the second session BEFORE they actually went into the ring — and kept the emails to prove it in case anyone asks.
Here's how he did the first three nights:
Here is his Top 10 for Thursday's fourth session, compared with the actual Top 10:
The Guru's Top 10
1. Hip #623 ON CLOUD SEVEN — A very talented colt with two strikes against him, otherwise he could have sold Monday. Neither strike bothers me. One an Embryo Transplant and two he is small. But he has a great pedigree and is out of a Muscle Hill mare from the family of CR Kay Susie and a first foal.
Actual Rank: 1st at $75,000 RNA
2. Hip #531 GUINNESS — A Muscle Mass colt first foal from the family of Dr Ronerail. He can fly in the paddock and has dual eligibility in Ontario and New Jersey. Makes for interesting opportunities depending on scheduling.
Actual Rank: 60th at $22,000
3. Hip #532 SIAKAM — A brother to a 2020 stakes winner, this nice moving Father Patrick colt with his pedigree would most likely have sold at an earlier date but Kentuckiana had so many to sell some had to go on day four.
Actual Rank: 80th at $19,000
4. Hip #629 RED LIGHT LADY — Don't let Embryo Transfer bother you. This lady has looks talent and pedigree. From the family of Katie Almahurst that came to life again recently with this fillies sister world champion Cee Bee Yes a 1:50.2 performer and $534,000.
Actual Rank: Tied for 10th at $50,000
5. Hip #561 SUNDAE TRIXIE — This well named Trixton lass is the second foal of my friend Jim Bafias' ultra-talented Illinois mare Trot Fudge Sunday who was tough as nails. She not only ravaged her home state but won some Grand Circuit races to boot. At 2, she won both the American National and the Hanover filly. Also dual eligible NJ and Ky.
Actual Rank: 150th at $10,000
6. Hip #618 ARCH RULER — Second foal of Females Rule a sister to $1,295,000 winning Mets Hall second in both the Hambletonian and the Breeders Crown. From the immediate family of Muscle Hill this colt should have been a Monday offering.
Actual Rank: 13th at $42,000
7. Hip #559 LINDYS CHIQUITA — The final bid here will have an exceptional opportunity as this filly has a great talent and wonderful young deep pedigree. She Is Massachusetts eligible on top of that. Almost every one of the mares previous 6 foals have been stakes winners and one of her daughters has a top 2-year-old winner in 2020.
Actual Rank: 101st at $15,000
8. Hip #600 LUCKY LIMERICK — Bar Hopping sister to the $440,000 international winning Evaluate. This talented fillies dam is a sister to the fabulous Wesgate Crown a winner of $2,600,000. Plenty of residual value here.
Actual Rank: 43rd at $28,000
9. Hip #577 UNITY IN ONE — Talented Cantab colt is only the second foal of a Muscle Hill mare who's first foal is a stakes winner and has been stakes placed on numerous occasions. Also Pa and Ky eligible
Actual Rank: 4th at $65,000
10. Hip #581 JOEY GALLO DEO — Muscle Mass colt from one of the finest families in the game. Add to that I LOVE HIS NAME.
Actual Rank: 54th at $25,000
The Actual Top 10 sold
623 — On Cloud Seven — $75,000 RNA
637 — Fight Song — $72,000
556 — Bethereinaprosecco — $65,00
577 — Unity In One — $65,000
530 — Penthouse S — $60,000
630 — Third Pillar — $60,000
599 — Bettor Soul — $57,000
643 — GG And Ress —$55,000
525 — Profusion — $54,000
536 — Boom Sauce — $50,000*
576 — Fly Like An Angel — $50,000*
596 — S I P — $50,000*
629 — Red Light Lady — $50,000*
*tied for 10th
In summary, it's no easy task to pick the Top 10 on the fourth night of a sale, but The Guru did a fantastic job, all things considered. Not only did he nail the top horse "sold" — yes, it was an RNA, but it still went through the sale and fetched the highest bid of the night — he picked another one that landed fourth on the night, a third that tied for 10thmost expensive sold and a fourth that was knocking on the Top 10 at number 13. Yes, the misses were wild misses, but give the guy credit, he was pretty damn prophetic on the fourth night.
Grade: A-
Overall, he's been great on nights #1 and 4, decent on night #3 and god-awful on night #2.
Be sure to check out The Guru's picks for the final night of the sale in Saturday's HRU.