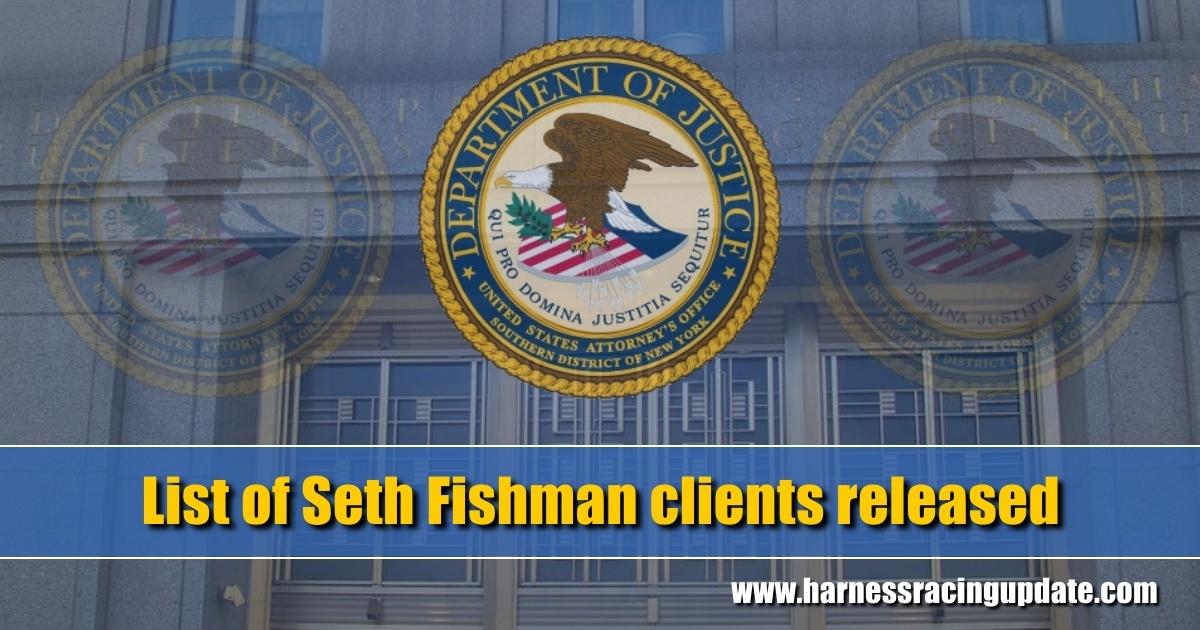 List of Seth Fishman clients released
Meadowlands owner Jeff Gural said he is going over the list which lacks context of whether alleged clients bought legal products from the disgraced vet or PEDs.
by Bill Finley
Two days after Dr. Seth Fishman was found guilty on two counts of drug adulteration and misbranding (full story here), which could land him in prison for as much as 20 years, a list of his clients was obtained by the pool reporter who had been covering the trial for several publications, Harness Racing Update among them.
There are more than 2,000 individuals on the list, and virtually all of them were from the standardbred industry, including many of the top names in the sport. But that does not mean that 2,000 harness owners and trainers were procuring performance-enhancing drugs (PEDs) from Fishman. The disgraced veterinarian sold some products that were legal and trying to decipher who bought legal medications and who bought PEDs could prove to be difficult if not impossible. The Fishman list gives no information about who was buying what drugs.
"The list covers anybody who bought any products of any kind from this guy," said Jeff Gural, who was in the process of going over the list. "We don't know what they bought. I think we will find a way to find that out, but at the moment we don't know."
(Editor's note: Publishing some or all of the names could lead to accusations against people who did nothing wrong. Thus, Harness Racing Update will not be releasing the names of any of Fishman's clients at this time).
It was also noteworthy that the list was largely absent of names of thoroughbred horsemen. One of the few exceptions was Ohio-based trainer Jamen Davidovich, who admitted under oath during the Fishman trial that he used PEDs supplied to him by the vet. It was not immediately clear if Fishman was selling his products primarily to standardbred people or if there is another list of thoroughbred buyers that has yet to be made public.
Fishman was missing from the final two days of his trial and there was yet to be any reports to explain his absence. He will be sentenced on May 5. His trial was also supposed to include his assistant Lisa Giannelli, but a mistrial was called in her case after her lawyer came down with COVID-19. Gural hopes that Gianelli will be called on to answer many of the questions that arose in the Fishman trial and with the release of his client list.
"His assistant is going to be tried shortly," Gural said. "I would hope she would change her mind about going to trial and offer to tell us which drugs these customers were buying. I am sure she knows who was buying or thought they were buying performance-enhancing drugs. We have to hope that she will tell us."
Gural said he will be speaking to some of the people on the list.
"I sent a clear message in my press release (full story here) that there are people who should have their records in order," he said.