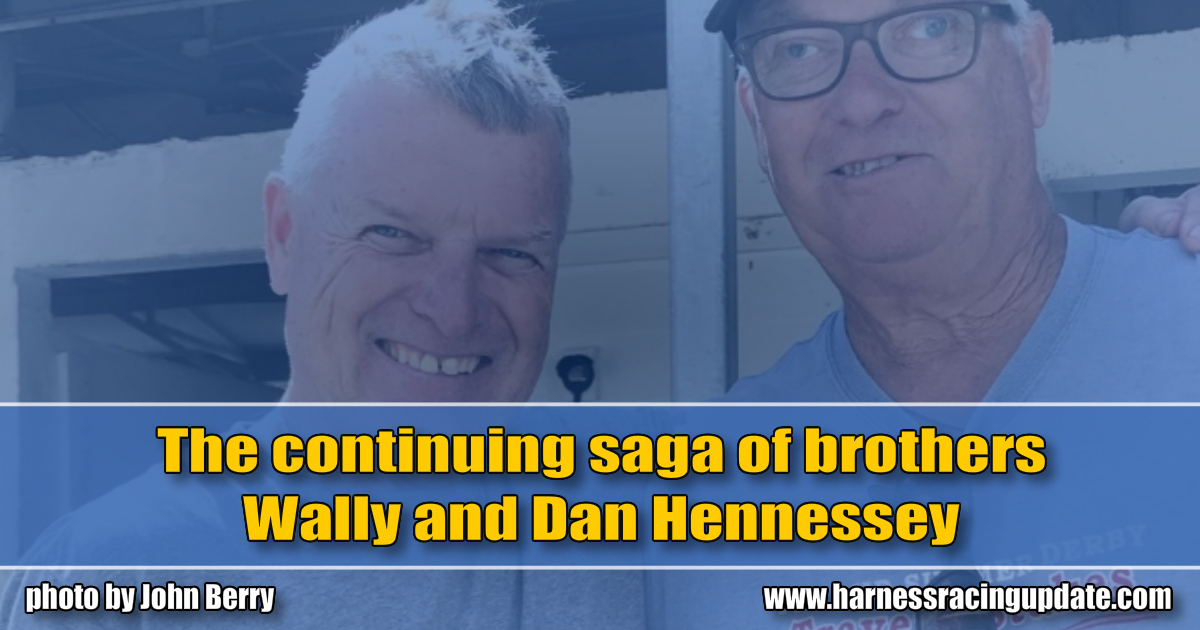 The continuing saga of brothers Wally and Dan Hennessey
Though blindness forced trainer Dan Hennessey to retire and move home to PEI, he still talks to his Hall of Fame brother, Wally, every day.
by Tom Pedulla
Wally and Dan Hennessey used a 25-minute drive to Fort Lauderdale International Airport last May to recall a lifetime of memories they made as one of harness racing's great partnerships.
Dan was headed home to Charlottetown, PEI, having been forced into retirement by blindness (full story here). Radiation used to eradicate cancer had caused him to lose sight in his left eye in 2002. Despite repeated operations, he had been unable to recover from a detached retina in his right eye in 2014 (full story here).
Dan had done everything possible to remain an invaluable asset to his younger brother, who had driven to victory in more than 10,000 races and earned a place in the Halls of Fame in the United States and Canada. Even after his sight was reduced to observing shadows, Dan had relied on decades of experience and his instincts to continue to work effectively at the barn.
Finally, everything in his body told him it was time to stop.
The drive to the airport could have been filled with anguish, for it marked the end of a partnership that had endured since 1982. The brothers made sure it was not.
"We talked about all the great times we had and how lucky we were to be doing what we wanted to do, all of that," Wally said. "There was no negativity to it."
Dan, now 65, and Wally, 63, are the fifth and sixth of nine children. Dan returned home to receive the great news that an apartment had opened two doors down from the house in which they were raised. That house is still occupied by Brenda, their oldest sister.
That helped ease Dan's adjustment after a lifetime around horses. Their father, Joseph, trained and drove standardbreds.
Although Wally still had racing to cling to and therefore views his transition as easier, it has been anything but easy since a two-man operation turned into a solitary one. Wally's hands-on nature led him not to hire any help. He oversees an operation reduced to five solid, but hardly exceptional, older trotters based at Pompano Park in Pompano Beach, FL.
"It wasn't that I didn't know what to do or how to do it," Wally said. "It's that I was doing it alone, and it wasn't a good feeling."
Wally said of his extraordinary relationship with Dan: "It's the connection we built throughout our life. We were never apart. Unless one was on vacation, there was never a day that we were not somehow together. We were attached at the hip and the shoulder.
"We never had to worry about letting one another down. Never, ever the whole time was that an issue, and that's really something."
The disconnect from someone he relied on so heavily and trusted so completely could be felt every morning. Only time has eased a parting that jarred both men.
Wally decided to break new ground last year by shifting his summer base from Saratoga Springs, NY, to Tioga Downs in Nichols, NY. He returned to Pompano Park this past winter and was enjoying his usual high level of success as a driver and trainer before the COVID-19 pandemic forced racing to be halted.
As a driver, Wally was winning at a torrid 33.16 per cent clip, with 192 victories producing $1,066,434 in earnings. Kevin Wallis was a distant runner-up with 78 wins and $521,529 in earnings. As a trainer, Wally had sent out 68 starters, resulting in 14 wins, 13 runner-up efforts and eight third-place results. His horses won 20.59 per cent of the time.
"It's like anything else. You have to adapt," Wally said of his ongoing success. "You either adapt or your fail."
Even with Dan's departure, Wally never contemplated ending the training aspect of his career.
"I always felt that part of it rubbed off on my driving. I always felt that part of it completed the package. I've never ever not done it," he said. "I always felt the best way for me to be focused and mentally prepared to do my job at night was to do what I do in the morning."
John Campagnuolo is a long-time client. His admiration for Wally as a trainer has only grown in the last year.
"Wally is a great trainer and you'd define him as an old-school trainer," he said. "He takes great care of the horses. He likes to train with the idea that this is not only an animal but an investment you want to keep working for you for years."
Campagnuolo noted that horses are not trained overly hard. When injuries occur, Wally prefers to let nature do most of the work instead of turning to injections that might be quicker fixes but are not long-term answers.
When Wally was driving, Dan arranged to listen to all of the races. Wally and Dan still confer at least once daily and often more than that.
"I guess you could say Dan is my satellite trainer," Wally said. "If I have a problem, I'm not asking anybody next to me. I'm phoning him."
No matter how great the physical distance, they will never be apart emotionally.