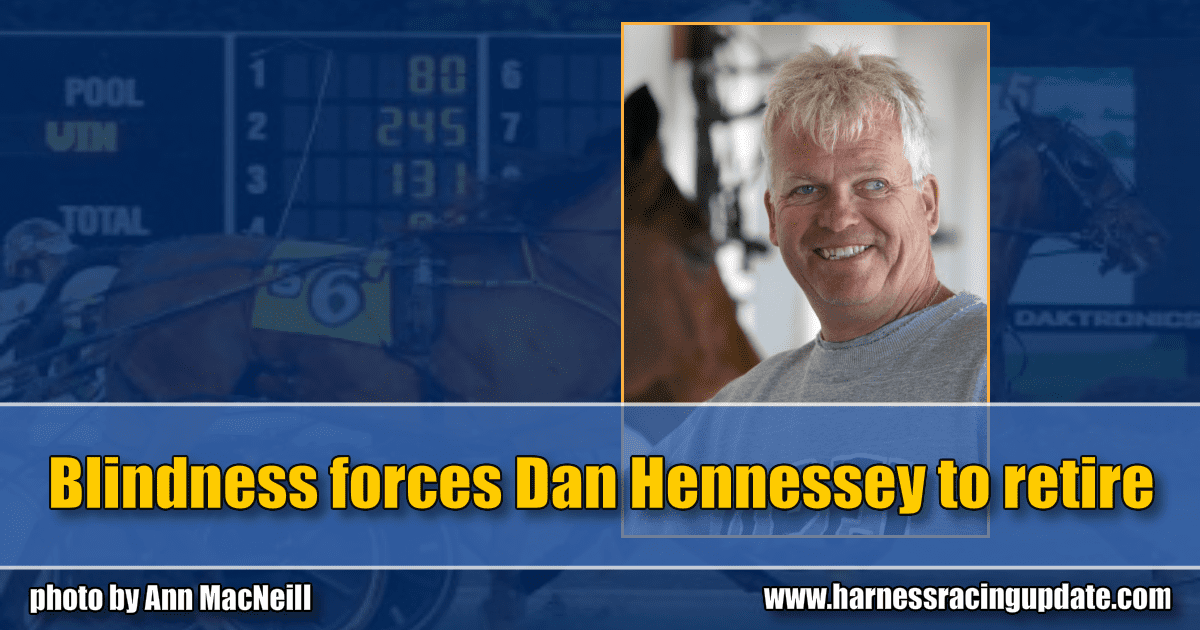 Blindness forces Dan Hennessey to retire
After recovering from an operation next month that he hopes will restore some sight to his right eye, the trainer will leave Florida to return to his hometown of Charlottetown to be closer to his large family.
by Tom Pedulla
Harness racing will lose an inspiring horseman as Dan Hennessey prepares to retire by the end of May and return to his native Charlottetown, Prince Edward Island.
Hennessey, 64, has been a mainstay for his brother, Wally, a Hall of Fame driver, for the last 35 years. He remained as valuable as ever as a hands-on caretaker in their racing stable despite becoming blind in 2014, when a detached retina cost him sight in his right eye. He lost use of his left eye in 2002, when radiation used to eliminate cancer destroyed the optic nerve (full story here).
Hennessey has been left to detect people, horses and objects largely as shadows when he is in bright light. He said his situation worsened in recent months, convincing him that it is time to abandon joyful work he has known since he was a boy growing up in a racing family.
"The past three or four months have been the worst in my life because my vision has gotten so poor," Dan said. "It's been really horrible. It's been horrendous."
He will retire with more than 1,000 training victories and earnings exceeding $6.6 million since trainer records were first kept in 1991. Despite the loss of his sight and the fact he has a small stable, Dan has trained the winners of well more than $300,000 in each of the years between 2014 and 2017. His UTRS has twice exceeded 0.400 in those years, with his lowest trainer percentage the .362 he recorded in 2014. In 2019, during his most difficult months health-wise, Dan sports a UTRS of 0.380 from 48 starts.
Although there is hope that an operation scheduled for April 9 can restore some sight to his right eye, Dan appears to be firm in a retirement plan he had debated for the last couple of years. The house he owns in Pompano Beach, FL is for sale. He said the date for his return to Charlottetown, where the vast majority of his family remains, will be determined by his recuperation from surgery.
The Hennesseys reduced their training operation in recent years so that it now numbers only six horses, all of them with kind dispositions. Although Dan continues to provide them with outstanding care – "It's amazing how your other senses take over" – he has become a bit uncomfortable in a role he has filled for so long.
"I don't fear for myself. I'm not uneasy around them at all," Dan said. "If something happened to Wally, I wouldn't be able to live with myself if it was my mistake because of my vision.
"I could miss a detail, and somebody could get hurt or a horse. I don't want them to get hurt, either, and it could happen very easily. People die in this business. You can get killed in this business."
Wally, who has driven more than 10,000 winners, understands and accepts Dan's decision. However, he does not agree that Dan may be placing others at undue risk.
"It's never been an issue. Actually, we're doing as well now as we've ever done," he said. "He's still able to do what he's always been able to do, maybe not as swift as he used to, but the job gets done."
Dan has been incredibly frustrated, though, by his limitations and the additional pressure that placed on Wally.
"I can't go to the paddock anymore. I really miss that. I can't get on the cart anymore," he said. "I'm not complaining because it is what it is. I've accepted it for what it is, but it is a trial."
Wally, 62, credits much of his success to his older brother. Dan attended to many details as they wintered at Pompano Park before shifting to Saratoga Springs, NY in the summer. Wally, a Hall of Famer in both the U.S. and Canada, continues to perform at a remarkably high level; he is the runaway leader in the Pompano Park driver standings.
"I never had to worry about anything. I knew Dan always had my back," Wally said. "When you don't have to worry about that stuff, it takes a lot of pressure off you and you can concentrate on other things."
Wally said he will keep only two or three horses to train once Dan leaves.
"Dan's going to be going through a much, much more difficult time," he said. "My thing is going to be adapting to a different way of doing things than I've been used to for the last 35 years. He has to make a whole lifestyle change."
Dan, who is divorced, wants to be fiercely independent and intends to live alone in Charlottetown. It will help, though, that he has seven siblings in Canada. He also has three daughters there: Jennifer, 42, and twins Jayne and Jaymie, 36, as well as three grandchildren. He said he will look to remain close to his two sons in Florida: Joey, 21, and Jacob, 13. Both are promising baseball players.
Wally noted that Prince Edward Island remains dear to both of them. When they left to race in Florida, it was never intended to evolve into competing in the United States year-round. He will do everything he can to support Dan in what is sure to be a challenging transition for both of them.
"He's not going to a strange place. He's going to a comfort zone," Wally said. "It might be something he's not looking forward to. Once he gets there and gets settled in, it will be like he never left."