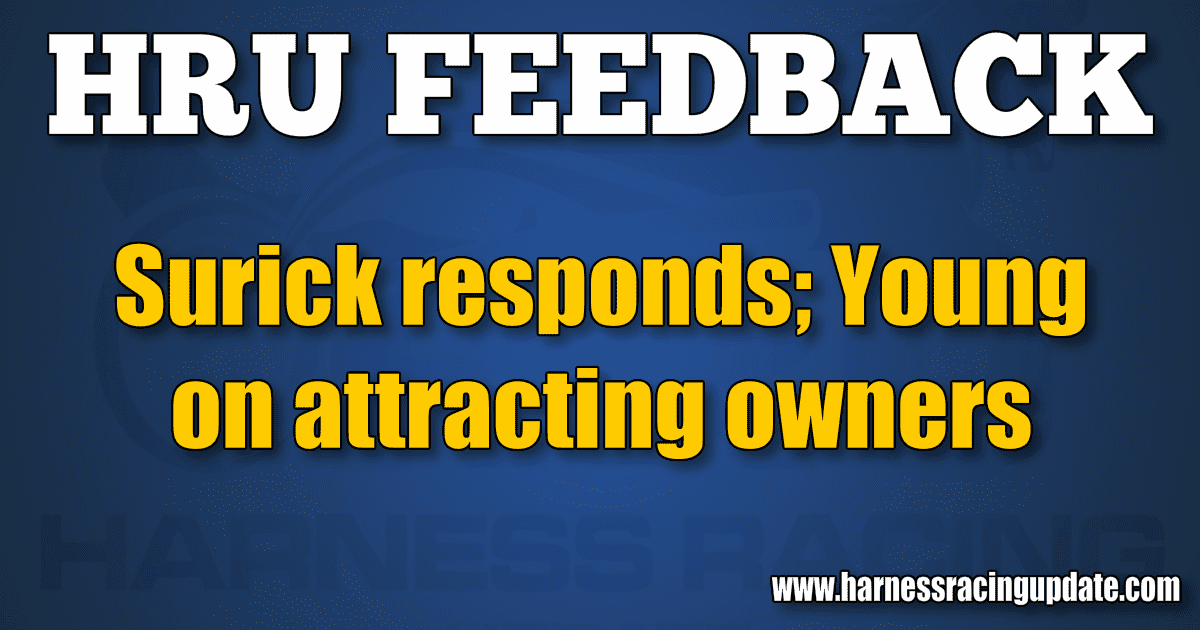 HRU Feedback (2019-03-10)
Richard Young on how to attract owners
We often speak of the industry attracting new blood. Let's face it, we need more owners to get in the business for it to survive. The thoroughbred industry seems to thrive with their signature races and an ownership group that appears to be far more affluent as a group. However, I feel quite sure the vast majority of owners have a much higher failure rate then in harness racing. A few years ago, I was introduced to a guy who owned and bred thoroughbreds. He was quite affluent, but he was a minor player. I'm sure this is more the norm than not. I tried to get him into the standardbreds and was virtually laughed at. It took me approximately five years to get him to be a partner on one horse. In so much as that horse went on to be a $2.5 million earner, he was hooked. He is now a converted harness horse owner.
There are many reasons why harness racing should be attractive to thoroughbred owners especially since they are quite familiar with the pit falls and losing money. The reason I was able to eventually convince a die-hard thoroughbred guy is almost too simple. I think it's best to show in a chart. Understand it's pure guesswork as to the actual percentages, but does illustrate why thoroughbred owners may wish to try harness racing.
For illustration purposes, we are assuming that the purchaser is looking for a stakes horse .

There are many reasons that favor harness racing, the most obvious the fun of watching your horse race regularly. I realize the numbers I put up may be way off. I feel it might favor standardbreds even more. I would really like someone who has access to better numbers to investigate this. I believe that advertising in trade publications for the thoroughbreds with an accurate chart may entice owners to try harness racing. Because the group is generally more affluent, it may also increase the prices horses sell for which is a good thing for everyone.
— Richard Young / Boca Raton, FL
Surick responds to Perry
I want to address a letter written by David Perry about my performance at Freehold Raceway (full story here). I take total exception to being referred to as a trainer that gives his horses drugs or cheats. He also states that I don't do well at any track outside of Freehold. I will refute his statements while at the same time try not to get insulting. First of all, last year I ended up third-leading trainer at Harrah's Philadelphia and currently sitting in a tie for third at the Meadowlands and also top 10 at Yonkers Raceway. I currently sit in fifth place in the NATIONAL trainers earnings for this year. Last year, I finished 20th in the nation for earnings which I am proud of considering I have very few stake-quality horses, and fourth in wins. Also Freehold today is not a major league track, but is more akin to the minor leagues. Most of the horses that race there either have seen there better days or just don't have the ability to race at the bigger venues. I enjoy winning races even if I am racing for $3,000 purses. Isn't that what this game is supposed to be all about? I buy and claim horses specifically to fit the conditions there. There is a reason that most of my horses that win go off at low odds, it's because they should and the bettors know it. Also it is a big advantage having Andy Miller drive for me over everyone else who is there, most of the drivers combined don't have close to 10,000 wins like he almost has. I only wish that David Perry realized this before he tried to hurt my reputation instead of thanking me and my owners for helping to support the races and help fill the box
— Nick Surick / Jackson, NJ
Fanning on Perry's letter
In New Jersey, all racetracks fall under the jurisdiction of the NJ Racing Commission. The testing procedures, lab, protocols, and screenings are the same at Freehold, The Meadowlands and Monmouth and they are determined and executed by the commission.
The trainer in question dominates at Freehold due to one word: classification.
— Moira Fanning / Jackson, NJ
I agree with Garnet Barnsdale
I totally agree with Garnet Barnsdale's column in Friday's HRU (full story here). A few years back, I spoke with Jamie Martin, then in charge of racing for WEG, and showed him the purpose and importance of the opening 1/8 in the past performances. They show it on their telecasts, but the info in the programs is the responsibility of Standardbred Canada who I then contacted. I was told that they would look at it and after a few months I contacted them again and they abruptly told me it was too much trouble to change the program that produces the program. It doesn't matter how much effort WEG puts into making a trip to the track a great experience when Standardbred Canada just wants to stay antiquated. The whole program should be revamped showing all information for trainers off of layoffs, first start new trainer, first start lasix and drivers with trainers stats. The licensing fees and membership fees to Standardbred Canada in my opinion goes to the salaries of those in the cushy positions there when it should go to improving the game for the fans who's betting dollars fuel the game. Here we have WEG making rapid improvements for the fans and the controller of information still in the horse and buggy ages, this has to change.
 — Bob Adams / London, ON
More on Barnsdale's column
So, I read the majority of the article about Nickle Bag and how he was off for all those days, dropped in on Monday night, and won the last race at Mohawk. And I guess some people are up in arms about knowing why he was off for sometime and how could he be back in with a Q. Here's my take on this: If you have been following Mohawk for the last 4-5 years, you should know Nickle Bag has been a war horse. He dances a lot of dances, he was at the top level for a few years, and then was racing in the mid-level conditions for a while. So if Bill Robinson decides, 'Hey, Nickle Bag seems off form' and gives him an extended break, I am okay with that, this horse has more than earned it. If he was taking play Monday off a long layoff, I would be more inclined to play him off the break, based on the fact that he has tons of back class and the fact that he was taking play after such a layoff. I may be in the minority, but I don't need any reason from a trainer on why a horse has had such a long layoff. I don't know what the morning line was, but if the play was significant that should have been a sign that Nickle Bag may be ready off the long rest. The only thing I need in the program is driver changes, trainer changes, and equipment changes.
— Paul Williamson / Mt Prospect, IL