The veteran gelding returned to the races at Woodbine Mohawk Park this week after a 48-day layoff with no information about what caused the time off and what racing shape the pacer was in upon making his return. Here's some suggestions about how to improve the information for bettors.
by Garnet Barnsdale
There was a bit of chatter on Twitter on Monday night when the classy veteran gelding pacer Nickle Bag won the last race at Mohawk Park having had been off for 48 days since his last start.

A bettor named John with whom I tweet back and forth regularly, sent me these tweets following the 9-year-old Rocknroll Hanover gelding's 1:56.2 win in the "Non-winners of $3,500 last five starts" class: "I just watched last and have a question …. how are you supposed to play Nickle Bag when Jan 14th is the horses last race with no qualifiers ? just under 2 months off and 5/2. it is unreal….. the horse is off 52 days ….. does not show a qualifier…. are you supposed to assume sick ? …. what exactly in the program makes you play…. the fact the horse is 5/2 so just assume 'they know.'"

This isn't the first time this has come up and there's no easy answer. According to rule 11.01.02 of the Alcohol and Gaming Commission of Ontario's Rules of Standardbred Racing, Nickle Bag was required to have a clean charted line on his card no more than 45 days from the time of entering for the race in question. Clearly, he had made it under the wire by a nose to get into Monday night's race.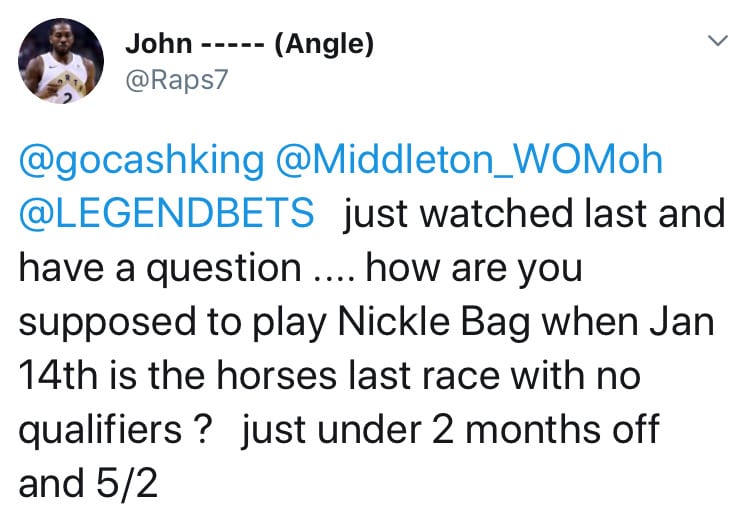 So, why the layoff then? The millionaire son out of the Four Starzzz Shark mare Buckle Bunni has made 220 starts — 42 of them last year and three this year — so maybe the rest is just what the doctor ordered. But bettors are taught very early that standardbreds need to be sharp to produce their best results. So, what's a punter to do with zero information on the readiness of Nickle Bag? He wasn't required to qualify to enter, although I'm not sure how much of a difference that would make to bettors anyway.

He was taking action at the windows, yes, but that doesn't necessarily mean anyone "knew" as I have found on many occasions that horses will get bet despite missing time and Nickle Bag's form was good enough to warrant him being a contender in that race. Was he training in 1:55 on the farm? We don't know, and we never will. Nickle Bag was making his second straight start at this reduced level and had gone off at odds of 7 to 2 in his previous start, which he made from a worse post and had finished fifth. Typically, when moving to a better post inside a few slots, the expectation would be that he would again get bet with punters expecting a better effort from the horse racing in a class where he clearly fit.

The part of John's tweet that stuck with me and I kept coming back to in my mind was this: what exactly in the program makes you play? The answer, sadly, is nothing. Unlike thoroughbred past performances which provide you with a ton of useful information related to many different scenarios, your typical track program at the harness races offers nothing of the sort.

It would be extremely helpful in cases like this to know the trainer's record in situations where a horse had missed 30 days or more. If you want to dig even deeper for bettors, how about providing trainers' records with horses that have missed 14 or more days? Or in situations where they wheel horses back inside of a week, which happens frequently in winter it seems.

For claiming races, there are no stats available in the program for trainers making their first start off the claim. This is very basic information that is vital to bettors and has been included in thoroughbred past performances for decades. I have yet to see it in one of our programs. The Woodbine Entertainment Group's Ken Middleton and Chad Rozema often tweet out an excel spread sheet that details that info up to date for Mohawk Park and that's great, but why should they need to?

What about UDRS and UTRS? This is a weighted batting average of sorts that for me at least is useless. When I look down at the program, I want to see a driver's or trainer's win percentage. A driver or trainer with a high number of seconds and thirds can still get a decent UDRS or UTRS number which can be misleading relative to the frequency in which he or she wins races.

Other "nice to have" bits of information that would be helpful to bettors is a horse's sale price as a yearling at auction and his sire's stud fee; a horse's record on wet tracks, driver/trainer stats at tonight's track vs. overall with all starts from all tracks included.

The bottom line with the Nickle Bag race on Monday night is that bettors were totally in the dark when it came to his readiness to win that race. There isn't likely ever going to be a way to know how the horse was training on the farm, so bettors need to at least be provided with some data that can help them make a wagering decision. If there was some of the information discussed above provided in the track program as a standard feature, the wagering public might have at least had a clue what to expect and not had to guess if they should "follow the money" and bet the horse, try to beat him, or just pass the race altogether.