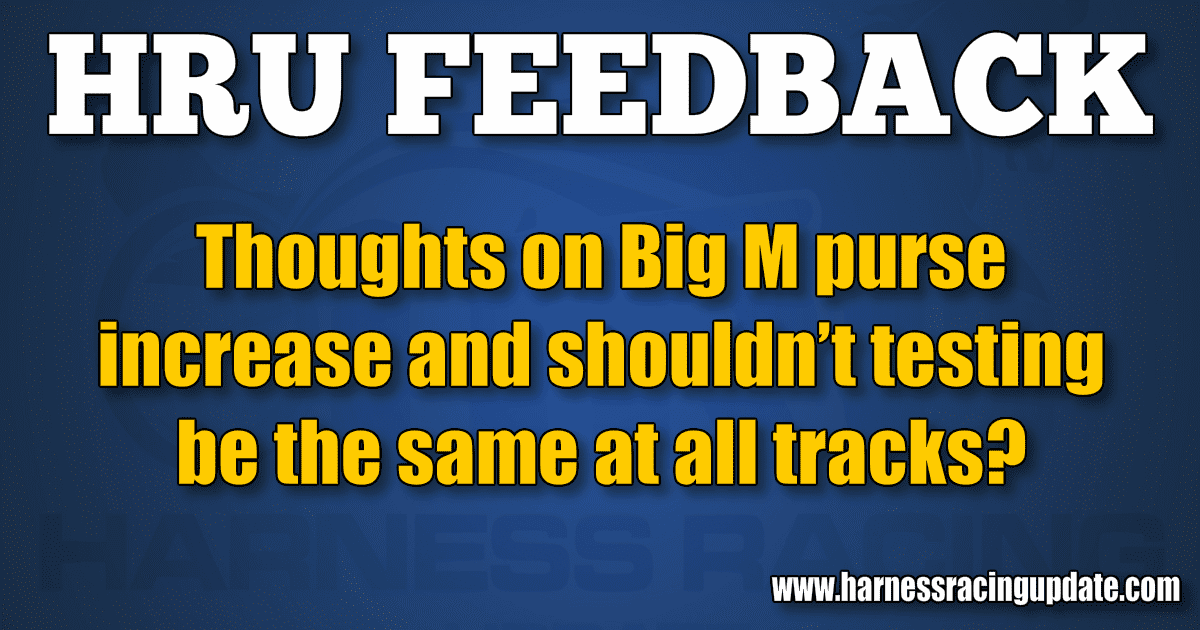 HRU Feedback (2019-03-03)
NJ purse boost, handle, etc.
With the impending openers at both Harrah's Philadelphia and Mohegan Sun Pocono, the Meadowlands' handle takes a hit as connections look to the higher purses and thus fields are more apt to fill at the aforementioned tracks to the detriment of the Meadowlands.
So, my idea is this: Market the racing product and also market the advantage of wagering in New Jersey with its lower take our on horizontal wagers. For example, in Pennsylvania the takeout on horizontal wagers of three or more entries is 30 per cent at Harrah's and 32 per cent at Mohegan Sun. This applies to both horizontal wagers of three or more and of course vertical wagers (Tri and Super)

Meadowlands take out is only 25 per cent on trifectas , 20 per cent on P3 and a low 15$ on P4 and P5

— Ken Young / Indian Trail, NC
---
Big M purse increase

In your edition of Feb. 22, "Countdown to bigger Meadowlands purses is on" you wrote: "Beginning Friday, March 1, purses at the Big M — thanks to the recent purse subsidy legislation signed into law by Gov. Phil Murphy — will get a $40,000 per-card boost. Purses will get another $40,000 jolt on March 29. After a Saturday (Feb. 16) night program that saw a 2019-best $3,166,920 in all-source wagering, there is reason for great optimism at the East Rutherford mile oval."

March 1 card has seen an increase of $11,800 ($149,875 up from $138,075)

March 2 card has seen an increase of $25,050 ($179,000 up from $153,950)

— Marty Noonan / Wind Gap, PA
---
Reality replay

At a tipping point for harness racing, we are now reminded of the Dark Side. The scars of the "Pena" years are still visible. Those times were lose-lose for both the tracks and bettors. Bettors declined to wager at the tracks and the tracks lost valuable betting pools from which to draw their profits. Most bettors took notice and did 180-degree turns when Pena's cheap, recently claimed horse improved by 3+ seconds and beat newly imported New Zealand super horse, Auckland Reactor. Most of harness racing sees the issue as testing ineptness in the officials charged with keeping our sport honest.

Fast forward a couple of years and we are seeing history repeat itself at Freehold Raceway and trainer Nick Surick. We see NS dominance at Freehold, but at larger tracks with big dollars for superior testing — NOT SO MUCH. Unfortunately, it appears that we, the betting public are being provided a grade "D" oversight at the smaller B tracks. When tracks knowingly provide an inferior oversight product it may be time to replace some management principals or ask why the NJ Gaming Commission has stood by idly, in my book that makes them enablers.

Here's a brainstorm: let's get the tracks altogether and then they can negotiate a one-price-fits-all testing program that serves the bettors, the tracks and the honest trainers. Come on guys, this isn't rocket science but the fact that you haven't come up with a solution on your own is troubling.

— David Perry / Dearborn, MI