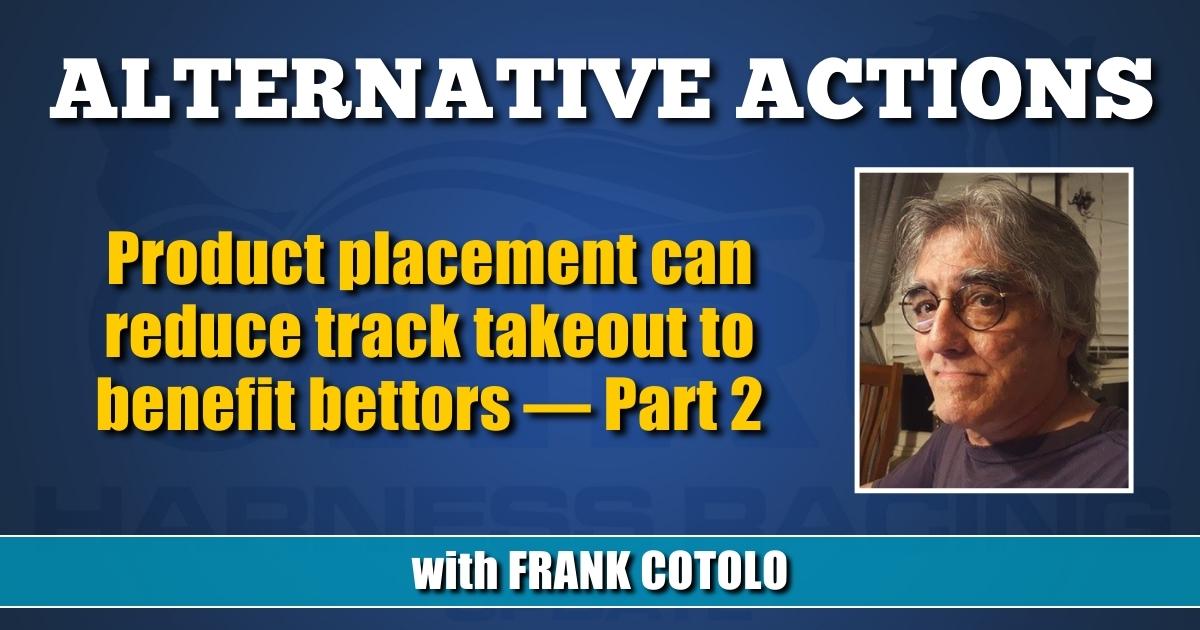 Product placement can reduce track takeout to benefit bettors — Part 2
by Frank Cotolo
Part 1. Read here.
Product Placement is the brainchild of advertising people, the types that were dramatized in the popular series "Mad Men" and the satiric "Crazy People." It is classified in the category of "subliminal advertising," which sends commercial messages in other contexts where a product fits normally. It is, at its best, subtle enough for an audience to subconsciously recognize it as a normal object.
Before I began writing part 2 of this topic I was watching a movie and the last thing on my mind was subliminal advertising. The movie, "Bill and Ted Face The Music," had a scene where the a few characters were on a public street talking about putting together a rock band. Suddenly, as they ran away to do just that, there was a sign in the upper right that projected the logo for "Guitar Center."
Wham!
Moments later band members were plugging guitars into amplifiers and Keanu Reeves plugged his instrument into an amp while standing far enough to its side so the audience could see the logo on top–"Marshall."
Wham!
It is true; you do not know an advertisement has hit you when you see a product placed in a scene commonly associated with that product. As well, even if you notice it, the affect is the same psychologically–you remember it in a good light. The advertiser's work is done.
There are movies where advertisers have fought for product placement spots because the movie was expected to attract a certain audience demographic. Take notice. Mercedes Benz won the bidding to be the story's vehicle in "Jurassic World." In the "Man of Steel" 3-D theater version iHop and Sears bought prominent screen space. Dominos lost product placement in the "Teenage Mutant Ninja Turtles" franchise to Pizza Hut. The "Transformer" movies have accepted money from many products; watch for Oreo cookies, Bud Light beer and Victoria's Secret products within frame. There are even movies where the product can be placed in the dialogue of a movie, as Taco Bell did in "Demolition Man."
Advertising agencies also consider that a movie and/or TV show may find its way into international markets, so they can reach into their deep pockets and place products popular with the people in various countries and cultures. After all, a kitchen in a Italian movie is supplied with many different brands than a kitchen in Spain or India (Bollywood) or Australasia.
We cannot forget TV game shows from Japan to American networks, which are obvious product placement theaters — "The Price is Right" being the prime example.
PAY TO PLACE
Now, Alternative Actions (AA) kick in, addressing the problem: how can the financial-windfall process of Product Placement make money for a racetrack?
What follows are the AA possibilities which, as usual, are not guidelines for success; they are broad ideas that have only to inspire the basic idea so success has a good chance of being the result. Everything is worth trying if it is attempted for a productive goal.
In this case, the goal is to make enough money for the racetrack so that it can reduce its "wagering takeout" for bettors, which will attract more bettors and increase track handle and in the long run keep the bulldozers from a fate that racetracks still experience in 2002 (as reported in the cities where once stood Pompano Park, Hollywood Park, Roosevelt Raceway, Liberty Bell Raceway, Brandywine Raceway and so on and so forth.
Interviews of trainers, drivers and owners can easily be recorded for broadcasts but the shooting must take place on sets associated with the subject and prepared to display commercial items that are product-placed. Here are some examples:
A trainer is interviewed in an empty stall for one of his or her horses; only this is a set. The stall has a shelf or two within the camera frame of the subject. A major commercial product stands on a shelf in frame. Product placement. The trainer interview will be shot at different angles (the interviewer is never on camera) so the background shelves and their commercial placements are visible. Surely, grooms use brand-named products for cleaning and caring for the horse and its environment. Those are the product placement prospects.
An owner is interviewed in his or her personal or business office. This is a set most likely already strewn with many commercial items on a desk or a wall or shelves in frame of the subject interviewer.
Drivers can be interviewed anywhere you can place commercial products. The same goes for track media personalities. Talk to a race caller/announcer in his or her box atop the track; talk to track handicappers or guest handicappers anywhere you can devise placing commercial products–your targets for the best income are commercial products. Once you do an inventory you will be surprised at how many commercial products are used by harness racing industry workers, so develop a list of agencies representing those products.
The interviews are perfect filler for the dreaded drag time between races, played repeatedly over the in-house network and on the simulcast feeds.
Selling the product placement plan will also provide an awakening of ad agencies to the grand theater harness racing has become on the Internet and in most social media platforms. Be aggressive and creative and the ad folks will find plenty of dough in their budgets to place products.