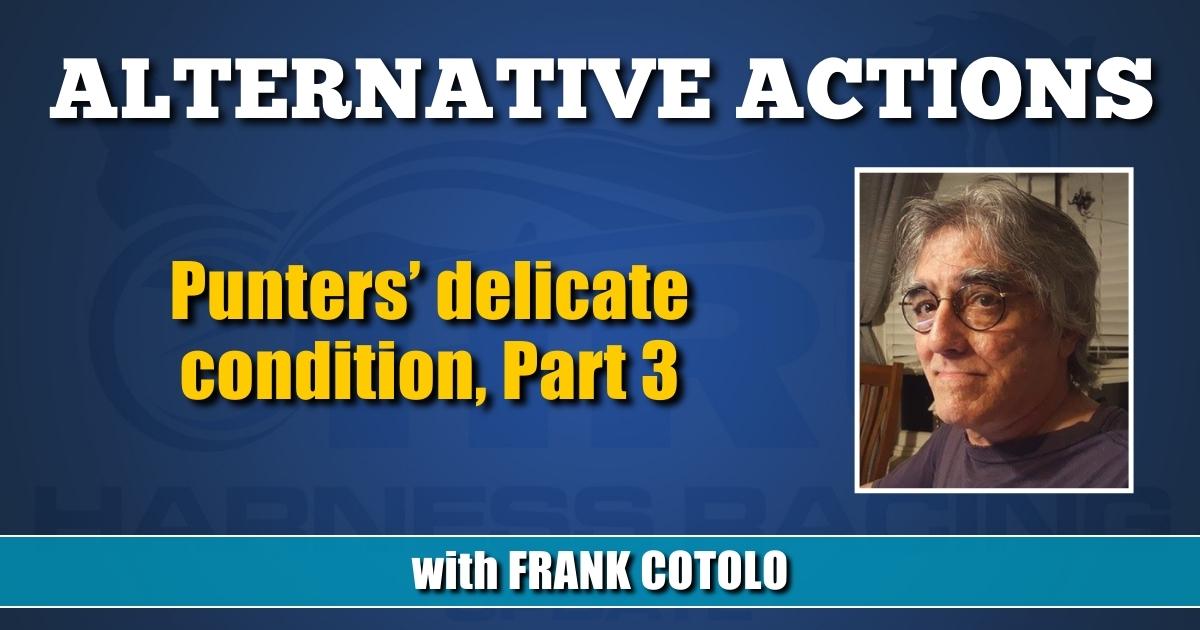 Punters' delicate condition, Part 3
by Frank Cotolo
In 1980, when Clint Galbraith and Niatross went on tour to display the pacer's brilliance in action to horse racing fans at racing venues that would never see him compete at the local levels offered, I was in attendance at Hollywood Park in Los Angeles, where the tour ended at Western Harness Racing's ill-fated standardbred meet.
The modest number of harness fans, in attendance regularly, were shocked but pleased to share the apron and grandstand with a record-breaking attendance for the sport on the "left coast."
For a long time after I kept the program from that evening, since Niatross raced in a wagering event that had to be written exclusively to include any local competitors coming near his class. Still, he was a lock and many people wagered just to have a ticket as a memento of the 1:52.1 winning mile (then a world record) with the length of a football field between the Niatross and the next best pacing chaser.
Without depending upon visits from the great pacers and trotters of the times, writing exclusive race conditions can be a productive tool for harness raceways. (We may take that subject up in a 2022 edition of Alternative Actions [AA], using star performers of the immediate times.)
We ended Part 2 of this triptych topic with the notion that a track public-relations or marketing person working with a race secretary should write creative race conditions for wagering and exhibition (separate to conditions for horsemen) to co-exist as instructional devices for novice bettors and challenges for veteran punters. We conclude with ideas.
The collaborators have few rules to follow. The publicist has to let his or her imagination fly to creatively approach conditions easy to understand by novices; the race secretary has to edit the conditions he or she posts to be sure horsemen are compelled to enter their products.
For horsemen, the race secretary can be relatively traditional, using familiar forms for grouping horses, but the publicist's contribution has to complement the form as well as add special element (s). Here is where the publicist must employ every wild concoction until there is a blend broken down to a "common denominator."
Here are some extreme examples [with brackets for clarity] to prove the marketer can go crazy with traditional forms while being simple for the newer and older betting public:
$4,000 [or any thousand] pacing harness horses for sale [replaces the term "claiming."] that have never won a race wire to wire.
$4,000 [or any thousand] pacing harness horses for sale [replaces the term "claiming."] that have won their most recent race.
$4,000 [or any thousand] trotting harness horses for sale [replaces the term "claiming."] horses that were losing favorites in their most recent race.
Trotters — 10-year-olds [any year-olds] that have won at least a few [or a specific amount based upon the horses available] of their races.
Sure, you think some of these races are giveaways because the winner is obvious. That may attract veteran bettors (producing races filled with singles for multi-race exotics) but it may also make for a quick and easy cashing experience for newcomers; and let's face it, when novice bettors begin their pari-mutuel adventures cashing tickets, it sparks the flame that creates a new betting fan.
Gathering the elements to create a simple new race condition is going to take the vast talents of the racing secretary and his or her's unending patience because a marketing partner may go a long way to attract prospective regulars.
A neat plan involves presenting a specific program especially for novice players attending the races live. Offer a lot of give-aways (including free bets, bet-back refunds and other wagering related perks, as well as getting local or national sponsors to contribute items or coupons) to increase the local attendance. In all promotions, announce there will be opportunities for first-time or relatively new harness racing players to participate in the program's broadcast presentations.
For this to work, the "conditions duo" writes an entire card of simple races encouraging wagering from those with minimum handicapping experience (see above). Toss in the fact that the track announcer or simulcast host will call upon "new fans" in attendance to handicap the races over the in-house/simulcast broadcast (this is a practice the track can address from any level of gambler on regular racing evenings and another subject we may cover in 2022).
As always in topics AA addresses, we have thrown many ideas and concepts against the wall, but if any will stick is up to those in positions to scrape the wall and get an idea cooking. In the case of race conditions, the possibilities rely upon more imagination than AA supplies. Let's not lose potential pari-mutuel business by sitting back and hoping competition will go away; let's make the competition nervous for a change.
Happy holidays and New Year to everyone. We hope to stain the wall with more alternative on the fringe in 2022 to expand the popularity of our sport.