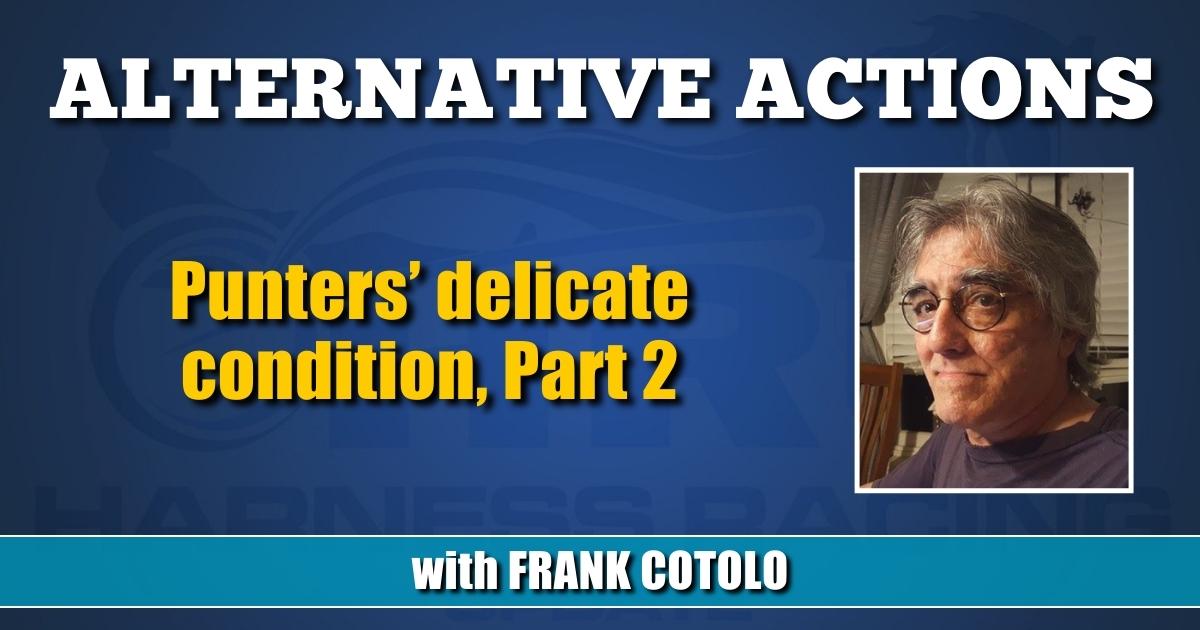 Punters' delicate condition, Part 2
by Frank Cotolo
Conditions for races, though published in past performance pages for every breed of horses racing, are primarily for horsemen and then specifically for trainers and owners — those responsible for placing their horses in particular races.
Although I have no data on bettors seriously reading race conditions and/or applying a value to them when handicapping, I have been exposed to enough punters (in person and via mail from thousands of readers) on both sides of the Atlantic and throughout North America to safely document they are not interested in most of the details covered.
Here, for instance, is the extent of what bettors care about in race conditions (as done best by The Meadowlands harness programs):
2 Year Olds Colts & Geldings
Sometimes, bettors do not even check if the race is a pace or a trot. This is not a generational thing, either; all handicappers in the new millennium have not been diagnosed with attention deficit hyperactivity disorder. Even the placid types roll their eyes at conditions like this:
6 Furlongs. Alw 5000s Purse $16,200 (PLUS UP TO 40% PABF) FOR FILLIES AND MARES THREE YEARS OLD AND UPWARD WHICH HAVE STARTED FOR A CLAIMING PRICE OF $5,000 OR LESS SINCE JANUARY 1, 2020. Three Year Olds, 123 lbs., Older, 124 lbs. Non-winners Of A Race Since October 10 Allowed 2 lbs. A Race Since September 10 Allowed 4 lbs. if the dietary rules followed the great green frog over a three-colored-only rainbow. Hi, Jimmy, what'd ya think about Holly's new haircut?)
If you read through the preceding conditions and did not see it stray to abstraction then you did not read the entire text.
All right, so racing conditions for racing's largest audience, the bettors, should be short and sweet, but there are two levels to using conditions which may work as promotions for betting beginners and as challenges for veteran punters.
Level One
Aside from the basic information we know bettors absorb, first and foremost there must be coverage of the betting types employed in a particular race. Even before the basic condition (see Meadowlands example above) the wagering info should be posted:
W-P-S/Exacta/$0.50Trifecta/$0.10 Superfecta/Daily Double/$0.50 Pick 3 (Races 4-5-6)/$1.00 Pick 5 (Races 4-8)
Nothing is more important to the new or well-versed bettor than that. Then, a good editor (track publicist) should work on a simple version of the race conditions (leave the details for the race office to post for trainers/owners).
Race office conditions: 
N/W $22,500 in Last 5 Starts; AE: N/W 11 Extended PM Races Lifetime; (Wins for $2,500 or Less First Money N/C); (N/W $17,500 Drawn Inside)
Bettors' program conditions: Non-winners of $22,000 last 5.
Yup. Any more will scare away novices and veterans will rarely complain the other conditions are gone. It is the closest thing to a "lock" that the racing secretary will not be swarmed with protests from bettors that conditions they rarely address for handicapping or betting are missing. And of course, the new bettors will understand the simple conditions and not be turned off to reading conditions in the future–which brings us to level two.
Level Two
This is the fun part, something that can be valuable for new and old customers, track income and general amusement. First, for income. Sell race-condition sponsorship. This should be an easy sell, after all, locally there are businesses and with ADWs and simulcasting there is a national and worldly audience in play. Sell the damned space in any way possible, offering recognition using name, brand, logo, slogan and even race-naming:
THE DELANEY CAR SERVICE PACE: Winners of $10k this year
THE DELANEY ROOT BEER INVITATIONAL TROT $30k for highest earning trotters this season
You can also have a ton of fun with all the new space, especially to get attention and spread the track's easy-going attitude and camaraderie with patrons. Cut a deal with a streaming service that is promoting a new series or movie or stand-up comedian performance or documentary.
AFTER THE RACES: STREAM MARK DELANEY LIVE LAFFS ON NETFLIX [APPLE+ HBOMAX] or wherever.
There is no limit to the spinoff ads and promos you can use if you let your mind spin out and reach beyond the sport. There is also no limit to working with the race secretary to write creative races — for betting or exhibition — mostly as instructional devices for novice bettors. That aspect will enjoy all of the space we offer in part three for the December Alternative Actions.