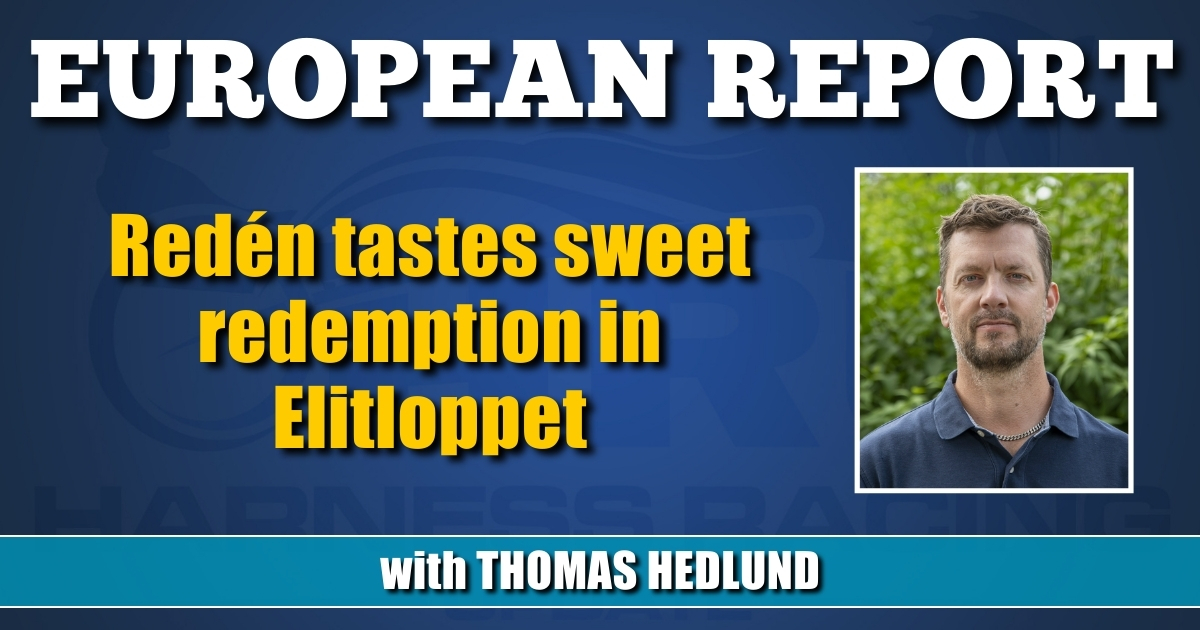 Redén tastes sweet redemption in Elitloppet
A year after "winning" his first Elitloppet with Propulsion — only later to see the horse disqualified — trainer Daniel Redén won the 2021 race with Don Fanucci Zet, a horse he bred himself from a trotting sire and pacing mare both acquired in the United States.
by Thomas Hedlund
When super trotter Propulsion claimed a well-deserved triumph in the 2020 Elitloppet 2020, the victory brought tears to the eyes of trainer Daniel Redén and driver Örjan Kihlström at Solvalla.
It was Redén's first victory in his country's biggest race… or was it?
You probably know the story. Propulsion was disqualified in October of 2020 due to a nerving procedure done in the United States in 2015, and the world fell apart for trainer Redén and his team (full story here).
But redemption came quickly. Five-year-old Don Fanucci Zet (Hard Livin—Kissed By The West) made his career debut in July 2019 and showed decent ability as a 3-year-old. But the story from April of 2020 — just prior to Propulsion "winning" the Elitloppet — has been nothing short of remarkable for Don Fanucci Zet. Out of nowhere, the Hard Livin son developed to become one of the crop's best horses in Sweden and after a triumph in the two-heat Sprintermästaren in 2020, people began to talk about a future horse for the Elitloppet.
Sunday's (May 30) two eliminations for the Elitloppet were unusually open. Italian-bred Vivid Wise As (Yankee Glide) stole the show in the first elimination. Alessandro Gocciadoro could, without any problems, keep the opponents on his outside when the car accelerated and Don Fanucci Zet landed on the leader's outside after 550 meters.
The pace was everything but Elitloppet-like when the field reached the first kilometer in 1.11,7 (mile rate of 1:55.2) and Gocciadoro had the race in his hands.
The final mile was 1:52.3 and behind him finished Don Fanucci Zet, Moni Viking and Aetos Kronos to claim spots in the final, respectively.
The second elimination proved to be the more open race between the two heats. French 5-year-old Gelati Cut (Coktail Jet), driven by Gabriele Gelormini, opened quickly from post 4, but Cokstile – who was elevated to the 2020 Elitloppet victory when Propulsion was disqualified – tried his best to defend the front position from the inside. In the first turn, Gelati Cut reached the lead and the pace was considerably higher in this heat, compared to the first elimination with Ecurie D. on the leader's outside. Ecurie D. really challenged Gelati Cut over the stretch. The two combatants fought side by side and it was a close call when they hit the wire. Gelati Cut won in a mile of 1:52, Ecurie D. finished second, Gareth Boko third and Cokstile fourth.
Before the final, Redén and Kihlström decided to gamble and race Don Fanucci Zet without shoes. It would prove to be a savvy move.
With Vivid Wise As drawing an inside post, the prediction was that the Italian horse would take the lead and even control the field all the way.
Vivid Wise As did just that, claiming the frontearly and an eager Ecurie D. had to do the job first over for driver Ulf Ohlsson. Behind him, Kihlström found the perfect spot in second over with Don Fanucci Zet. But Kihlström had to leave his position early up the backstretch since Moni Viking and Björn Goop started an attack three wide with a half mile to go.
Don Fanucci Zet raced three wide throughout the last turn while leader Vivid Wise As still seemed to have some power to use over the stretch. When Kihlström pulled the ear plugs, Don Fanucci Zet accelerated and disarmed Vivid Wise As in mid-stretch to claim the victory for owner Brixton Medical AB. Vivid Wise As held strongly as runner up while Jerry Riordan -rained Gareth Boko finished well in third.
The mile was 1:50.4.
Tears were running from trainer Redén's eyes when he noted that, for the second year in a row, he had a horse that finished first in the Elitloppet — this time with a horse that he produced himself.
"I bought Hard Livin from the USA, brought him to Sweden, won some races and made him a sire. Kissed By The West was a project when I bought her in Harrisburg. She is a pacing filly that I thought I could convert to a trotter, a mission that failed and we decided to breed her. Then this horse comes," Redén said of Don Fanucci Zet after Sunday's big victory at Solvalla.
Hard Livin (SJ's Caviar—Affinity) was bred by Brittany Farms and sold to Christina Takter, John Fielding and Sweden's Falkbolagen Ab for $25,000 at the 2007 Lexington Selected Yearling Sale. He earned just shy of $540,000 on the track for trainer Jimmy Takter in two years of racing before being sold to Brixton Medical AB in October of 2010 and exported to Sweden. Redén and Brixton Medical AB purchased Kissed By The West (Western Terror—Kissed By A Fool) for $15,000 at the 2012 Lexington Selected Yearling Sale.
The rest is history, sweet redemptive history.
Sister Sledge impressed in European record
Four-year-old Father Patrick mare Sister Sledge impressed a lot when she won $120,000 Fyraåringseliten at Solvalla on Sunday's race card. The American bred mare left quickly from post 4 and had to fight side by side with Italian star Bepi Bi over the home stretch.
Kihlström used Sister Sledges abilities perfectly and held on by a nose in the horse's third race since she came to Sweden.
The mile of 1:51.1 is new European record for 4-year-old mares and it's not a wild guess that Sister Sledge will show up in bigger races than this next season. Trainer Redén bought Sister Sledge in Harrisburg 2020 with plans on making her a broodmare, but she came in great shape and Redén said he doesn't regret that he opted a further racing career.
Big upset in $241,000 Breeders Course final
Three-year-olds battled over 1.3 miles in Breeders Course final and a big upset presented himself for the fans. Gelding Love You Too (Love You), trained by Paul Hagoort and driven by Micha Brouwer, sprinted to victory in mile rate 1:57.1 after a perfect cover trip.