by Chris Lomon
The 'Phone Jockey' is equally adept at taking calls as he is at getting them.
Luke Hanners laughs seconds before he shares the nickname he acquired not so long ago, a moniker he admits is rather appropriate.
Whenever the young standardbred driver gets behind wheel and heads to the racetrack, the trek, which can be nearly two hours, one way, doesn't usually include a steady stream of music to keep him company.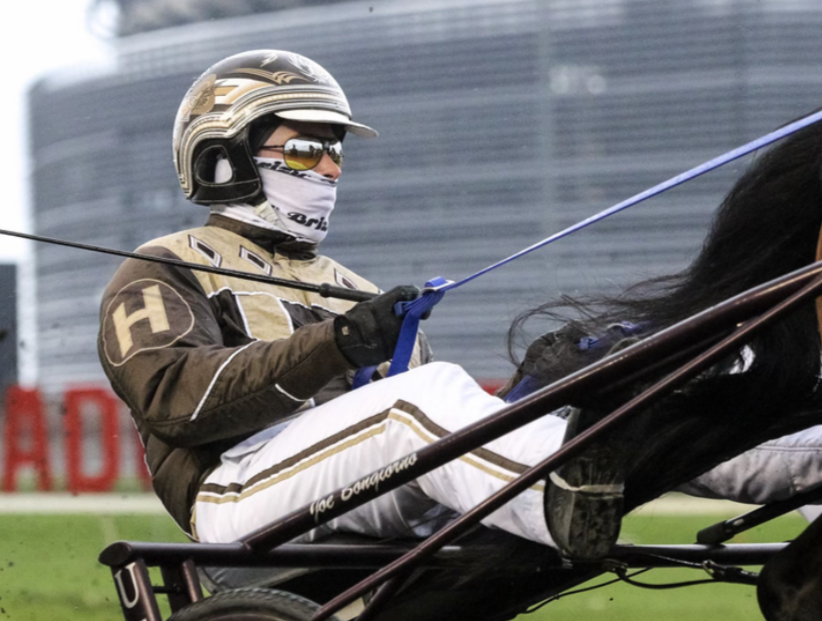 Instead, Hanners typically occupies the time by either fielding or making phone calls.
Lots of them.
"I don't really listen to a whole lot of music when I'm in the car. I'm probably on the phone."
The Ohio native is definitely dialed-in both as a driver and trainer.
Four years ago, Hanners won two races and had five top-three finishes from 14 starts in the race bike. In 2018, he made eight trips to the winner's circle. One year later, he launched his training career, and earned seven victories to go along with his 12 driving scores.
It was 2020 when the young horseman really started to make others take notice of his talents. He recorded 43 driving wins from 498 starts and added 21 top-three finishes from 85 training starts.
In 2021, Hanners has been even more impressive, already surpassing his career-best driving marks across the board.
With more success comes more demand for his services. It also means he's spending more time on the road. In May, he's competed at Rosecroft, Freehold, and The Meadowlands.
But Hanners is hardly complaining about the hectic pace that keeps him busy from early morning to late in the evening.
The long hours he puts in are certainly not in vain.
"It's starting to [pay off]. It takes a while, but it's nice when you finally can sense that it's coming together. The confidence the trainers have in me, and giving me the lines of good horses – it's really helped me. As long as they know you're trying – if you happen to get locked in, but have a lot of pace late – they'll come back with you. Recently, everything is starting to fall into position. I've been fortunate to be able to drive some nice horses – that's the biggest thing. When you get to grab the lines behind one that is 1-5 instead of 50-1 it definitely helps with your confidence. I have some good horses of my own that I train, which has helped out too."
Two trotters have been significant contributors to Hanners' hot hand.
Euro Gap, a 7-year-old son of Manofmanymissions (ON), has won a pair of races this year, including a 14 3/4-length romp at Rosecroft in March.
Docs Swan Song, a 5-year-old son of Swan For All (IN), trotted his fastest career mile, 1:54.1, at The Meadowlands on May 14, a fourth-place effort with Hanners in the bike.
"All of them have helped me this year. Each year, you want to do better than the year before. I want to win as many as I can, but the goal is to keep increasing all the numbers. I've been able to drive horses for some great people, including Brian Callahan and Megan Roberts, which has allowed me to go to Freehold and other places. When you can drive for those good stables and have those good horses, it makes all the difference in the world. When you see people have confidence you, it really does give you that added boost. And when you have your own doing well, it all adds up."
As for personal highlights, it's a place, not a horse, that comes to mind for Hanners.
"I think it would be having the opportunity to go to The Meadowlands and drive there, to get those catch drives and compete there. That's definitely been one of the big moments."
When it comes to challenges, the answer doesn't come nearly as quickly.
Not that there haven't been hurdles.
"That's a tough one. There are definitely some. I couldn't think of one in particular right now, but I know there are some, for sure."
Whenever he does face any difficult situations, Hanners is reminded of the words his late father, accomplished horseman Brad Hanners, would often share with him.
That advice continues to guide him as he works to construct a prosperous racing career.
"My dad always used to tell me that 'Rome wasn't built in a day.' That's always stuck with me and I hold on to that. You won't achieve that instant success overnight and you have to work at it every day. After each night of racing, I always think about that. If I have a bad night, I just turn the page quicker, and focus on the next night and what I need to do to have better results.
"Watching my dad – he was a really good driver – so I wanted to live up to that. That makes me strive for greatness. My dad gave us a good name. My mom [Alicia] has always been there for me. Whether it's helping me out in the barn or the paddock, she's always there to support me. My brother [fellow driver, Austin (full story here)] and my mom watch every race that I'm in."
There isn't much time for Hanners to chase other pursuits outside of the racetrack. In fact, when asked what his favorite interest outside of the standardbred world is, he came up with a fitting response.
"I guess it would be sleep. Right now, racing is five or six days a week. So, there's not much to do beyond that. You start the day early and you're not done until late at night."
Perhaps he forgot his other calling, pun intended.
He didn't earn the nickname 'Phone Jockey' without good reason.
"If it's a two-and-a-half hour drive, I'm probably on the phone for two hours, at the minimum. A lot of it is business, but some of it is just talking, either to my brother or my friends. I'm always on the phone."
And with that, it's time for Hanners to be on his way.
After all, there are plenty of miles ahead and conversations for Hanners to navigate.