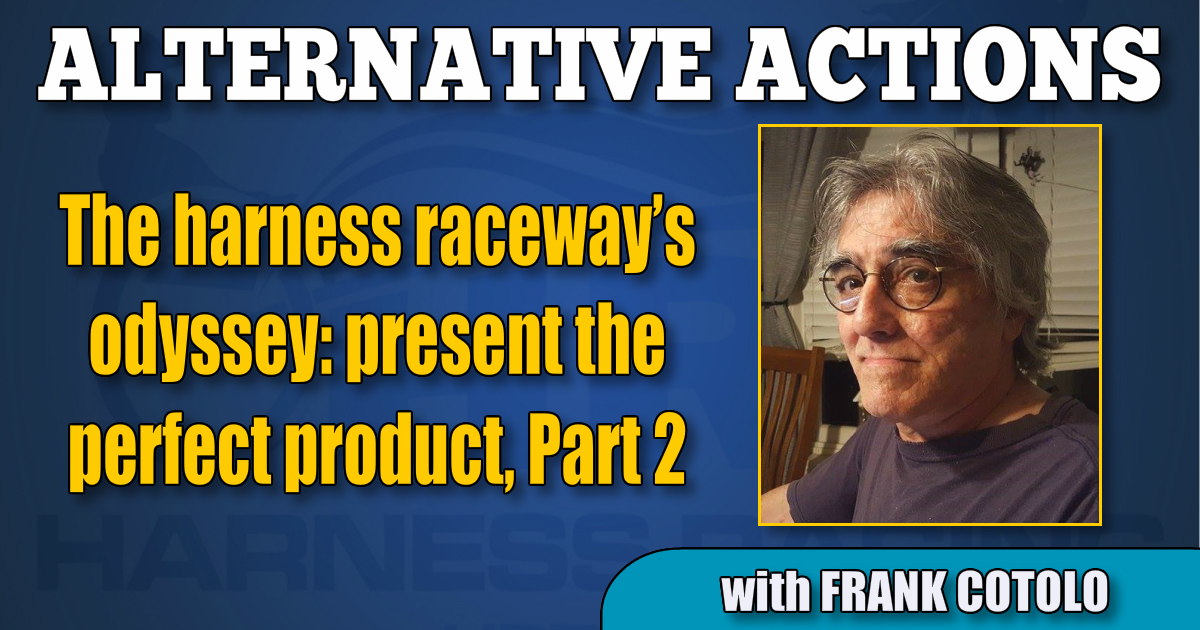 The harness raceway's odyssey: present the perfect product, Part 2
by Frank Cotolo
In Part 1, we reviewed many ways over the years that the harness racing industry altered its usual format in attempts to expand its audience. Some of the concepts were good, some were great and others were lackadaisical. And, of course, all of them failed.
Then, a few years into the new millennium, came a concept presenting a boldly configured interpretation of harness races, and from an unlikely source — Georgian Downs, the Ontario raceway in Innisfil. The concept was called Xtreme Horsepower (XH), and it promised "a slew of new ideas." That was an understatement.
XH is, to date, the quintessential alternative action; an audacious endeavor where tradition collides with progress, producing an "action packed, adrenaline charged night of harness racing and entertainment."
It's a harness racing program, all right, but no two races are alike, no less does each defy the criteria of what goes on before, during and after the usual eight-to-14 races adorning any raceway's offering.
Indeed, an XH race is branded by its title. There is an XH Showdown, with two heats going 5/8th of a mile and the top finishers returning on the card for a "Showdown." Not a final (the word worn and dull); a Showdown.
There's a "Shotgun" field of trotters in a race demanding two laps, where the first horse to cover 1 ¼ miles takes the winner's portion of the purse.
One conventional-mile XH has "an unconventional field size" — 14 pacers line up.
Another XH race, minimum field nine trotters, goes 1 ¼ miles — clockwise.
The 1 7/8ths XH Marathon for "gladiators of stamina" — one for trotters, one for pacers — demands three laps from 18-horse fields to crown a winner.
Finally, the XH Classic sends a herd of trotters (15) 2 1/2 miles to its finish.
The Brand
Everything about Xtreme Horseplayer races is self-contained. As I said, it is a brand, treated as Chris Roberts (then Georgian Downs' director of racing operations) claimed is "something that can't be seen anywhere in the world."
As a pari-mutuel program, it is a handicapping challenge, one that is addressed with an Xtreme Handicapping seminar. However, the nature of the races' difficulties is a pleasant factor to encourage novice bettors to risk a few bucks using less-than-astute reasons. Yes, it attracts betting from the lottery-mentality gamers who pick favorite numbers, like funny and familiar names or simply how any particular horse attracts them. Betting luck becomes a more important part of the experience and entertainment, involving the entire family.
That's another promotional point, and a clever one, because aside from betting age, the "whole family" could be enjoying any harness race at any raceway that handled the conventional sport's conditions. But with XH, anyone could enjoy and participate without feeling the stigma of "not knowing anything" about the sport or betting.
In the XH guaranteed Xtreme Pick 4, for instance, the handicapping competition is leveled; those who do not know anything can pick their favorite four numbers like they would in a similar lottery game. Considering the outrageous events, they could feel there is more of a chance to cash tickets than in the "regular" harness races.
Even so, novices and veterans could get a Tip Sheet. Also, there is something I have only seen in French newspapers — harness drivers offering picks in XH races. Since no race is a typical harness race, horsepeople provide hands-on measures of handicapping concerning the effects of different protocols.
There were extra-added attractions over the years, too, including mini-horses racing and Under Saddle events, because, as promoted, "We would like something a little different.
A Pain Factor
There is no doubt in my mind that maintaining a consistent XH schedule is the biggest challenge. Where will all of the horses needed come from; not just if there are horse shortages but also for the volume of owners and trainers called upon to make a living at this format? After all, kicking traditions in their guts, making them into relics, is an issue that could very easily become visceral. After all, you should not capsize a boat to see if it still floats, should you? The problems of changing the face of the traditional sport into a XH degree on a regular basis are staggering in any appraisal.
Still, as radical as are the divergences of XH races, there are peculiarities that bold creative minds, like those creating the XH platform have, that could make strong cases for fundamental changes that could affect the appeal of harness racing on a level that adds precious dollars to its bottom line — especially with the domination of Gen X maturity on the horizon.
Compromise is painful, but its inevitable result is change, which is sometimes more destructive than productive. This is why XH is so important to study, test and trust as a model that could lead to the destination of a raceway's odyssey to present the perfect product.