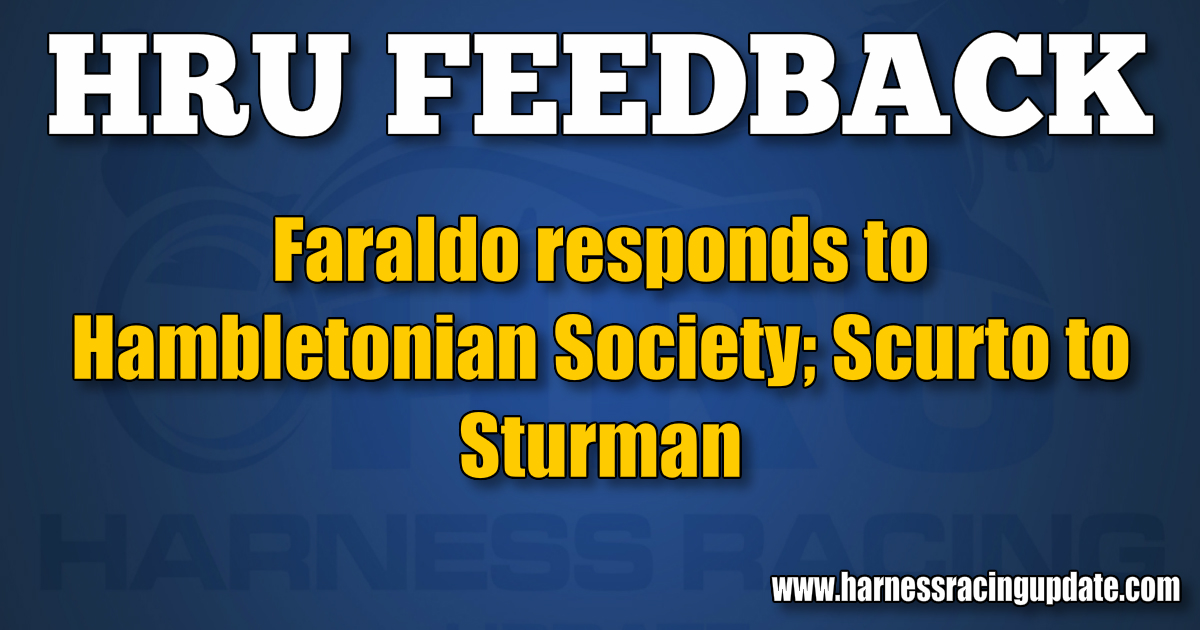 HRU Feedback (2020-11-29)
Faraldo: USTA represents its members on medication rules and issues
The USTA has 17,000 members and 60 board members. All membership directors are selected via election by members in their respective districts, while track representatives are chosen by racetrack members. The USTA is an organization that is truly controlled by its membership, as its directors must be responsive to their collective will.
The USTA rule-making that governs only fair racing also serves as a critical guidepost for racing commissions, as many of these rules are often followed verbatim by harness racing jurisdictions. Moreover, the USTA serves as the exclusive breed registry for the standardbred; funds the strategic wagering initiative; establishes programs like on-line entries; issues credentials for owners, trainers, drivers and officials; keeps racing performance data, maintains a constantly updated, informative website with industry news, monitored constantly by other breeds; and is in the forefront of the promotion of many initiatives , including seeding aftercare programs.
Of high importance, and a function unique to the Association, the USTA proposes medication guidelines to fit harness racing's different performance model. The positions taken by the USTA are based entirely on scientific studies and evidence that is both disclosed and peer-reviewed. To this end, the Association employs a lobbyist to submit proposals that fit our game, while opposing legislation that is other breed-centric and might do harm to our industry.
The Hambletonian Society, by contrast, is a non-profit organization formed in 1924 to sponsor the race for which it was named, the Hambletonian Stake. Today, the Society's sole mission is the administration and promotion of harness racing stakes, early-closing races and other special events. The Hambletonian Society currently services 133 of harness racing's richest and most prestigious events. It does a great job in fulfilling its sole, singular mission.
The Society is comprised of a total of 17 directors. They are appointed to encourage and support the breeding of horses through the development of harness racing stakes. As a private consortium, vacancies on the board are filled by the existing directors, not via an open election process. That is fine, as the group is an organization with no members, and thus represents itself.
Unlike self-appointed Hambletonian Society directors, USTA leaders must answer to a large and diverse constituency while acting to further its much broader mission. USTA directors do their best, weighing the opinions of a broad swath of the industry, as opposed to simply promoting and managing stakes races.
The Hambletonian Society has the right to its opinion on everything, including its support of the proposed Horse Racing Integrity and Safety Act (2020-11-07 Issue pg 11). Individual USTA members have the right to their opinions as well, including some on the USTA board who have business connections to the Jockey Club. The collective voice of the vast majority of USTA members, however, acting through that diverse and large group of elected directors, is the voice of the 17,000 members who elected them, and their voice is how USTA positions are formulated. When the USTA takes a position on something as serious as the Horse Racing Integrity and Safety Act as it has over the course of the last three years, it will not have 100 per cent approval from each and every member, but from the majority of their duly elected representatives.
The USTA fulfills its obligation to represent the interests of this sport and has years of experience doing so. While the USTA values and considers constructive criticism, it works and studies very long and hard before it cavalierly takes positions or formulates new benefits for its membership. There is one thing certain — the USTA has been at it a long time and will continue to be at the task of trying to protect this industry, despite some viewing its efforts as wrongheaded.
For too long the harness industry has been to ready to accept the status quo. Maybe complacency is what got us in this mess. The hottest place in hell is reserved for those who are complacent and silent when they stand by in the face of wrong. Today, the USTA is more proactive in protecting what we have left, while competing forces act against us, be it at the hands of the thoroughbred industry, alternative gaming interests and their champions and more.
The USTA has members it represents. Its counterpart in the thoroughbred world, the Jockey Club has no members and actually is at odds with the 31,000 members of the national Horsemen's Benevolent and Protective Association (HBPA) whose interests it disregards while it supports the Horse Racing Integrity and Safety Act.
The USTA, along with the American Quarter Horse Association (221,000 members), the HBPA and the National Race Track Veterinarians Association are just some of the national organizations having a membership base that represents the vast majority of its industry members' interests and oppose the mislabeled Horse Racing Integrity Act. The USTA's role, like these other member based organizations is far from that of a single mission entity. They all have set forth valid reasons to oppose this Legislation.
From top to bottom the USTA has much more on its plate and much more responsibility to protect the viability of the sport of harness racing. Its mission is a broad based representative one.
– Joe Faraldo / USTA chairman
Feedback on Sturman's latest column
When I saw Brett Sturman's recent column in HRU with the title, Ideas that harness racing can consider lifting from the thoroughbred sport (full story here), I was quite intrigued. Since I have participated in both sports, on an executive level and as an owner and fan, I am always looking at what each sport does best. One of the items I always believed harness racing did better was purse distribution.
Top heavy purse distributions in thoroughbred racing, in my opinion, have resulted in fewer owners, shorter fields, and no difference in jockey's motivations to win races. When a disproportionate amount of purse money is allotted to the winner, the owners/trainers begin to look for that perfect spot, condition, surface, short field, etc to enter into a race. If a horse isn't going to be 7-2 or better, the advice is often to wait until some other race comes along. Okay for trainers, but bad for owners who end up with fewer starts/opportunities each year and handicappers who end up with shorter fields.
We need to keep owners in the game. The adoption of purse structures that pay down to last is a good one. It helps cover the costs of running a horse on race-day, but finishing in the top five in any horse race should be rewarded. Those distributions should help pay training and vet bills. Most owners don't expect to make money, but they certainly don't want to get crushed.
In the age of super-trainers and mega-owners who put together huge win percentages already, do you really need more of the purse structure flowing into fewer barns? I do not believe this would meet anyone's objectives.
Finally, one other point. The win-weighted purse structure in thoroughbred racing goes back to the days of limited oversight and regulation. The thought was you needed that extra incentive to help insure ultimate effort to win. I believe 99.9 per cent of jockeys and drivers have an innate desire to win, not just financial, plus the oversight with improved technology and experienced stewards/judges is significantly better. Not perfect, but better.
Thoroughbred racing does a number of things better in respect to ownership, but all in all, when it comes to purse distribution, harness racing finishes first in that race.
– Joe Scurto / Lakeville, MN