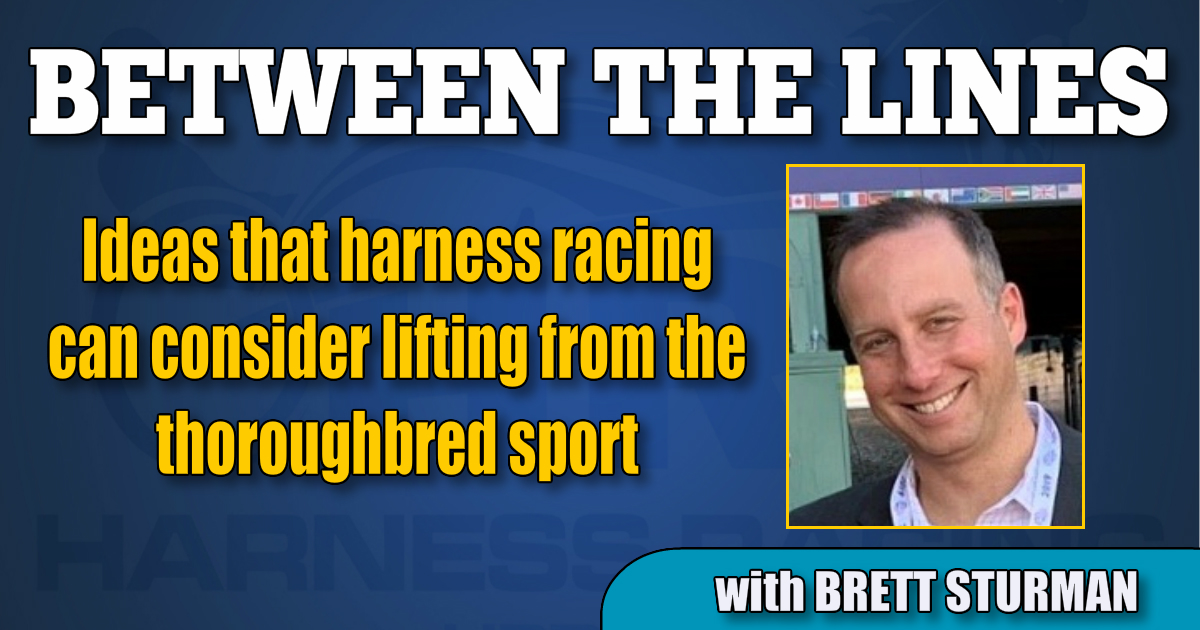 Ideas that harness racing can consider lifting from the thoroughbred sport
by Brett Sturman
My esteemed HRU colleague, The Guru, led off his column a couple of weeks ago by discussing the disparities of big money at sales between our sport and in the thoroughbred game (full story here). I wouldn't say that The Guru's comparison of future thoroughbred Hall of Famer Monomoy Girl to harness racing's Sister Sledge to illustrate was exactly an apples to apples comparison, but I understood his point.
There are certainly clear differences between the sports, though at the same time there are things that harness racing can take from its thoroughbred counterpart to potentially better itself. Here are some that came to mind.
From a purse structure standpoint, there is a high premium on winning in the thoroughbreds. The drop-off in purse monies from winning a race to finishing second is a far greater disparity than the difference in harness racing. Whereas harness racing purses allocate 50 per cent to the winner and 25 per cent to second, purses in thoroughbred racing typically allocate 60 per cent towards the winner and 20 per cent or even less for second. On the other hand, purses in harness racing only pay out through fifth, but in the thoroughbreds all starters in a race at least will earn something, usually a few hundred dollars. From an owner's perspective I could see a case for both sides, but there's also a case to be made that the top-heavy purse structure would benefit the actual racing in harness racing.
By putting an even greater emphasis on finishing first, wouldn't that make the actual racing in harness racing livelier? There's always discussion as to what harness racing can do to improve the flow of races, the competitiveness and overall make for a better product. We talk about if we should have passing lanes or not and how the flow of races should have to go, but wouldn't all of that take care of itself if horses had to win in order to get the lion's share of these purses? Instead of conservative tries where drivers go into the race content with a third or fourth, would it spawn a more aggressive style of racing knowing how much more in value a win is proportional to any other placing? Intuitively, it seems like something that would help.
Another key difference that comes to mind is the availability of information. Admittedly, this is something that can be improved in both sports, but even with that said, the thoroughbred industry is far ahead of the harness industry in terms of readily available data that is offered at no cost. And I say this knowing that the United States Trotting Association has made strides in recent years as to what statistical information is made publicly available at no cost, but the reality is as follows: I can go to the Equibase website at this moment and search for data on any thoroughbred horse in history. And I can see full detail for a horse that just raced a few moments ago, or I can see full detail for Seabiscuit. The data on Equibase includes lifetime career results, including lifetime race charts complete with footnotes, as well as comprehensive sales history. And it's all entirely free.
In harness racing, much of this same information can be obtained through the USTA's Pathway or through Standardbred Canada's TrackIt, but it comes at a price. Even to look up the most basic of information on a horse costs something. Maybe it's just me, but if I were interested as a potential owner and was trying to gather information on a horse I was looking to claim or acquire, it seems like repeated paywalls would be a deterrent to entering the sport. It just makes things more difficult than it needs to be, and common sense should tell you that the easier it is to obtain information, the more consumer engagement it will bring.
Interestingly, on the sales front, the two sports actually had some similarities in this fall's largest respective yearling sales. With 773 yearlings sold at Standardbred Horse Sales Company's pandemic-effected sale being the lowest in at least the last 20 years, the 2,346 yearling thoroughbreds sold at Keeneland in September were also the lowest in at least the last 20 years. The two industries navigated the COVID-era sales as well as possible and tracked similarly, relatively speaking. And in 2019, harness racing reached a milestone with having not one, but two yearlings go over the $1 million sale price; something that traditionally is far more common at the thoroughbred yearling sales (Keeneland had 15 seven-figure horses this year alone).
Lastly, with yesterday being Thanksgiving, I think that harness racing missed an opportunity with the absence of racing at all U.S. tracks (Canada which celebrates its Thanksgiving in October, had four tracks going, including Woodbine Mohawk Park). Even if it was only one U.S. track in a sport that traditionally doesn't race on the U.S. holiday, I remember being young and watching Monticello race – how's that for a fond childhood memory? But in recent years, even Monticello has ceased to race on the holiday. Meanwhile, thoroughbred tracks including Churchill Downs, Del Mar, the Fair Grounds and Laurel Park all raced and generated decent handle. Maybe handle in harness racing isn't of paramount concern, but even if it were seeing trotters come home in 2:02, there's something unique about racing on Thanksgiving.