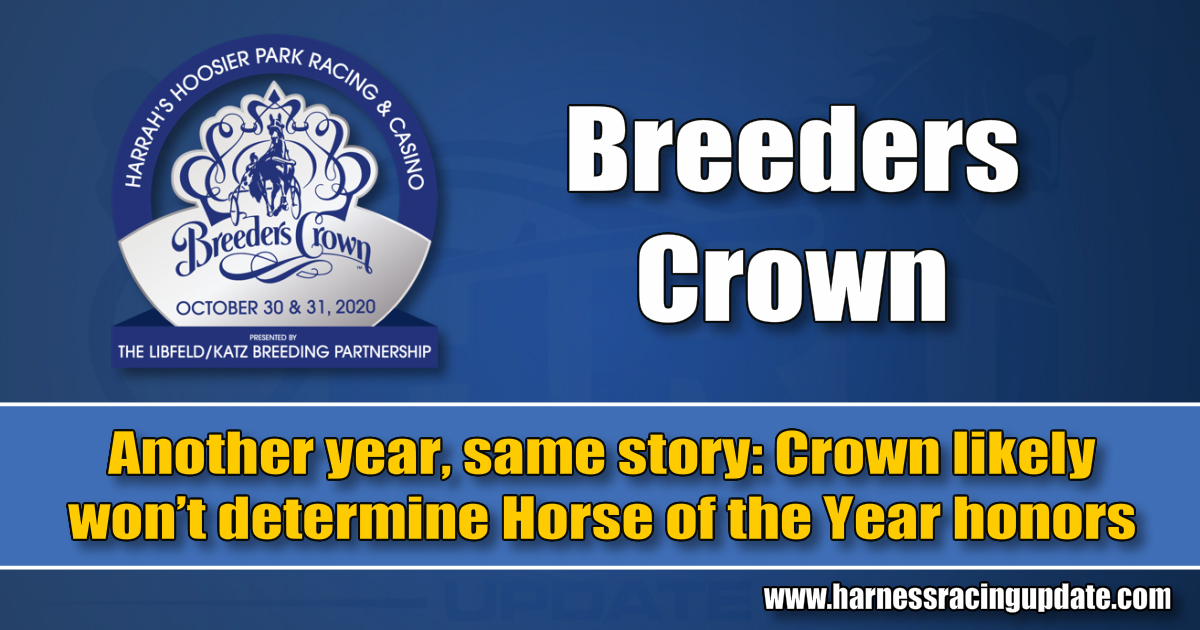 Another year, same story: Crown likely won't determine Horse of the Year honors
by Jerry Connors
"That 'crunching' sound you are hearing is the sound of people taking any preconceptions they had about Horse of"… no, wait, I already wrote that one last year (full story here).
When Yannick Gingras upset Party Girl Hill with Peaky Sneaky, it occurred to me that he might have cleared his own path to year-end honors, if Tall Dark Stranger, aka Captain Courageous, could get home.
Instead, a $409.80 shot – he WAS the longest shot on the board, $162 to win out of a $40,360 win pool – Sandbetweenmytoes, with Scott Zeron, edged him out, and Horse of the Year is still up for grabs.
TDS' deserved reputation for seemingly fighting off every challenger he saw come to him served him extremely well against the determined stretch charge of Cattlewash alongside and others in the cavalry charging at him. But it was the challenger he likely couldn't see – the one who was closer to the hot dog stand in the grandstand at the finish than he was to the pylons – who knocked him off. (Real hard-luck story: Captain Barbossa, who was beaten three-quarters of a length, and finished sixth – at least he got the $5,000, one per cent of the purse, which went to all the starters).
Great credit to both Party Girl Hill and Tall Dark Stranger, who lost by two necks and one neck, respectively. And Breeders Crowns don't give a favorite any easy time – Party Girl Hall's fractions were :54 out and :55 back, and even more dramatically, :52.3 out and :56 back in the Tall Dark Stranger race.
I was really impressed by Peaky Sneaky's resilience last week, and again tonight. As for Sandbetweenmytoes, the six people who still talk to me will confirm that I said going to the Jug that if there is a longshot, it might be this gelding. He paid $16.20 in his Jug elimination – and of course a little more here. He got roughed up in the Jug final and was favored over Cattlewash in the 1:46.4 Lexington race, so he wasn't exactly Swiss cheese, and he showed no holes tonight.
The top two, both 3-year-old pacers, were really good, but they didn't win. So the year-end honors discussion likely will continue.
* * *
And since it all may not come down to the Breeders Crown (sorry again, John and Moira – you and Hoosier put on a great show), here's what open races are available through Thanksgiving:
THU 11-5 — DD, 2YO Matrons, all four divisions, approx. $175G
FRI 11-6 — HoP, 3YO C-G Pace (Mon. Circle) and Open (Erskine) trot, $200G; 3f trot and pace, 100G
SAT 11-7 — M, 2YO Kindergarten Finals, all four divisions, $250G
THU 11-12 — DD, 3YO Matrons, all four divisions, approx. $200G
SUN 11-15 — RcR, Potomac Inv., $100G
WED 11-18 & WED 11-25 — DD, 3YO Open Progress Pace elims. and final, final $300G
SAT 11-21 — M, 2YO Final Four, all four divisions, $450G; TVG Open trot and pace Final, $350G; TVG Female trot and pace Final, $175G
TVG eligibility: Preference to top nine in preliminaries having started in three preliminaries. Then a 10th (or more, depending on number of entries) can be added – the winners of the following races in preference: Crown 3YO final; Crown older final; Hambletonian/M Pace or Hambletonian Oaks/M Shalee; (for Opens) Crown mare final; Futurity/Tattersalls or Filly Futurity/Garnsey; N Am Cup / Fan Hanover. (This is just a brief summary; see the rules for a complete explanation.)
* * *
A paragraph about each of the other Crowning events:
Gimpanzee wasn't even the best horse in his division within the Marcus Melander barn by common thought the previous two years, Greenshoe was the "lead horse." So all Gimpanzee did was win the Breeders Crown at 2 and 3. Saturday, he added a third Crown by brushing to the lead nearing the half and trotting strongly. (Atlanta had to come first-over, and may have been a step off her best. And what a difference in the fractions from the race before it: :56.4-:54.4, vs. :52.3-:56.) This seems like it might have been a big step towards Trotter of the Year honors, depending on his schedule (and that of others; see above.)
Kissin In The Sand had Shartin N right on her back and with aim, yet she proved tough enough to pace home in :26.3 into the stiff wind to keep the Dunn/Takter wheel rolling and likely get her the nod for the divisional title. She picked a fine time to peak – the Crown was her sixth win in a row, and her 1:48.4 tied the 2009 stakes record of Hana Hanover, and lowered the Hoosier mare mark (no separate 4YO mark) of Carol's Z Tam by a fifth.
Manchego is only the seventh horse to win as many as three Breeders Crowns; Peace Crops won four to lead all horses. Manchego is the first Crown champion to win at 2, 4, and 5. The victory also brought breeder Brittany Farms to a 27-27 tie for Crown championships with long-time friendly rival Hanover Shoe Farms.
Century Farroh, who may not have won too many races but has been as consistent as anyone among the FFA pacers, worked out a pocket trip and edged by the gritty Bettor's Wish, who had to go first-over and who may have had the best overall year, to post a gutty win. This gang should for the most part turn up for TVG action. And a shoutout to all our Nova Scotia friends for this horse's success!
A 3-year-old trotting filly who had won three of her last four starts, including an elimination race, had Tim Tetrick and Jim Campbell behind her, and she goes off at 8-1? That's Next Level Stuff, who can add Breeders Crown champion to her laurels. Her time of 1:52 was not only a Breeders Crown record, but it also marked the fourth time this year that that divisional track record had been broken at Hoosier.
Amigo Volo was life-and-death in the sophomore colt trot, but he won his Crown – just as he did in 2019. He was the second Crown winner of the weekend for Nifty Norman, and his seventh lifetime, giving him a toehold in the top ten trainers in the Crown's history. The Pinske family were also in on his other winner, Fire Start Hanover.
* * *
Four drivers won 16 of the 17 Crown eliminations: Dexter Dunn, Yannick Gingras, David Miller, and Tim Tetrick (Andy Miller was the other). They produced three, Miller two and Dunn one, of the five winners in Friday's four finals (remember the dead-heat?). And it looked like The Fearsome Foursome would dominate again Saturday, with Dunn taking three of the first five, and Gingras and Tetrick the other two.
Then Scott Zeron and his horse's few backers crashed the party, and Brian Sears (who was also a Friday winner, along with Bob McClure) won with Gimpanzee. Miller "restored normalcy" in taking the last race, the Open pace, with Century Farroh – with Dunn-Tetrick-Gingras 2-3-4, ending things "full circle."
According to our records, compiled as always on deadline, Dunn drove the winners of $1,056,000; Miller, $1,020,540; Gingras, $816,320; and Tetrick, $797,000.
The winning trainers' circle was even tighter on Saturday, with Nancy Takter taking three, Jim Campbell winning two, and Nifty Norman (who also won one Friday) also triumphing. Last year's Trainer of the Year, Marcus Melander, along with Dr. Ian Moore, who is a delightful guest at most any party, took the last two races. By our figures, Nancy Takter's horses earned $1,022,000. She'd probably gladly give you 20 per cent if you could have made the Hoosier stretch about 30 feet shorter.
* * *
In playing host to all 12 Breeders Crown championships this weekend for the second time, Hoosier has now played host to 24 Crown championships, putting it sixth on the all-time Crown championship host list. The five ahead are: The Meadowlands (91), Woodbine (87), Mohawk (64), Pompano (49), and Pocono (36).
Thirty-one tracks have played host to at least one Breeders Crown championship event – and I was pleased to note that all 31 were on my personal "Tracks Collected" list. I was not pleased to note that 14 were on the "No Longer Hosting Harness" list – and I had been to Crowns at half of them.
* * *
A couple of last notes resulting from Friday's racing:
Number of Breeders Crown championships before a horse was disqualified from first for interference: 409.
Number of Breeders Crown championships after that disqualification before there was the first dead-heat to win: 11.
Both were in the 2-year-old colt pace.
(And Perfect Sting had already done the dead-heat for win thing, as noted by my HRU colleague Keith McCalmont, three months and two days earlier in his career debut at Pocono).
In case you were wondering, Perfect Sting and Summa Cum Laude both earned $217,500 of the $600,000 purse for their dead-heat victory. And if you wondering how a winner got 36.25 per cent of the purse:
In the Breeders Crown finals, the purses are divided this way: one per cent is set aside for the non-first five In this $600,000 race, $30,000 would be devoted to those finishers. Then the winner is guaranteed 50 per cent of the original purse, so that's $300,000, leaving $270,000 to be divided. This money is divided $135,000 (22.5 per cent of the original purse), $64,800 (10.8 per cent), $43,200 (7.2 per cent), and $27,000 (4.5 per cent), which is 90 per cent of the normal distribution, because of the one percenters taking up "5 per cent" and the guaranteed 50 per cent to the winner besides them taking up another "5 per cent."
You take the win money ($300,000, 50 per cent) and the place money ($135,000, 22.5 per cent), divide the total by two, and get $217,500 (36.25 per cent). See me after class for the different ways things are done in The Meadowlands' and some of Hoosier's own stakes events.
* * *
Pennsylvania-sired horses led the way again Saturday, with five of the night's Crown champions. Ontario produced two — including sweeping the first three spots in the Open Pace — and New York one. All five winners on Friday were PA-sired.