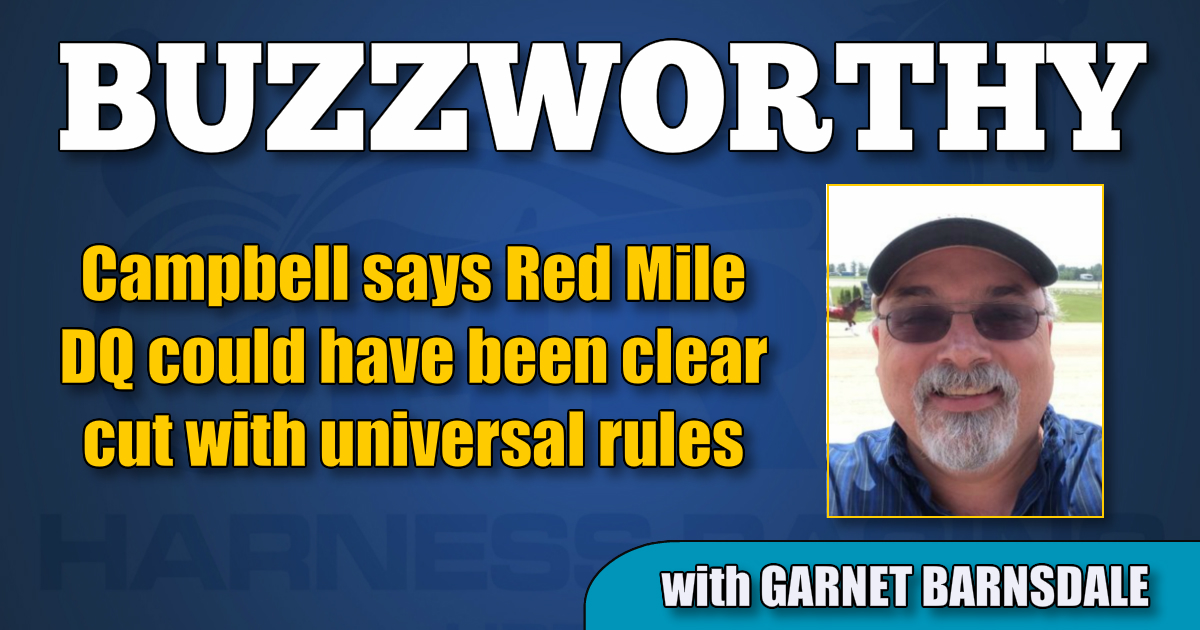 Campbell says Red Mile DQ could have been clear cut with universal rules
by Garnet Barnsdale
Hambletonian Society president John Campbell says if individual racing commissions adopted rule changes that have been passed by the Association of Racing Commissioners International (ARCI) that the furor over a controversial disqualification at The Red Mile last Sunday would have been avoided.
Last Wednesday, I reported on how the disqualification was met with universal scorn on social media from bettors, horsepeople and racing writers.
The incident occurred in Race 11 last Sunday when a filly that had been leading approaching the 3/4 pole broke stride, appeared to lose sufficient ground, came back on to win, then was disqualified.
You can read my full account here.
Campbell referred to a letter that he sent to Harness Racing Update earlier in the year — following a similar controversial judge's decision — that spoke of several rule change proposals to the USTA in 2018 and 2019. In the letter, he explained that the committee had addressed the extended run rule.
According to an excerpt from the letter, the extended break rule — if it had been in use at the Red Mile — would have made the disqualification cut and dry:
It was proposed and passed by the USTA that – An extended break shall be defined as a horse that is not on its proper gait for 25 strides or more. This rule was also passed into Model Rules by the Association of Racing Commissions International [ARCI] however to my knowledge The New York State Gaming Commission and most States have not adopted this rule. Using strides to determine an extended run is not unprecedented as France uses 15 strides to determine whether a horse is disqualified or not.
Campbell spoke of how the extended break rule change would have made the disqualification impossible to challenge. "If you use the 25-stride DQ rule and counted the strides this filly was on a break, it would have been clear cut because you could easily count 28 strides that she was galloping," he said.
Anytime someone posts a poll asking for people to vote on the one thing they want changed about the sport, "uniform rules" at every racetrack always seems to be high on the list. Campbell, who noted that Standardbred Canada had also spearheaded a similar uniform rules change campaign in Canada, indicated the Rules Committee's frustration at the snail's pace at which racing jurisdictions are moving to adopt the changes. He added that the solution is simple.
"There is a clear avenue to find the remedy to these situations, if the racing commissions would just reach out and grab it," he said. "From a participants' level and from a bettors' level, we could have very similar racing rules in the U.S. and Canada if we could just get these jurisdictions to adopt the proposed rules changes."