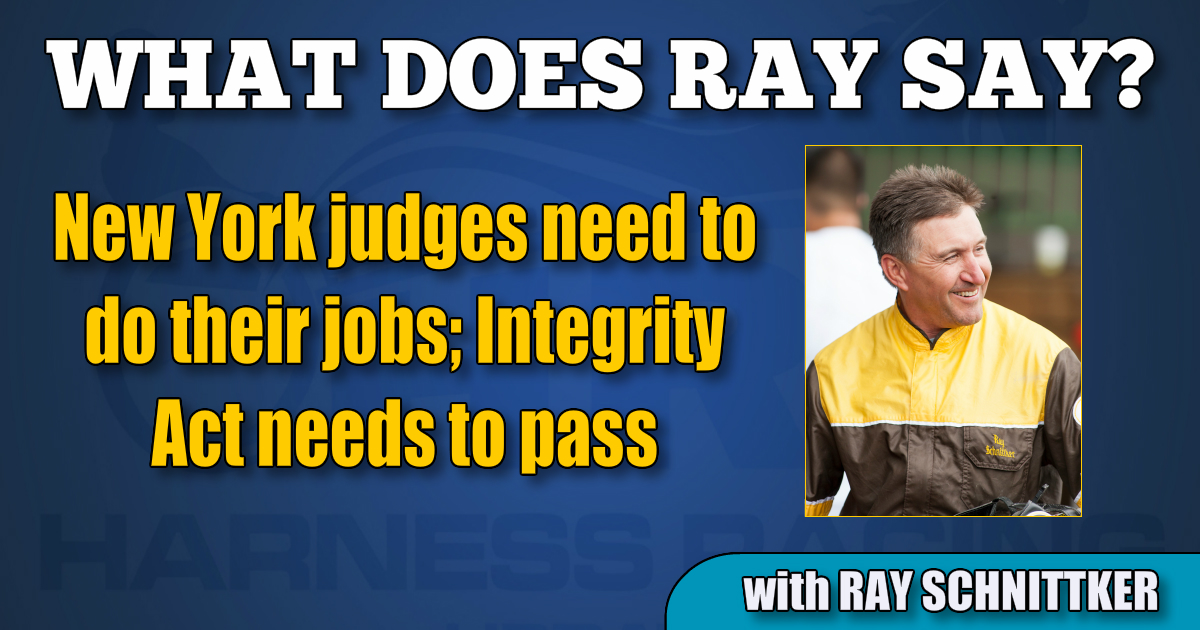 New York judges need to step up; Integrity Act needs to pass
Multi-talented horseman and common-sense sage Ray Schnittker opines on why New York judges need to do their jobs, why Hanover Shoe Farms' integrity initiative is a hell of an idea and why the federal Horse Racing Integrity Act needs to pass.
by Dave Briggs
Trainer Ray Schnittker said federal horse doping indictments for nearly 30 people in the standardbred and thoroughbred industries (full story here) is an indication racing officials need to do their jobs. Schnittker said this is especially true in New York where three of the trainers under suspicion were among the top 10 trainers at Yonkers Raceway — the two leading trainers Richard Banca and Rene Allard and 10th ranked Nick Surick.
"In New York, it's going to be interesting to see what they're going to do when we do get back racing with all these guys that got indicted," Schnittker said. "Brian Barry is the head of officials in New York. He needs to step up and say, 'Okay, when some guy we've never heard of, who has never trained one horse before, all of a sudden is training 60 horses can you judges make an inquiry and actually do your jobs?' I'm not really looking for owners anymore. I like the guys I've got. I don't want to get bigger, but I don't have anyone calling me and I'm pretty successful. How does a guy with no experience get 60 horses?"
Schnittker reiterated those thoughts during HRU's Live Twos in Training interview Thursday evening with Heather Vitale, which can be watched on YouTube here and Facebook here.
Thank you to Winbak New York stallion Courtly Choice and the New York Sires Stakes for sponsoring the Schnittker video, which was pure Ray in every way… Don't say we didn't warn you….
As for other burning issues Schnittker did not cover in his live interview, he told HRU prior to going on air that he thinks Hanover Shoe Farms' announcement that it is establishing a $250,000 matching fund grant to support the work of restoring full integrity to the harness racing industry (2020-04-07 edition – pg 8), is "a hell of an idea, especially if we get these thoroughbred guys involved. If so, I think we could easily be talking $3-4 million, maybe a little more between a bunch of breeding farms and SOAs. Jeff Gural hired 5 Stones intelligence agency to help catch the people indicted by the FBI and we need someone like that to point us in the right directions.
"Thank God for someone like Jeff Gural, who had the balls to do this."
Semi-related to that issue, Schnittker said he thinks harness racing should get on board with trying to get the Horse Racing Integrity Act passed to provide federal oversight of the sport.
"I was talking to Frank Antonacci today about the Horse Racing Integrity Act that they are trying to get through at the federal level. Frank said the train has already left. I agree with that," Schnittker said. "Just endorse it and shut up. If you don't like something, work out those small details after it passes. They aren't changing something just for standardbreds. We're too small compared to the thoroughbred industry."
Finally, on Schnittker's list of hot button issues was the rumor that when racing returns to New Jersey that it will initially be reserved for New Jersey residents.
"I heard that and, to me, it's really kind of stupid (if it happens)," Schnittker said. "If it's true, then that's what is wrong with the game. Dover started that bulls – – – 25 years ago when they got slots, 'You can't come for this, you can't come for that.' Basically, it subsidizes racing for guys that can't compete. If you can't compete, go somewhere else."
HRU is proud to present live virtual Twos in Training interviews with trainer Casie Coleman on Saturday, May 2 at 7 p.m. EDT, trainer Tony Alagna on Monday, May 4 at 7 p.m. EDT and trainer Noel Daley on Thursday, May 7 at EDT.
Special thanks to Blue Chip Farms and Winbak Farm for sponsoring the Coleman video, to Winbak stallion Artspeak and Crawford Farms for sponsoring the Alagna video and to Blue Chip for sponsoring the Daley video.