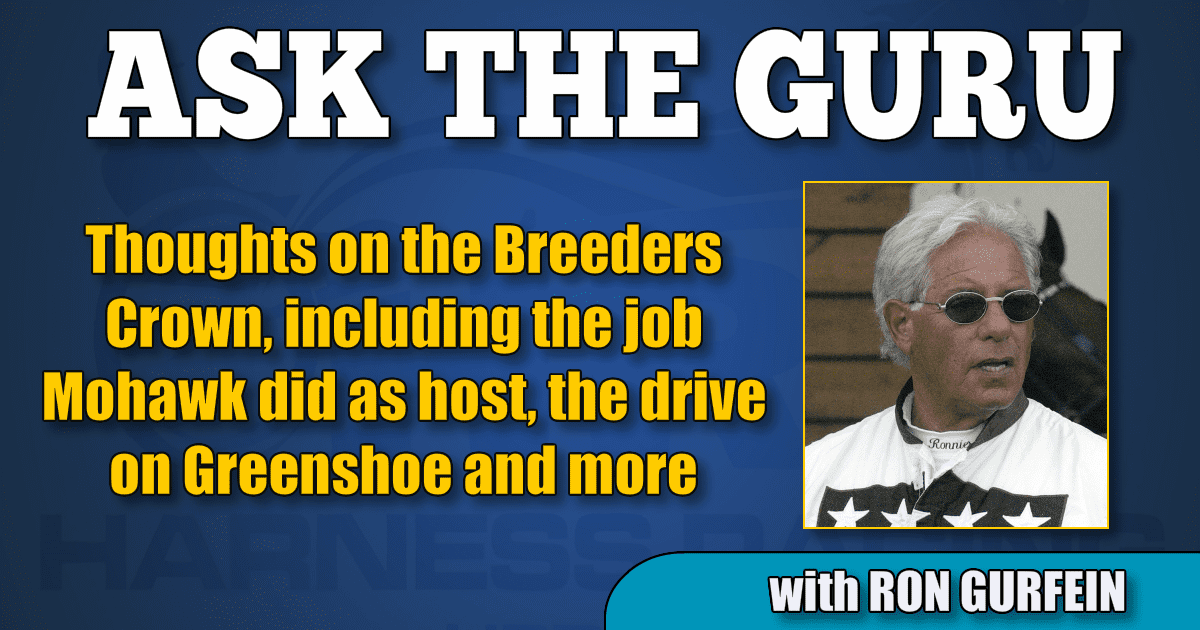 Thoughts on the Breeders Crown, including Mohawk as host, the drive on Greenshoe and more
by Ron Gurfein
Tidbits: I totally agree with Jerry Connors' assessment that the 2019 the Breeders Crown will not be a determining factor in the Horse of the Year race. Greenshoe, Bettors Wish and Shartin all raced their hearts out in conditions that were awful to say the least. Bettors Wish got stung and still missed by a hair, Greenshoe had Yannick Gingras make a standstill break in his face and still raced great. On the other hand, Shartin N one race in 55 days and being sick is a good story, but to this writer she is a tired puppy. She did all her work on the front end and has a right to tail off, but is not the caliber of the two colts in my opinion. I am not sure what the future has for us unless the colts race in the TVG later at the Meadowlands. Whatever happens it will be a tough choice and a tie would not upset me. Everyone knows how much I love Greenshoe, but the guts and determination of the little Bettors Delight colt amazes me. Stay tuned…
* * *
The 2019 Breeders Crown started out with a bang for team Tony Alagna and Andrew McCarthy and deservedly so, and ended the same way. I lauded the merits of Andy's reinsmanship in last week's Ask The Guru column (full story here) and was like a proud papa throughout the two evening event.
I find it strange that Tony's fillies went off at such ridiculous prices. Both had won major races and their previous average odds were all less than 3-5. It is strange, however, that the morning line maker punished them for outside posts as much as he did because if you have speed it is one of the best tracks I know of to get the top from the outside as the straightaway at the start is as long as exists in the business.
I also had some personal involvement as Reflect With Me was one of my two favorite pacing fillies last fall, the other being the Kentucky Sires champ Gai Waterhouse.
As for the disqualification, I was privileged to be the last victim of a DQ in the Breeders Crown, my fast trotting filly That Fabulous Face was taken down in 1998 at Colonial Downs for a lapped on break at the wire. It wasn't the last time I saw Mr. Perretti with a bright red face. That would make it 251 races between disqualifications, a pretty good record. Let the boys and girls fight it out.
I will not stick my neck out with an opinion of the DQ as it was an objection from a driver I have the utmost respect for. And since Yannick Gingras announced it was his first objection in 16 years I tend to believe him without reservation.
* * *
I really think the time has come in both the standardbred and thoroughbred industries for single professional opinion to make decisions of this nature as in basketball and football. Local judges are fine for overnight events but when you get to graded stakes the political appointees and unqualified personnel that often occupy these important positions should not wield the power to change the outcome of a major event. Like in pro sports there should be a well-paid consummate professional in a room with a bunch of TV screens to make the final ruling as to disqualification. I also suggest that there should be a phone link to the judges that a trainer can pick up shortly after the conclusion of a race and request an inquiry or make an objection to something he or she found egregious in the running of the race.
I still hate gracious holes in the first turn. Great example would have been Greenshoe. If the hole wasn't open for him he would have been forced to continue to the top and would have won by open lengths. It's easy to be a Monday Morning quarterback.
* * *
So many great performances, the Crown was wonderful to watch. Alagna was superb, the Down Under twins Andrew and Dexter were fabulous and I must mention the turnaround, mid-season by Nancy Johansson's great mare Manchego, providing the most earth shattering victory in this year's Crown.
Brian Sears' drive on Bold Eagle when the horse was obviously a handful in the post parade was great and I must shout out to Joe Bongiorno a new star on the horizon for his first Breeders Crown victory on American History.
I would be totally remiss if I didn't congratulate a man that performed an impossible task. How can a trainer in 2019 win a Breeders Crown with a Credit Winner? Ask Trond Smedshammer, he did it.
Congratulations to Brittany Farm, and Katz-Libfeld, they had fingerprints all over the Crown as breeders, owners and benefactors.
* * *
I spent some time in New York City earlier in the week with my son Blake who came in from San Francisco on business. His restaurant selections, as well as choice of hotels, is worth reporting. This column is ending up way too long so I will list the restaurants and name the hotel. If you have any questions about the above just Ask The Guru.
The hotel was the Dominick (we were on the 39th floor with floor to ceiling windows facing the Hudson River). The eateries were: Balthazar, (oysters), Soho Cipriani (martinis), The Minetta Tavern, (steak), and Russ and Daughters Cafe (a 45 minute wait for a bagel with Nova and cream cheese) all in the Village and all were fabulous.
* * *
There is a light at the end of the tunnel, I think. I live in South Florida and I love sports. In recent times, we have had the worst collection of professional sports teams of any area in the nation including Cleveland — The Panthers, Heat, Marlins and Dolphins have been hopeless in recent years.
Being a devout Kentucky basketball fan, when the Heat drafted Bam Adebayo and followed this year with Tyler Herro I felt there was hope. We are only four games into the season but you heard it here first this team will go way farther than expected. Adding Jimmy Butler to the mix didn't hurt a bit and dispensing with Hassan Whiteside made the movement on the floor way more consistent. I am keeping my fingers crossed.
Anonymous asks: (Note: I made this anonymous because I know the guy that asked the question very well and I didn't want him to look like a dolt as the question was either nasty or just dumb. This is purely for your entertainment): Is there any truth to the story that Joe Bongiorno started training American History about two months ago, right around the time the horse started to dramatically improve?
ABSOLUTELY NOT. Believe it or not, I get this crap on a daily basis.
Billy Bigler asks: I know you were not enamored with the Yonkers show on International Day. What did you think of the performance from Woodbine Mohawk Park?
That's like comparing apples and oranges. Unfortunately, the weather didn't cooperate but the announcers there do a great job. I especially like the delivery of Greg Blanchard who comes to the Meadowlands and helps out with the telecast on Hambletonian Day. I thought the distaff side was also excellent, but I am not familiar with them.
It would be great if the powers that be at Mohawk, or wherever the Crown goes next, take a page from the Sam McKee book. All the shows that he did whether it was the Meadowlands, Hambletonian, the Red Mile, Kentucky Futurity, or the Little Brown Jug your TV screen was always filled with people and side stories. Last weekend's show had way too many graphics sitting on the screen for way too long a time.
Sam would be interviewing a participant (trainer, owner, sponsor etc.) from the end of the post parade till the horses went behind the gate and then after the race the winner's circle was filled with interviews of drivers, trainers etc. Five minutes of the same graphic ruin the tempo of the show.
It would have been a major plus to hear from the drivers of the 2-5 shots that went down after their races, especially Brian Sears' reaction on Greenshoe. He gave me such a vivid reaction to the events in the Hambletonian drive I am sure it would have been quite colorful.
Not to beat a dead horse but TV announcers should do their homework and not be lazy when it comes to great events. There is no reason an owner should come to a Breeders Crown and find that in the post parade the race caller cannot pronounce his name or that of his trainer or his horse. Simply inexcusable. On every program there are at least 25 names in question. If you are not sure, ask. Someone will have the answer especially in these races where there has been national exposure for months.
Lastly, and I am not sure it is possible, when weather is that inclement for a big event (and all tracks are guilty) is there no way to have a presentation in some type of enclosure? It was almost a big price to pay to win a race Saturday night.
GURU QUESTION: I have a question for the Alcohol and Gaming Commission of Ontario. I asked Moira Fanning to obtain some information on Out Of Competition Testing from the Ontario group in charge. No one in the sport works harder or is more efficient than she is and she couldn't get an answer. Evidently they were quite evasive so I would like to address it in an open forum..
To begin with I don't care who you tested, or where you tested I realize that it's not only improper to disclose it would be an invasion of some individual privacy.
However, I am interested in how many horses you tested, the period of time you tested them i.e.: one, two or three weeks prior to race date and if there were any positive tests. Anyone that can get me that information I would appreciate it very much. There is no more time for next week, the time is now.
I would like to get some positive results for the hours I spend trying to make a difference in our sport and I truly cannot achieve anything without help that at this point is difficult to find.
Sticking your head in the sand doesn't work. If you know something say something if you see something say something.
Bobby Brady (Kentuckiana Farms) asks: What did you think of the drive on Greenshoe?
First of all, having sat behind horses for over 60 years I would be the last to criticize a driver for anything as I am well aware of what a difficult task it is. Plus, the conditions were deplorable at best.
If Brian Sears had listened to the hype from Yannick Gingras he may well have thought he was in the perfect position. About two hours before the race, Yannick said on TV that he was excited about how good his horse was and that even though Greenshoe is a great horse, anything is possible. That said, falling in behind Yannick at the start looked like the perfect spot. It was sort of a perfect storm for Gimpanzee because with the water coming down in sheets, reaction time was at a standstill and when Don't Let'Em (Yannick's colt) made a standstill break in front of Greenshoe, it eliminated him immediately from any chance to win which the announcer reacted to immediately. As I mentioned above, if the courtesy hole wasn't available to Greenshoe and he was forced to proceed to the top I think the result would have been far more favorable and there would no longer be a discussion about Horse of the Year. But it is what it is and life goes on and decisions will progress in a different order.
Sorry for the very long column, there were a lot of things going on. The Crown is history but there is still great racing to come for your enjoyment and that includes the Breeders' Cup, their version of our great venue at a Santa Anita this weekend. Please keep the questions coming in and, if you want, ask me anything in person at the Harrisburg Sale. Have a wonderful week.
Have a question for The Guru?
Email him at GurfTrot@aol.com.