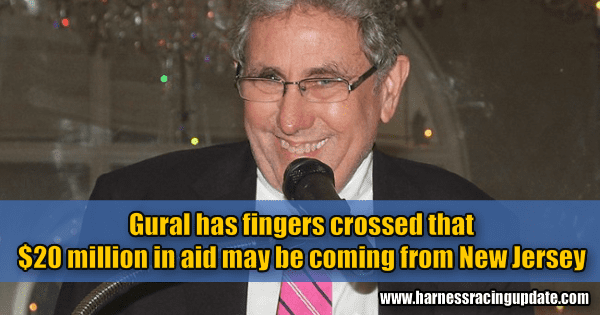 Gural has fingers crossed that $20 million in aid may be coming from New Jersey
On Monday, there is supposed to be a senate hearing on a bill that could help horse racing in the state. If that aid comes through, some $6 million could be allocated to purses at the Meadowlands.
by Dave Briggs
Meadowlands Racetrack owner Jeff Gural said he is hoping good news may be coming this week in the form of $20 million in aid from New Jersey to help the state's beleaguered horse racing industry.
"There's a hearing Monday, a senate hearing on the bill," Gural said, adding he is, "reasonably optimistic" such a measure will pass after speaking to both Governor Phil Murphy and Senate President Stephen Sweeney last week.
"With the help of the SBOA (Standardbred Breeders and Owners Association), Mike Gulotta, Bob Boni, John Campbell… I think we've made a convincing argument that with the horse shortage that we can no longer expect to be able to survive and we would have to make drastic changes in the racing program next year if we don't get this money," Gural said.
"Other states that we compete with are subsidizing their purses. Pennsylvania gets $250 million for the horse racing industry and New York is about $200 million… I think it's very obvious that Yonkers, Pocono and Chester, probably 90 per cent of the money in each race comes from slot machines as opposed to wagering on horse racing. Whereas, at the Meadowlands, up until now, 100 per cent of the money that's in the purse account comes from either horse racing or from me."
If the $20 million is approved, Gural said half would go to thoroughbreds, which have decided to allocate all $10 million to purses. On the standardbred side, it is estimated about $6 million would go to purses at the Meadowlands, Freehold would get a cut, the New Jersey Sires Stakes program would receive about $1.2 million, about $600,000 would be set aside for bonuses for New Jersey-breds racing at the Meadowlands and there would be money for breeders' awards.
"They want to see the farmland preserved and green grass," Gural said of some in the New Jersey government. "They want to see the jobs that are created at these farms. I think 10 years ago there were 3,000 mares bred in New Jersey and I think this year there was fewer than 300.
"Obviously, it's not over until it's over – as a famous New Jersey resident once said. But I think, (if the aid comes through) putting an extra $6 million into the purse account next year will see our purses, especially when the Pennsylvania tracks are open, be higher than they will have in Pennsylvania.
"We'd probably go back to having late closers at the Meadowlands, so I think the $6 million would dramatically bring the Meadowlands back to what it once was in terms of high quality racing. You would not, hopefully, be watching non-winners of $2,500 race at the Meadowlands, but who knows? There's such a horse shortage, it's a real problem," Gural said.
As for sports betting which started this year at the Meadowlands, Gural said it's had mixed results, so far.
Though, unlike past years, the Meadowlands is now open on Sundays when NFL games are on at adjacent Met Life Stadium — "we were able to make a deal with the teams to allow us to be open" — he's not sure enough people know they can make sports wagers at the facility before going to a game.
"Initially, people told me that thousands of people were going to come before the game to make a bet on the game and that hasn't happened," Gural said, adding he needs to work with the stadium leadership to find a better way to get fans between the stadium and the Meadowlands.
Still, the sports betting numbers have been strong.
"Our numbers have been very strong. In August, there was more money wagered at the Meadowlands than all of the other sites combined – all of the eight or nine casinos, plus Monmouth," Gural said. "The fact is that New York doesn't have sports betting, which is a big help, other than the fact that I also own a casino in New York, which could use sports betting."