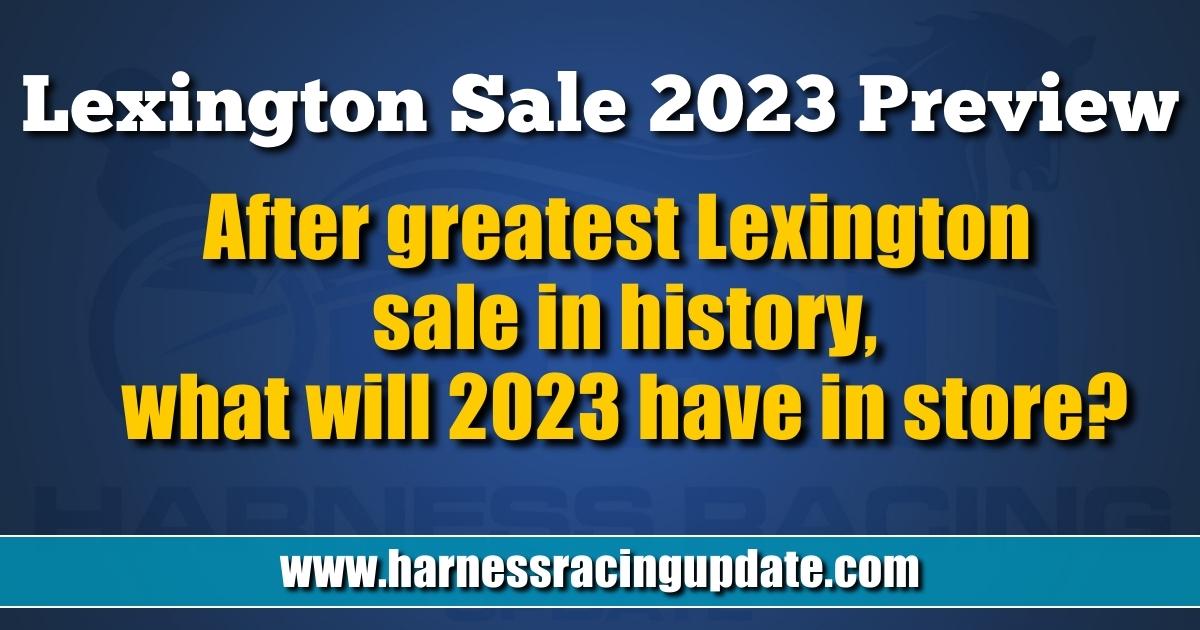 Coming off the greatest Lexington sale in history, what will the 2023 auction have in store?
Last year, the auction — which begins Monday at Fasig-Tipton — set new high-water marks for gross, average, median and number of $100,000 yearlings sold. But will a weaker economy impact this year's sale?
by Dave Briggs
Last year's Lexington Selected Yearling Sale obliterated 16 records, including new standards for gross ($65,289,000), average ($73,690), median ($46,500) and number of yearlings sold for $100,000 or more (196). The gross exceeded the previous record ($56,692,500 in 2021) by more than $8.5 million or 15 per cent.
Sale co-manager David Reid, as is his way, isn't about to make predictions about this year's auction — which starts Monday (Oct. 2) and runs through Friday night (Oct. 6) at the Fasig-Tipton Sale Pavilion — but he is bullish about this year's offerings.
"As far as any predictions are concerned, I'm shy on predictions," Reid said. "Purse money, obviously, is stable at all the jurisdictions, which is a very positive thing. Beside the regular jurisdictions where stallions are based, you have Kentucky and Massachusetts that are mare-resident based and they are as strong as ever. From a racing opportunity point of view, it's a great time to be racing young horses, wherever you race.
"I think we have a very diverse group of yearlings. With the addition of Papi Rob and Tall Dark Stranger and Cattlewash being first-crop sires, our sale is very well balanced between trotters and pacers.
"In addition to the first-crop sires, we have a strong lineup of the well-established pacing sires. So, from the pacing side, we're probably deeper than we have been in the past. From the trotting side, we have a great representation of Walner, Chapter Seven, Muscle Hill, Tactical Landings. Obviously, you've got sires that have a first-crop racing this year, like Greenshoes and you have the first-crop of Gimpanzees.
"I'm very happy with the offering that's going to be available to the public and I think it's an outstanding group and they are going to like what they see when they come out to the sales grounds."
Reid said more than 500 yearlings out of some 960 selling that are dual-eligible to the rich Kentucky Sires Stakes program. There's another dozen or so that are tri-eligible to Kentucky, Massachusetts and whichever state or province where the yearling's sire stands.
"Lexington has a huge percentage of dual-eligible horses and, obviously, the buyers are taking notice of that and they are going to be offering at a great selection of yearlings that are going to be eligible to more than one jurisdiction," Reid said.
Last year, the Lexington sale tried having some afternoon sale sessions. It was a successful venture and this year, after a traditional Monday night opener that starts at 7 p.m., the Tuesday, Wednesday and Thursday sessions will begin at 1 p.m., pushed up an hour from their 2 p.m. start in 2022. The sale concludes on Friday night with a 7 p.m. session featuring predominantly midwestern horses.
Online bidding will be available again this year via Proxibid. Last year, 37 yearlings were sold via Proxibid for a gross of $1,167,000.
INFLATION AND INTEREST RATES
This year, both inflation and interest rates are up, but Reid said he's "conscious of that" and its potential impact on the sale.
"I think every [yearling buyer] is different, depending on what industry they are in or what their economic make-up is," Reid said. "As far as having funds to buy yearlings, the currency [exchange] impacts Canada a little bit. It impacts Europe. Inflation is going to impact everyone, whether it's in the horse business or their own business — restaurants, cars, manufacturing. We're all facing the same challenges, it's just a matter of how each individual adapts to it.
"So, obviously, I'm concerned about that, but the overriding fact is that probably the purse money is as great as it's ever been and that will be the equalizer, in my opinion."
Art Zubrod farm manager of Brittany Farms, said he's not overly concerned about the economy impacting the sale.
"I think people have a lot of cash," Zubrod said, "and if you pay cash for something then you don't have to worry about the interest rates."
Shaun Laungani, vice-president and director of bloodstock services for Diamond Creek, said a challenging economy, "absolutely plays a factor, but as long as nothing catastrophic is going on, like COVID or a war or stock market crash, I think the horse market is kind of its own micro economy and it's as good as it's ever been, from what I understand with the standardbreds. I can't imagine that this won't be a great sale. I don't think people have any concerns or doubts and if you have the right stock you're going to get paid for it."
Blue Chip Farms owner Tom Grossman told Debbie Little the economy leading into the sale is decent and he expects positive results based on how other horse sales have gone.
"I think the thoroughbred sales were good," Grossman said. "That's usually a good signal. And unless the stock market does something really stupid between now and then, I think we're going to be fine. I hold my breath every year around this time but we're getting there."
All American's Rob Tribbett believes the thoroughbred market is slightly different than the standardbred one, but he does see commonality. He told Little: "I think the one thing that's true in both thoroughbred racing and standardbred racing is that there's really never been a better time to own race horses. And I think you saw that reflected at Keeneland, and I think you'll see that in the standardbred sales.
"We have so many strong jurisdictions right now. And yes, expenses may be up at some levels, but the purses and availability of those purses to be earned across the country and in Canada, it's not just one location, I think that really speaks well for the breadth of the market. It's not just about the top two per cent, five per cent, there's so much money available that someone can make money racing a horse only if they just stay in their home state."
GROWTH OF KENTUCKY PROGRAM AN EQUALIZER
Many consignors believe any potential negative impacts of economic forces will be offset by the rise of the Kentucky program.
"It's gotten to the point that it's a big plus," said Zubrod. "I hate to say it, but maybe even a 20 per cent boost, which is just a huge number… I always thought from the beginning that it would be a 10 or 12 per cent bump, but I've got to believe it's more than that now."
Peninsula's Carter Duer told James Platz: "Here in Kentucky we're getting a lot of people coming here and buying farms. I guess that's a healthy situation. I've been here so long I've seen it rise and fall two or three times. Hopefully it will stay like it is with the program they have, because there is a lot of money to race for, and there is going to be more.
Laungani said "Kentucky is a great place for us to do business, to develop young horses in training and get them started. We're happy that everyone is loving racing in Kentucky. I think it can only get better and I hope it continues, because the interest is pretty amazing to see people buying farms."
Hunterton's Steve Stewart told Platz the growth will result in new names and faces on the Lexington Selected Yearling Sale leaderboard.
"This year I predict that we'll see a lot of names on the results that we normally don't," Stewart said. "I think we're going to see more new guys. Where you see that already is the guys that have bought farms in Kentucky. There's a lot of dust being stirred up. That's a positive. The horse economy drives our business more than the outside economy. I think it's always been that way. The churn of our business really drives our business more than the outside economy."
LAST YEAR'S OTHER RECORDS
Last year, apart from new sale records for gross, average, median and number of yearlings sold for $100,000 or more, the records were:
First session gross: $23,067,000 (up 24 per cent from $18,540,000 in 2021)
First session average: $189,074 (up 17 per cent from $161,217 in 2021)
First session 100,000+: 89 (up 29 per cent from 69 in 2021)
First session median: $160,000 (up 33 per cent from $120,000 in 2018)
Second session gross: $20,433,000 (up 14 per cent from $17,927,000 in 2021)
Second session average: $90,013 (up 7 per cent from $84,164 in 2021)
Second session 100,000+: 75 (up 23 per cent from 61 in 2021)
Third session gross: $11,989,000 (up 18 per cent from $10,169,000 in 2021)
Third session 100,000+: 25 (up 25 per cent from 20 in 2021)
Fourth session gross: $4,946,000 (up 3.7 per cent from $4,771,000 in 2021)
Fourth session average: $30,159 (up 4.3 per cent from $28,915 in 2021)
Fourth session median: $26,000 (up 4 per cent from $25,000 in 2017 and 2021)