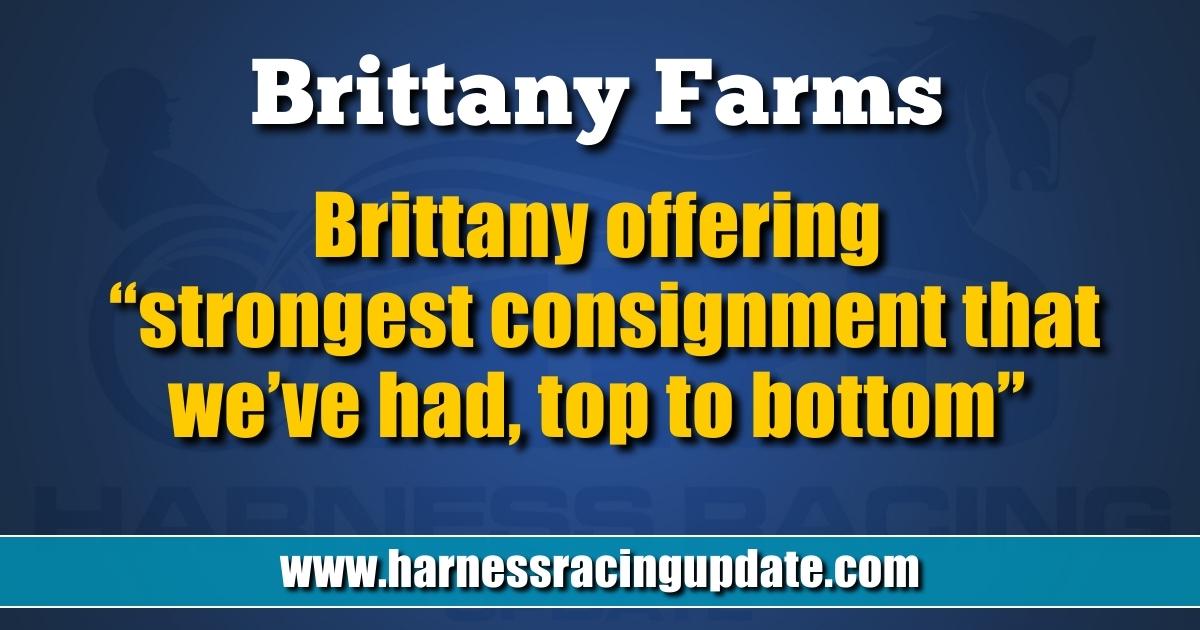 Brittany offering "strongest consignment that we've had, top to bottom"
by Dave Briggs
The days are beginning to count down to the end of Brittany Farms as we know it, but as the famed Kentucky nursery moves toward selling its final yearlings two years from now, farm manager Art Zubrod is more bullish than ever about the immediate future.
"I have said, and stood by it, that this is our strongest consignment that we've had, top to bottom," Zubrod said of Brittany's 18-strong yearling consignment selling at the Lexington Selected Yearling Sale. "I'm sure somebody will find a hole in this bunch, but they are all very, very nice horses. They are good performers in the paddock and good animals to be around. I don't have any superstars, the $400,000 or $500,000 ones, I don't think, but it's a very, very good consignment… so no complaints here."
In January, Zubrod said he and his wife, Leah Cheverie, Brittany's office manager, will retire after the 2025 Lexington sale. Farm owner George Segal said his plan is to sell the farm.
"It happens to be a great time because by the time Art and Leah retire, I'll be 87-and-a-half years old," Segal said in January. "And every time that I think about that, I think I should get a lot smaller, even though we've gotten a lot smaller over the last 10 years. I think I should get in a position where I don't drive my wife and kids crazy after I'm gone. My plan is to sell the farm.
"I would like to sell the farm to someone in the standardbred business, if I can. A perfect scenario would be to sell it to somebody who wants to do their version of breeding and racing or just breeding or whatever and keep most of the employees here. They have been great employees and they've been here for many years. I think the longest is 35 years."
On Wednesday (Sept. 27), Zubrod said the reduction has already begun.
"To tell people how serious we are about this, by the end of this year, December, we'll be down to 12 wholly-owned broodmares for Brittany Farms," Zubrod said. "Now, we still have several in partnership here, but wholly-owned it's just 12."
Currently, Brittany has just under 30 mares.
Zubrod said those mares produced some awfully nice yearlings for this year's sale, which begins Monday night (Oct. 1) at the Fasig-Tipton sales pavilion in Lexington.
Things are going so well of late for Brittany that even one of its first-night yearlings delivered some good news this week.
"I've got a Tall Dark Stranger colt out of Reflect With Me [Banderas, Hip #100] and we worried that he was going to be a ridgling, but on check yesterday his other testicle had dropped through the ring," Zubrod said. "We've been doing acupuncture on it for darn near two months and we thought we were getting some place, then all of a sudden it came through the ring in about three days."
Zubrod said he also has, "a really nice Miki colt out of My Lady Love [Lifeblood, Hip #199]."
One of Zubrod's absolute favorites from the Brittany consignment is American Son, Hip #287.
"First of all, it is for sentimental reasons because it's an American Ideal, but this is probably the nicest American Ideal colt I've ever raised," Zubrod said. "He's just a grand-looking horse that's good in the paddock. He's just cheerful around the barn, which means a lot to me, their attitude around the barn. He's just a nice horse to be around."
As for selling later in the sale that Zubrod thinks could be destined for great things, he pointed to one selling during the Midwest-centric final session on Friday, Oct. 6 — Cash Back, Hip #967.
"It's a Fear The Dragon colt and he's a really, really top-looking colt," Zubrod said. "He's got the look. I'm not going to downgrade anybody else's horses, but I don't think there's been a better mare bred to [Fear The Dragon] than Cash Reward."
The vast majority of Brittany's consignment are pacers.
"I've only got four trotters total, but they are pretty nice horses with pedigree," Zubrod said. "Three Walners and a Chapter Seven so they shouldn't be too hard on me."