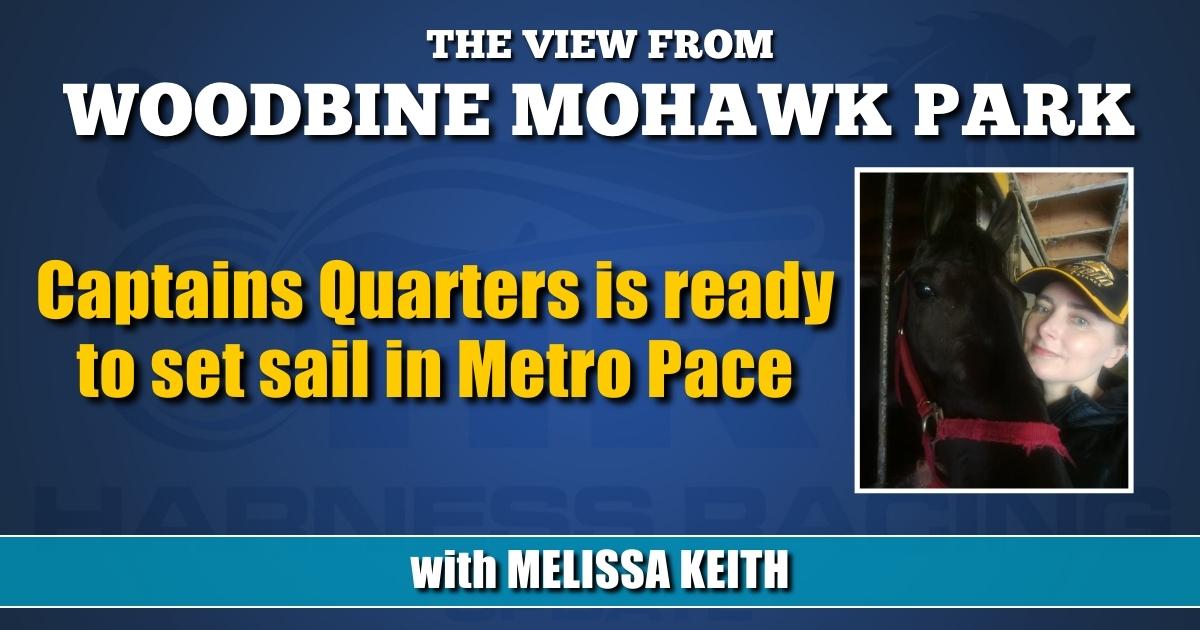 Captains Quarters is ready to set sail in Metro Pace
by Melissa Keith
A royally-bred colt with a nautical name advanced to Saturday night's (Sept. 23) Metro Pace final at Woodbine Mohawk Park after finishing second in the faster of two Sept. 16 Metro eliminations. Driven by Jody Jamieson, 7–5 favorite Captains Quarters closed in a :25.2 last quarter, running out of racetrack in pursuit of 1:50.4 winner Clever Cody.
Bred by James Avritt of Lebanon, KY, the colt was a $235,000 Lexington Select Sale yearling, his catalog page rich in black type and converging bloodlines of the co-fastest Metro Pace winners.
Captains Quarters (p, 2, 1:53.3s; $30,243) is a son of Captaintreacherous (p, 3,1:47.1m; $ 3,148,657), who equaled the Metro Pace record with his 1:49.2 victory in 2012, en route to divisional Dan Patch and O'Brien Awards. The colt's dam is Prescient Beauty (p, 2, 1:50.4m; $495,860), three-quarter-sister to the original Metro Pace stakes record-setter, Sportswriter (p, 3, 1:48.3s; $1,649,411), who won the 2009 edition and year-end 2-year-old male pacing title on both sides of the border.
Herb Holland said he first encountered the colt when inspecting him for someone else.
"Initially, that owner [Rich Stiles of Chelsea, MI] asked me to look at [Captains Quarters] in Lexington for him, for another trainer," Holland said. "So, I actually did, and I liked the colt. He ended up purchasing him and did send him to another trainer. That trainer had some personal issues, early spring, and wasn't able to continue on with the training, and he asked me if I could continue on with the training. Consequently, his misfortune was my good fortune."
The 66-year-old trainer told HRU he was instantly impressed.
"His pedigree was beyond, as good as anybody's in the sale," Holland said. "He actually was a little undersized at the sale, but very correct. I think if he was a hand taller at the sale, then probably we don't have him today."
Although Captains Quarters won his first career start, Aug. 11 at Woodbine Mohawk Park in 1:53.3, he had to catch up to peers with an earlier start to their season. Holland said the colt had shown maturity in a pair of July baby races at Mohawk, more than compensating for a delayed start to his training.
"He didn't know anything, because he had never trained or jogged with horses, and that's the reason we got him to the races a little late…," Holland said. "I started him at 2:30 and just brought him down, assuming that's where he'd been. So, I didn't dig in hard with him; I just took my time. We were in no rush with him… When I got him, he didn't know about chasing down horses and all that. He caught on quick."
Driver Jody Jamieson has driven Captains Quarters in all four lifetime starts, and is listed to drive him in the Metro final.
"When I went to train the colt with company, I asked Jody if he'd come in and train with me, and he did, all the time, and never refused," Holland said. "So, when it was time to come and race him… I told Mr. Stiles, 'Jody's been coming in the mornings and helping me train him'… Jody schooled him a couple of times, and knew he had a lot of quality."
Owner Rich Stiles is full owner of Captains Quarters, after a proposed partnership with the horse's original trainer fell through at last year's Lexington sale. Holland made the successful bid on Hip #295 as an agent for Stiles, but said he had not anticipated the partner backing out of the deal for the six-figure colt. Fortunately, Stiles was able to finalize the purchase over the phone with Randy Manges, Lexington Select Yearling Sales Company co-manager.
"I've been fortunate enough, but I've never had the owners to buy those kind of horses," Holland said. "A lot of good trainers don't get the opportunity to train those kind. When you do, you look better… The reality is, if the owners don't put them in your barn, you could be great and nobody knows you."
As for Stiles taking full ownership of Captains Quarters, Holland said the Michigan-based owner was "tickled as punch" with his colt's progress and already excited for next year's stakes campaign.
In April, Holland began working with the colt at Beechwood Acres, a private training center in Milton, ON. "It's a perfect scenario," he said. "They have a few broodmares. It's R A W Equine… They own horses with the Takters and Per Engblom."
Captains Quarters proved a precocious learner in early lessons there.
"We trained him faster than he qualified, but my biggest concern was just teaching him to sit in and follow horses, and finishing his miles strong and not tired," Holland said.
Although he hasn't added to his maiden victory yet, the blue-blooded colt has hit the board in subsequent stakes at Mohawk, with show finishes in the Nassagaweya and Champlain Stakes.
"The colt could be a little excitable, so we always wanted to race him from off the pace and just let him finish the mile strong," Holland said. "If there were other races for him, I may not have put him in there, but there were no overnights after the 'non-winners of one.' There was no 'non-winners of two' for him, so we elected to put him in there. He was excellent. He's been excellent after every race."
Clever Cody capitalized on a front-end trip in his Metro elimination, while Captains Quarters overcame a tougher trip for place.
"We got a little road trouble with him, and the flow didn't go," Holland said. "They backed the half up to 57 seconds. When you're sitting back, it's pretty hard to catch the front end then."
Wednesday (Sept. 20), the trainer said he was feeling confident, "but not overconfident!" as Captains Quarters readied for the biggest race of both their careers.
"This would be the biggest purse [$850,000] I've raced for, for sure…," Holland said. "Mr. Stiles has been great and I don't feel the pressure at all. You get anxious and you want to perform well, because you don't get the opportunity very often."
Although not a leisurely type of horse, Captains Quarters is taking it all in stride.
"If you're not paying attention, he could get away from you in a heartbeat," said Holland, crediting partner Carolyn MacIsaac and caretaker Jenna Arbuckle with keeping the "energetic" colt on an even keel.
The rest is up to three-time Metro Pace winner Jamieson on Saturday night. The WMP regular won previous editions driving Stockade Seelster (2022), Mystician (2010), and Yankee Skyscaper (2006).
Usually working with value-priced yearlings, Holland said he'll be back at all the sales this fall.
"It's difficult to pick an apple that fell off the tree that's still good," said the Glace Bay, NS native, marveling at sending out his first Metro Pace starter after working for over 20 years in Ontario. "I left Cape Breton in 1976 to go work for Duncan MacDonald at Liberty Bell Park. I've raced at Hollywood Park, Yonkers, Roosevelt… Spent 20 years in [New] Jersey, racing. You name it, I was at that track."
With Captains Quarters, Holland has landed the catch of a lifetime.
"The story of how it came to be that I ended up with him, it would be hard to believe," Holland said. "How many things had to go wrong for somebody else, for it to go right for me? The good Lord has always blessed me, so I feel lucky."