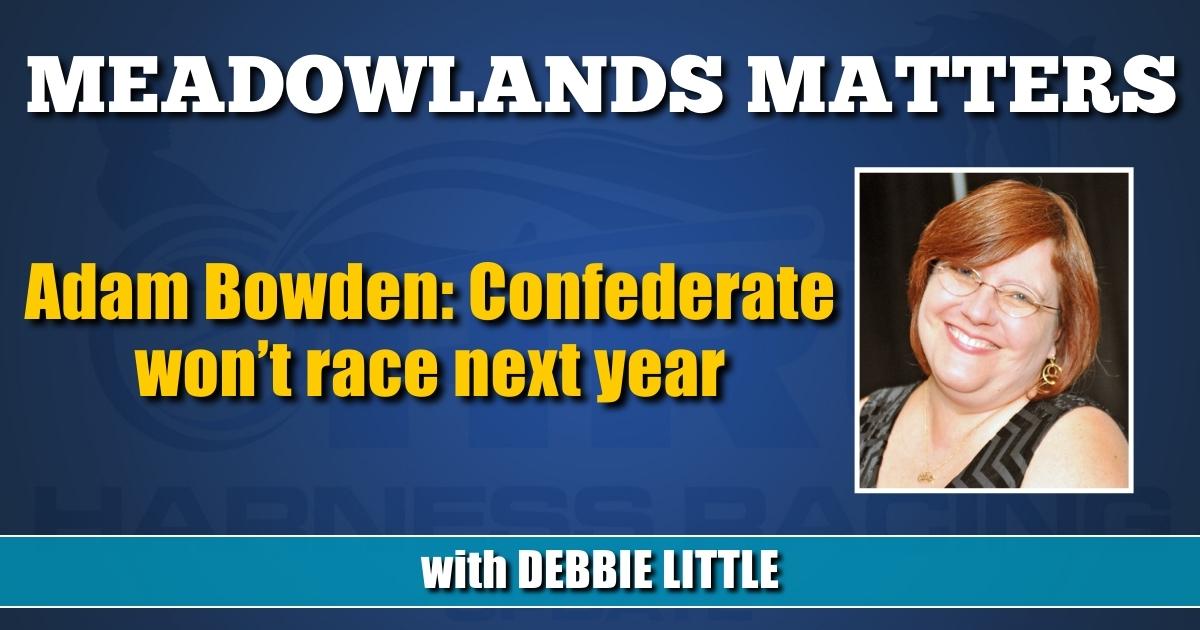 Adam Bowden: Confederate won't race next year
And therefore, the sophomore pacing colt will be subject to The Meadowlands' Stallion Restriction Condition, better known as the Gural rule.
by Debbie Little
Following Confederate's win in the Kentucky Sires Stake Championship Series final for 3-year-old male pacers, breeder/owner Adam Bowden of Diamond Creek Farm announced that his homebred colt would not be back to race at 4.
"I think, if I'm being 100 per cent honest, there was never another thought with regards to this horse at this time," Bowden said. "I mean, we're a stallion farm. You know, we breed and race horses, and the ultimate goal is to create your own stallion, and he's never going to be worth more money than he is right now. It seems crazy for me not to [retire him], especially since we have three or four other 3-year-old colts that are going to race next year. It makes the decision to retire him that much easier.
"Now, if I just owned Confederate, the decision is likely the same, but it makes it significantly easier to do with Cannibal and Christchurch and Command all going to race next year."
According to Bowden, the fact that The Meadowlands' Stallion Restriction Condition would be applicable to Confederate's first crop — in short, making the Meadowlands Pace winner's first crop ineligible to that race, among others — did not play any part in his decision making when it came to retiring his colt.
"I've never let other people's decisions affect what we do," Bowden said. "We did it with Downbytheseaside. I mean, yeah, people have found loopholes, you know, this horse has this issue and this horse has that issue, but Downbytheseaside raced 22 times at 3 and it was kind of hard to find a reason for him to retire on some fake injury.
"So, I've never really been that type of person. If he retires sound, we won't file whatever Jeff [Gural] asks for and if he gets injured between now and the end of the year, then he gets injured. But, right now, he's healthy, happy and sound, and we're going to just continue to pursue our path."
While Bowden said he has great respect for Gural and what he's trying to do with his rule, he has his own thoughts about who it should apply to.
"I think most of the horses that have come back at 4 with success, were not stallion candidates at the end of their 3-year-old season," Bowden said. "And so, I think specific horses like Captaintreacherous and Tall Dark Stranger and Confederate, they fall into a totally different category. They shouldn't be subject to the rule. I think there should be a way to get out of it for those top, top horses. I'll probably offend somebody by saying that, but I don't really care.
"I understand his rule, but we're also going to do what we think is in the best interest of our horse. And if we have to miss with the first crop, I don't think it hurt Downbytheseaside. You know, Pebble Beach was still 3-year-old champion. He won the North America Cup and the Breeders Crown. Bythemissal won the Jug. Yeah, it stinks not to see them there, but, you know, it's part of the deal. There are consequences to every action. I'm okay with them. I understand them. Like I said, I appreciate what he's doing to create interest in the sport and I don't fault him for it, but like I said, we understand the consequences of the decisions that we make and we're going to do them because we think that's right for Confederate."
Although he does his best not to engage, Bowden is well aware of the conversations and criticisms on social media regarding Confederate and his main rival, It's My Show.
The connections of It's My Show have been questioned for choosing to go to the Jug rather than face off against Confederate this past weekend in Lexington, while Bowden's been questioned for doing just the opposite.
Bowden said he can totally understand the choices made by Richard Young, co-owner of It's My Show.
"If I'm in Richard's position, I'm making the exact same decision," Bowden said. "I don't fault him. He shouldn't get crap from anybody for it. It's his horse and he did what he thinks was in the best interest of his horse. He has a gelding and he has a chance to race for a million dollars. Hell yeah, I'm doing that every time, and I don't think it has anything to do with Confederate.
"You read the social media comments like, the best horses should race against each other the whole time. It looked like maybe it was going to but he staked his horse a specific way based on his 2-year-old form. I totally get it. And he's doing what's right for his horse, and he's trying to manage a career that will stand hopefully a lot longer and will continue past this season, where we're mapping out a plan to create a stallion. So, I get why their paths maybe haven't crossed yet but they're likely to do so in Lexington [in the Tattersalls] and they're likely to do so at Hoosier [in the Breeders Crown]."
Fans on social media have expressed that they would love to see Confederate and It's My Show hook up again, sooner rather than later, as they did in the final of the North America Cup where It's My Show bested his rival by a head. That was the only loss on Confederate's card this year.
"We get a lot of crap from people for not supplementing Confederate to the Little Brown Jug, but we have another horse [Cannibal] going that we think has a legitimate chance," Bowden said. "You know, we're a Kentucky-based farm supporting the Kentucky racing. [Confederate] won the [KYSS Championship Series final] last year. It's cool that he won it again this year. I mean, there's a lot of reasons to not supplement him.
"If the [KYSS final] was a week earlier, we probably would have supplemented him [to the Jug] but racing on Sunday and then coming back and going two heats on Thursday, that's not easy to do. And he's coming off a world record [1:46.1] from less than two weeks ago."
In a perfect world, where his colt stays happy and healthy, Bowden has a few more races to look forward to with Confederate.
"He'll likely race both weeks in Lexington, in the Bluegrass and the Tattersalls. Then he'll go to the Breeders Crown. And then if we were lucky enough to win the Breeders Crown final, we would likely race him against the older horses in the [FanDuel, formerly the TVG]. I think he can compete there.
"We actually even talked about — depending on what other 3-year-olds do — racing him in the Breeders Crown against the open horses. We'll see what happens over the next couple weeks, but it's on the table. I mean, it's one race at a time, and you have to win the Breeders Crown to get the invitation for the [FanDuel]. Like I told you before, these plans have been in place for such a long time and for them to all come to fruition, or most of them come to fruition, it's been very rewarding."
Bowden also knows that depending on how the rest of the season shakes out, when it comes to divisional honors, there's one thing Confederate needs to do.
"I think to be certain, I think we have to beat [It's My Show] head to head," Bowden said. "You know, right now, [Confederate's] really done nothing wrong. Yeah, he came up a head short in the North America Cup, in his third start of the year. It's My Show beat us fair and square, so he's going to have to do it again. We're going to have to beat him."
"To me, he's like one of the top three, 2- and 3-year-olds that there has been. So, I don't mind saying that. I mean, yes, you can make cases for all kinds of them over time but I think he's in the conversation. I mean, he went [1]:46.1. He is the fastest 3-year-old by three-fifths-of-a-second ever. So, I'll take that. We've been waiting for 15 years for a horse like this. I am totally enthralled by him and love every minute of it. So, I'm going to enjoy it the rest of the way."