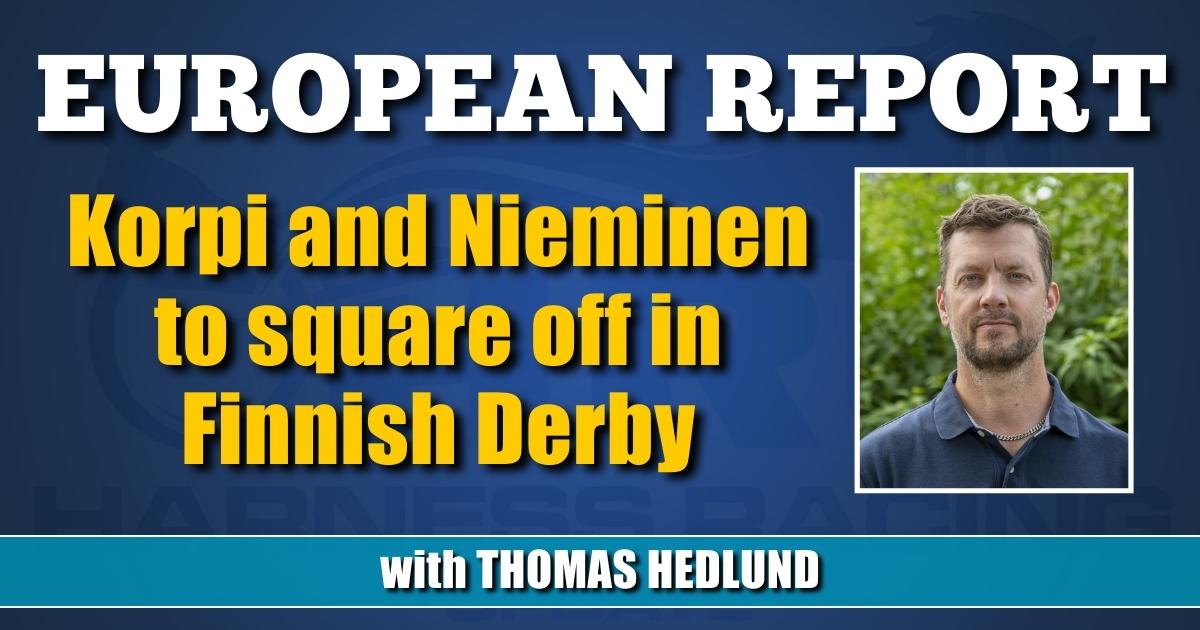 Korpi and Nieminen to square off in Finnish Derby
by Thomas Hedlund
Saturday (Sept. 2) is the day for the best Finnish bred 4-year-old trotters to do battle in the prestigious $250,000 Derby at Vermo racetrack in Helsinki. It looks like the crop born in 2019 has produced some nice trotters that now will try to take the next step into glory.
Pekka Korpi, who consistently produces great trotters in his home country, won his first Derby in 1977 with Viking Way and continued on the victorious path in 1978 when he won with Leo Frosty.
Since then, the maestro of Finnish harness racing has claimed the Derby on four occasions as a trainer, the latest with Magical Princess in 2021.
Markku Nieminen has as many Derby wins (six) as Korpi.
Nieminen and Korpi are both participating in Saturday's Derby where Nieminen has the advantage with two horses in the field.
The mile rate of 1:57.4 over 1.6 miles is the stakes record to beat.
FINNISH DERBY
2,620 meters
Horse — Sire — Driver — Trainer
1. Callela Nelson — Beer Summit — Hannu Torvinen — Jukka Hakkarainen
2. Laxvikens Amiral — Jontte Boy — Tuomas Korvenoja
3. American Cooper — Maharajah — Ari Moilanen — Markku Nieminen
4. EL Kazaam — Love You — Iikka Nurmonen — Elina Laakkonen
5. Ava Di Alessia — Express Duo — Antti Teivanen — Hannu-Pekka Korpi
6. Massimo Hoist — Muscle Hill — Mika Forss — Jukka Hakkarainen
7. Halley Wania — EL Titan — Santtu Raitala — Markku Nieminen
8. Corazon Combo — Express Duo — Pekka Korpi
9. Blackbeard — RC Royalty — Jukka Torvinen — Tapio Lehtoranta
10. Crepe Match — Creatine — Olli Koivunen — Harri Koivunen
11. Everlasting Boogie — Pastor Stephen — Kenneth Danielsen
12. Callela Alfa — Classic Photo — Tapio Perttunen
TIME FOR NEW TRIALS BEFORE CRITERIUM RACES IN PARIS
Some really great horses will race at Vincennes racetrack in Paris this Saturday (Sept. 2) as another round of qualification races for three divisions of the Criterium is held.
The $125,000 Qualification 2 for the Criterium des 5 ans includes horses like Idao de Tillard, Italiano Vero, Izoard Vedaquais and Ideal Ligneries. Idao de Tillard is the most merited trotter in the field but the entire French "I-crop" is strong.
The 4-year-olds race for the same purse and it's the same story with the French J-horses. Just A Gigolo, Juninho Dry and not least of all Joshua Tree are some of the contenders in Saturday's race for colts. The latter has been the king of the crop lately.
Jean-Michel Bazire's horses possess all the properties to become a star trotter, chasing Just A Gigolo as the most merited horse born in 2019.
Jazzy Perrine is used to competing against the best horses in her category, colts included, and this time she will face her same-age sisters.
Two races for the 3-year-olds are also on Vincennes' Saturday menu. William Bigeon-trained Kana de Beylev has been in the top of the crop all the year and she claimed the $125,000 Prix Reine du Corta on Aug. 19 at Vincennes. Among the 3-year-old colts, Philippe Allaire's Koctel du Dain has impressed and just like Kana de Beylev, he won his last start, a Criterium qualification race at Vincennes.
It's set for a top day in Paris on Saturday.
$315,000 CRITERIUM DES 5 ANS FINAL
Sept. 17 (3,000 meters)
Previous winners:
Horse — Driver
2022 — Hussard du Landret — Benoît Robin
2021 — Galius — Yoann Lebourgeois
2020 — Face Time Bourbon — Björn Goop
2019 — Eugenito du Noyer — Eric Raffin
2018 — Davidson du Pont — Jean-Michel Bazire
2017 — Carat Williams — David Thomain
2016 — Bold Eagle — Franck Nivard
2015 — Ave Avis — Jean-Michel Bazire
2014 — Vabellino — Eric Raffin
2013 — Up and Quick — Franck Nivard
2012 — The Best Madrik — Christophe Martens
2011 — Scoop d'Yvel — Mathieu Fribault
2010 — Roc Meslois — Pierre Belloche
2009 — Queen's Glory — Jean-Philippe Dubois
2008 — Paris Haufor — Christian Bigeon
Sept. 17 — $315,000 Criterium des 4 ans (2,850 meters)
Sept. 17 — $315,000 Criterium des 3 ans (2,700 meters)