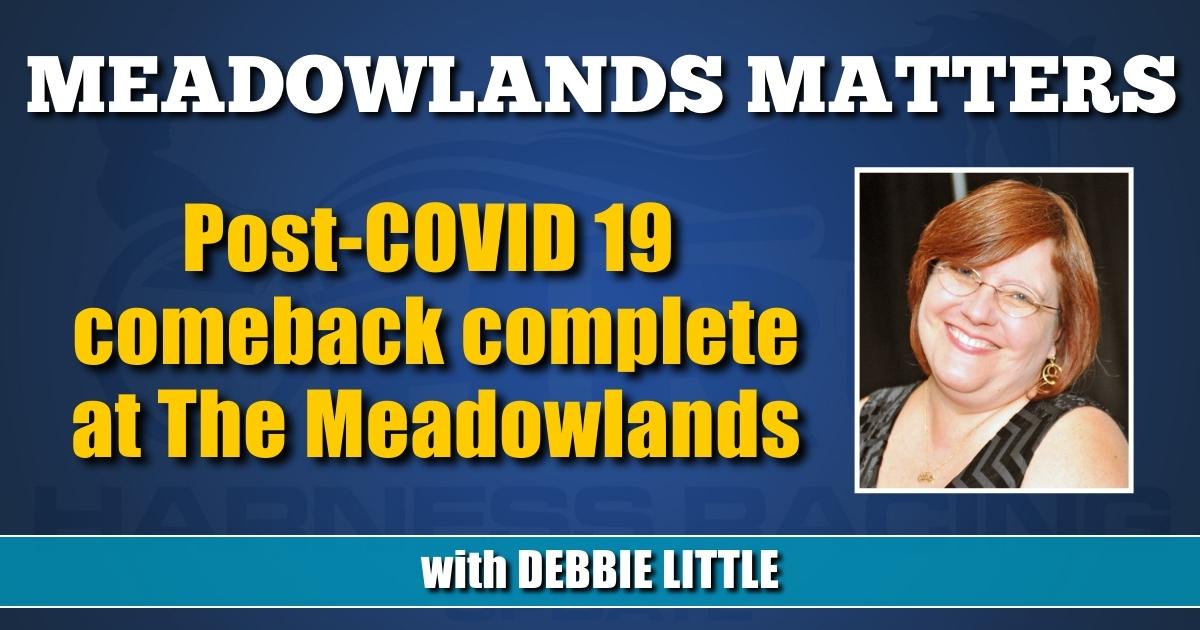 Post-COVID 19 comeback complete at The Meadowlands
by Debbie Little
All you had to do was try to get on an elevator or walk around the building to see how crowded The Meadowlands was on Hambletonian Day (Aug. 5).
There was a buzz in the air not felt since pre-COVID 19 days.
The final numbers are not yet in from international wagering on Hambletonian Day, but The Meadowlands' chief operating officer/general manager Jason Settlemoir said he is optimistic that they will be good because the domestic betting numbers were strong.
"I was very, very happy with our strong off track on Hambletonian Day and I was very, very happy with our strong on track as well," Settlemoir said. "We got back to almost a million dollars on track. And getting back to close to a million dollars on track is something that's very exciting for me because it means that there is a will for people to want to return to the racetrack, especially on big event days."
This year's on-track handle of $921,938 was up 18 per cent over last year's $781,310. Hambletonian Day all-source wagering was just over $7.8 million, which is a new record since The Big M moved into its new facility 10 years ago. The number also represented a by-far North American-best for 2023. A year ago, wagering on the first Saturday in August was a little more than $7.6 million.
"I'll be honest in saying that this past Hambletonian Day was exciting to me, not only just the day of, but heading into it as well because I could feel the excitement building," Settlemoir said. "I could feel the excitement here on track again. I mean, it was fantastic."
Settlemoir explained that the placement of this year's Hambletonian was strictly for TV and that he would still prefer to have the Hambletonian as race 15 with maybe one or two races after it.
"So, we'll see what 2024 brings us," Settlemoir said. "In my opinion, if the Hambletonian was later in the day, our on-track number would have been up over a million dollars. So, we'll look at it, we'll analyze it, and make the best decision for The Meadowlands along with working with NYRA [the New York Racing Association] and Fox Sports, to see what the best-case scenario is for everybody."
The Meadowlands has worked hard in 2023 to make their racing product the best and most exciting it can be, going so far as to hire "The Enforcer" Lou Haskell at the beginning of the championship meet to oversee specific driver policies which are detailed nightly in their program.
When asked how he thought The Meadowlands racing product has been in regard to those specific policies, The Big M's president/chief executive officer, Jeff Gural, said: "I think the racing is clearly better but still holes are being given. The races with no holes tend to be more exciting allowing horses to come from behind rather than the 'no right lines' model which I hate."
Settlemoir agreed with Gural's assessment.
"The racing is clearly better, but there's still some holes in that first turn, but I think it's been much, much better," Settlemoir said. "And like [Gural] said, too, the races tend to be much more exciting, allowing horses to come off the back rather than in straight alignment. And I think our customers find it that way as well, because our handle has been up throughout the year."
The Meadowlands' customers have always been vocal and this year was no exception. However, according to Settlemoir, feedback in general has quieted down, which he'll take as a positive sign since customers are much more likely to criticize than praise.
"Since Lou has come on board, I think everybody knows that it's one of those things that we're taking very seriously," Settlemoir said.
With their championship meet concluded, The Meadowlands is now focused on the first two weekends in September, which will feature eliminations and finals for the New Jersey Classic Series.
The finals for 2- and 3-year-old trotters offer an estimated purse of $275,000 while their pacing counterparts will go for $150,000 (est.). Consolations will be offered should they be needed.
The Meadowlands' last scheduled television broadcast for 2023 will be on Fox Sports 1 (FS1) at 9 p.m. on Friday (Sept. 8).
"We're constantly looking for ways to do things bigger and better," Settlemoir said. "And our focus obviously in the fall will be on wrapping up our great stakes and continuing on with our great promotions and marketing that we do both on and off track. One of the things that we're going to be looking at and analyzing this fall is going to be, not only just the promotions that work and don't work, but now that inflation seems to be cooling, at least here in the United States and throughout the world, we're going to be taking a look at some of our pricing as well for food and beverage, to see to see if there's any room to bring some of those prices down.
"So, we'll see. It just depends on what our purveyors and vendors' pricing continue to be. If it's getting softer, then hopefully we can soften up as well on our pricing. So, it seems like things might be getting a little bit better, but I don't hold my breath right now with this economy."
The Meadowlands' handle for 2023 has been impressive to say the least. A total of $203,794,252 has been bet on Big M races. That's good for an average per card of $3,234,829, by far a Gural-era best.
However, it is still frustrating for Settlemoir that it's so hard on an average night to get people to actually come out to the track.
Promotions such as "Battle of The Meadowlands Masterminds," won this year by Dave Little, helped bring people out to the track since participants were required to be there in person in order to have an opportunity to win a nightly prize as well as be eligible for the $10,000 grand prize that was given away on Hambletonian Day.
"You know, when I grew up, like many people that still come to the racetrack, it was about being social and being together and I like being around people for the most part," Settlemoir said. "And it bothers me that on a Friday we struggle on track and quite frankly on a Saturday we struggle on track, too."
Settlemoir acknowledged the support of Gov. Phil Murphy and the New Jersey State Legislature for what they've done for horse racing in the Garden State. As well as all the horsemen, horsewomen, sponsors and of course the fans that support The Meadowlands.
"From an export standpoint, we're excited about where we are and where we're headed," Settlemoir said. "I mean, it was a long time in the making, becoming the No. 1 bet race track at night time, the No. 1 nighttime signal, regardless of breed. So, a lot of hard work and effort went into that.
"That's been our goal and we finally got there this year. So, I'm super excited about that. I'm hoping that we will carry this momentum into the fall and the end of the winter, and continue rolling right on through next summer. But it's just not The Meadowlands, it's going to take an industry-wide effort on behalf of the horsemen to continue to support us here at The Meadowlands through putting their horses in the box and sponsorships for our great stakes and I'm excited at where we are right now."