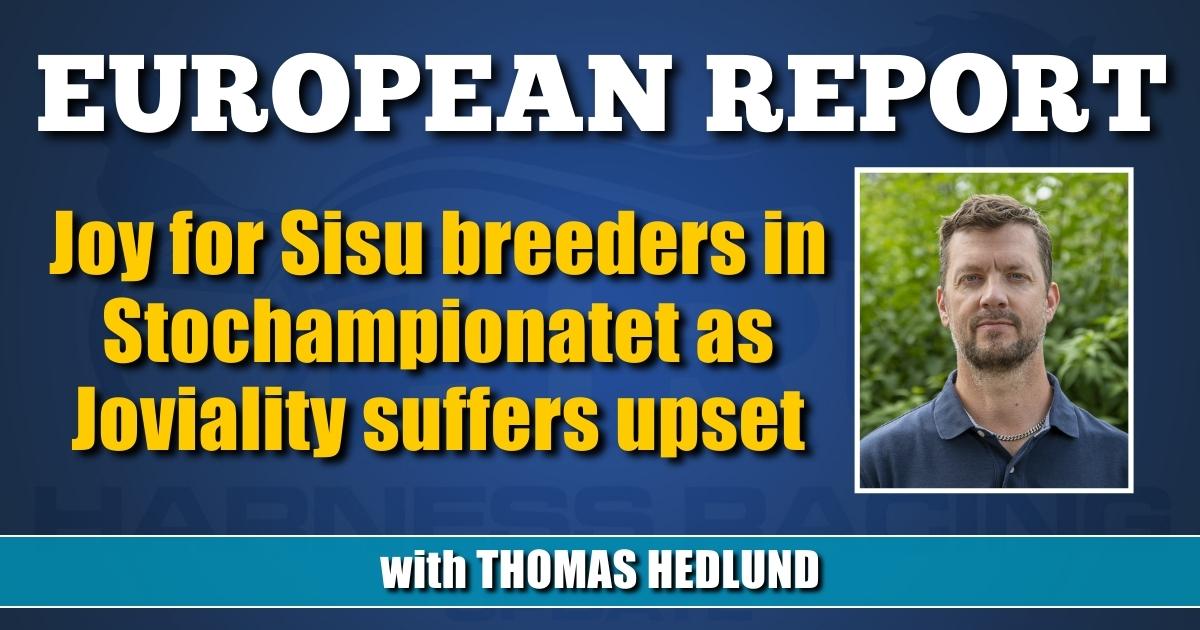 Joy for Sisu breeders in Stochampionatet as Joviality suffers upset
by Thomas Hedlund
Joviality was the big star and the heavy favorite when the $465,000 Stochampionatet for 4-year-old mares was held at Axevalla racetrack in Sweden on Sunday (July 23) afternoon, but the longer distance (2,640 meters) became the Chapter Seven daughter's downfall this time as Joviality wanted to trot at a pace better set for the mile.
Erik Adielsson managed to hold the opponents on the outside when the car left the field at the back stretch, with 2.5 laps to go. Everything seemed pretty easy and calm for Joviality during the race's first 500-to-600 meters, even if she was strong in Adielsson's hands.
With 1,400 meters to go, something changed in the race's structure and Joviality started to compete a little bit too early. She started to leave most of the ladies behind her by several lengths and it was basically just Joy Sisu (Brillantissime) and Jennifer Sisu that followed the leader without effort.
When they hit the last turn, Joviality still looked strong on the lead, but Mika Forss, driver of Petri Salmela's Joy Sisu had not given up and when he attacked on the leader's outside as they turned for home, Joy Sisu took advantage of the race almost immediately.
Turns out, Joy Sisu wasn't such a big surprise as the 28-1 odds showed. Since she came from a solid elimination win and with experience from many of her previous starts, we know that Joy Sisu fights and finishes well every time she races. So, with the perfect trip behind a leader that ran out of gas, the win in a world record mile rate of 1:56.2 over 1.6 miles was fair and well deserved.
Sisyfos Breeders (Sisu) could not have a better day at the track. Joy Sisu claimed the biggest race for 4-year-old mares in Sweden and their second finalist, Jennifer Sisu (Propulsion), finished strongly as the runner up.
Longshot Mary Ann Lane (Orlando Vici) got an inside trip all the way and could claim the third place ahead of favorite Joviality.