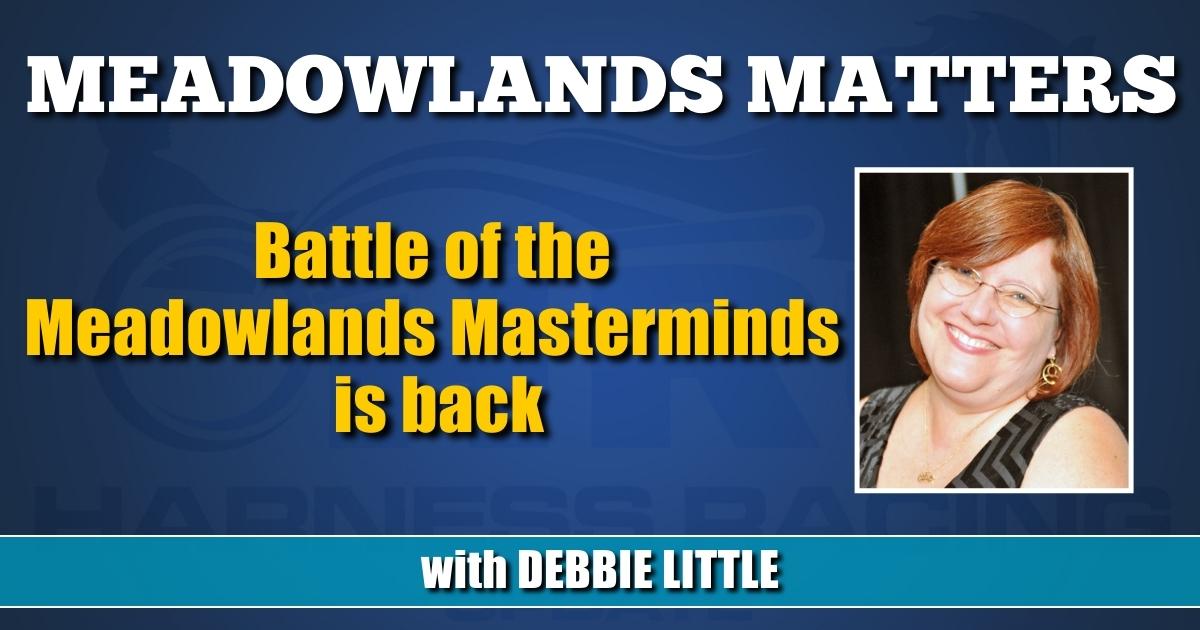 Battle of the Meadowlands Masterminds is back
by Debbie Little
In year two of the "Battle of the Meadowlands Masterminds" handicapping contest, a new gladiator has entered the arena to take up the gauntlet of a fallen champion.
When the competition got underway on Friday (June 2), Gabe Prewitt was in the lineup to fill the spot left vacant by the sudden and unexpected death of inaugural Battle champ Dave Brower, who died in October of 2022.
Prewitt will be playing for Brower's chosen charity, CBH Care, a locally based mental health care services agency, that Brower did some consulting work for in the past.
"The only thing I can do is equal or worse. I can't really go up for him," Prewitt said with a laugh. "There's a little pressure involved because that charity was done well by Dave Brower last summer because he was the winner.
"I'm glad, particularly being a new person to the contest, that I was able to sort of carry that torch. To know that [Brower] really wanted to help that charity makes it all more of a reason for me to get involved."
Prewitt — who recently joined the Red Mile as vice president of racing & sports wagering operations — has a lot on his plate, but that didn't stop him from joining Edison Hatter, Dave Little, Jessica Otten and Ken Warkentin in this year's Battle.
"Anything we can do, even in a small way, to honor his memory is important," Prewitt said. "Quite frankly, I won't even be in the building every weekend, but I'll still be competing in the contest and I'll still be taking my very best swing because it is important to me.
"When people say 'Hey, why did you pick that charity?' I'll be keeping Dave's memory alive by telling them the story. I'm proud to be able to say that, as any of us would be."
The winning charity will receive $1,000, while the second-place finisher gets $500 with the remaining charities each receiving $250. The winning Battle handicapper will be announced on Hambletonian Day, Saturday, Aug. 5.
This season, the Battle spans 19 race nights — June 2 to Aug. 4 — and Prewitt's worries about being shut out quickly evaporated when he came out on top on the opening night.
Hatter, playing for Purple Haze Standardbred Adoption Program, led the pack on night two and said he learned a lot from the inaugural Battle.
"That Dave Brower was an excellent handicapper and had many, many more years of experience than I," Hatter said. "I think the big learning experience last year was what gamblers go through often: you have to marry picking winners and the types of bets and how you bet them to be successful. Just because you pick a lot of winners doesn't automatically mean you'll bet them well enough to make the most profit possible.
"Last year, I spent the first half of the competition without any real plan and then I spent the second half making desperation bets to try to catch up. This year, I plan to bet a bit more conservatively early — such as the winning show parlay last weekend — to hopefully build a solid bankroll so I don't have to make extravagant desperation bets to try to catch up at the end this time. By the way, as of the writing of this article, I'm in first place much like I was at this time last year, but this year I plan to stay in first place, so the others better watch out."
All Battle competitors are given a mythical nightly $500 bankroll, all of which must be spent on wagers restricted to races 4-9.
Warkentin (Harness Horse Youth Foundation) realized last year that he can't spread that nightly $500 around too much.
"There are some creative ways you can make money, which is the crucial piece of the handicapping puzzle," Warkentin said. "That's what makes it fun. Most public 'experts' simply give out picks.
"I'm not changing much this time around, sticking to high-percentage exactas, yet it all depends on each nightly scenario."
The Battle gives fans a reason to go to the track, since each night they can fill out an entry form and deposit it, prior to race 4, in the barrel of the handicapper that they think will come out on top that night. After race 10 each live race night, an entry from the winning handicapper's barrel will be selected to win a $200 betting voucher. Fans can only win once during the challenge and must be present to win. The 19 nightly winners then go into a final drawing on Hambletonian Day where one of them will walk away with the $10,000 grand prize.
Even though Otten (New Vocations) finished second last year, it was one of her followers that walked away with the $10,000.
"You can't get mad if you have a bad night," Otten said. "I felt like last year I started off slow and had more $0 nights than nights I hit. But I played around with the wagers and kind of stuck with what I thought was working.
"I altered the way I placed my bets towards the end of the Battle last year and think that helped me go by Dave Little on the last night."
Little (Standardbred Retirement Foundation) has the most experience in competitions like this and he appreciates the popularity of the Battle.
"Our customers really like this contest," Little said. "They're into it.
"[In regard to betting strategy], I have always been someone who likes to bet the win pool for the most part, win and place sometimes. Betting conservatively has always been the way I play in real life, and it was the reason I won six Battles of Saratoga back in my Daily News days. This contest is different because we are all betting $500 every night. So, you can be free and easy and basically throw big punches, hoping to connect, if that's your thing."
The current standings are: Hatter — $1,214.00, Prewitt — $1,145.60, Little — $1,011.50, Warkentin — $875.00 and Otten — $771.00.
Friendly trash talk is encouraged and can be followed on Twitter: @davelittlebigm, @Edison_1999_, @Gabe_Prewitt, @JessicaOtten1 and @kenvoiceover.
Warkentin is not much into the trash talk and for him "It's all about the fun and our charities."
Prewitt enjoys the banter as well as the camaraderie.
"I'll probably be so far behind by the next time I'm in town [Friday, June 30] that I won't be able to talk any trash," Prewitt said.
Otten and Hatter are both looking to have fun with the trash talk.
"Of course, I enjoy it," Otten said. "Someone the other day asked if it bothered me and I said, 'Not at all, if we can't have fun with this contest, and at work, then we shouldn't be doing what we are doing.'"
Hatter said with a laugh: "I generally trash talk with all my Meadowlands colleagues throughout the night regularly anyway, so it's always better when management is literally encouraging it now."
Little considers this boastful Battle banter tame compared to what he endured in the Battle of Saratoga and although there hasn't been much of it to date, he has no problem joining in.
"Since Edison hit big Saturday with a four-part show parlay, I may have to get on his back," Little said. "I mean, come on, has he ever bet a four-horse show parlay in his life? Let's keep it real, kid."