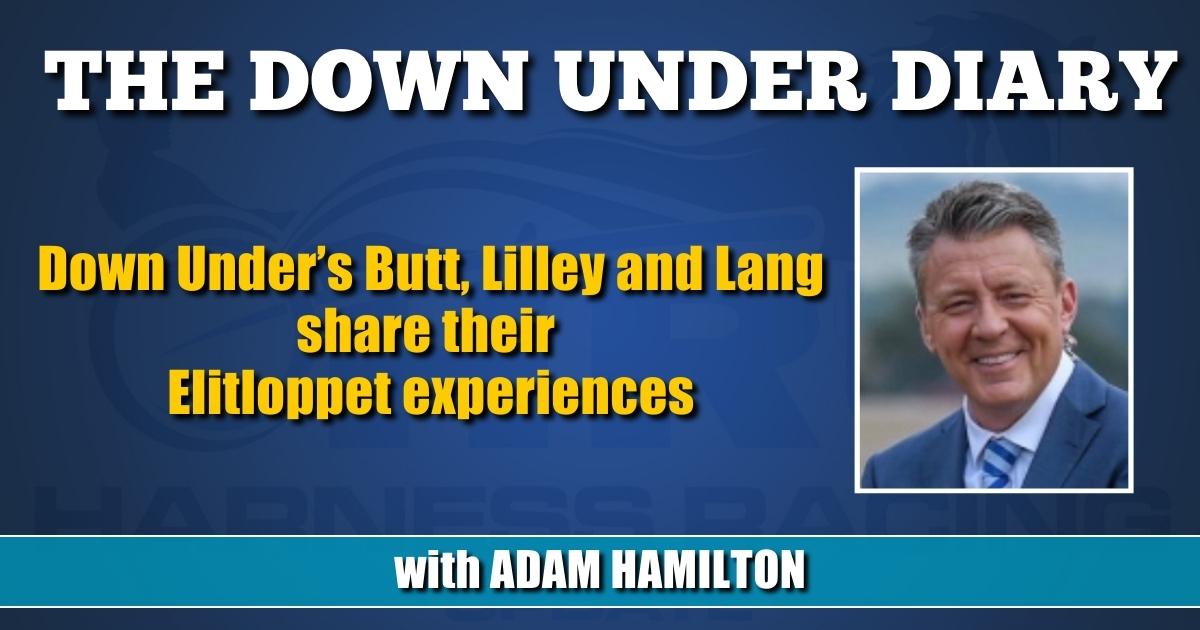 Down Under's Butt, Lilley and Lang share their Elitloppet experiences
And how they think Aussie star Just Believe will do in Sweden on Sunday.
by Adam Hamilton
The connections of star Aussie trotter Just Believe are in for an awesome experience, but an almighty challenge in the Elitloppet.
Some of the key Down Under horsemen who have tackled Sweden's iconic trotting race in the past outlined just how enormous the task was in the countdown to Sunday (May 28).
Champion driver Anthony Butt and highly successful trainers Brent Lilley and Chris Lang all raved about their experience in Sweden.
But all stressed just how hard it will be for Just Believe to make the final — especially now that he's drawn a wide gate (post 7 in a field of eight) — let alone make any impact in it.
Butt and his brother Tim took one of Down Under's all-time trotting greats Lyell Creek to Solvalla in 2001.
"He was basically unstoppable at home when he left, so we went there with high expectations," Anthony said. "Maybe we were a bit naïve, but it was hard to think a horse who was almost unbeatable in Australia and New Zealand, and was being talked about as one of the best we'd seen, wouldn't be very competitive with anything, anywhere.
"It was definitely a reality check and a bit of a shock, to be honest. To have him race so well and still not make the final was hard to get your head around. He didn't have the best of races and had to come wide, but still raced the fastest last quarter of the day from memory. Still, we finished fifth and were a long way from fourth, which we needed to qualify."
So, what was so different?
"It's just the sheer volume of trotters over there and depth of quality at the top," Anthony said. "We might have one or two outstanding trotters, they've got 15. What struck me most is how hard they go all the way. Lyell Creek was flat to boards all the way, from the moment they left the gate. And that was just trying to go with them. I never had a chance to even think about trying to get him on the bit and travelling, it was bustle, bustle, bustle.
"To his credit he just kept on coming and finding for me and did a great job to get as close as he did. Then again, we might have picked the hardest year of all. We had Varenne and Victory Tilly that year, two of the greatest of all time. I said when I went home that Varenne was the greatest I'd ever seen and I'd still say the same. I think he'd have beaten most of our best pacers in Australia or New Zealand at the time, that's how awesome he was."
Anthony said a win for Just Believe would be showing he was genuinely competitive, especially from a wide draw.
"The draw was always going to be important and it hasn't gone his way, sadly," he said. "If he'd have drawn [better], you'd have set making the final as the goal, but that's going to be hard now.
"He'll have to come out hard and get in somewhere. And then he's going to need everything else to go right. I do think he's a good enough all-rounder to make the final if absolutely everything went right."
Lang, who was sixth with Sundons Gift in a 2009 heat, longs to get back to Solvalla.
"I'm definitely envious of the Just Believe team this year," he said. "Just being part of it with Sundons Gift ranks up with winning an Inter Dominion or four Grand Prix's in a row at home. I've had a few chats with Greg [Sugars] about it all, but nobody [from Australia] can understand how amazing it is, or how good the horses are until they're part of it.
"I thought I'd reached the pinnacle of my career when Sundons Gift won the Inter Dominion that year. I thought I'd climbed Everest, but when I got to the [Elitloppet], I quickly realized I hadn't left base camp. It's certainly a huge step-up. Sundons Gift broke his [personal best] by two seconds in the heat and ran sixth, but that's the level he was at."
In retrospect, Lang said two of his other stars Skyvalley and Let Me Thru would have been better suited.
"They had more speed, but just as importantly they were better gaited," he said. "That's crucial. I had to race Sundons Gift in heavy shoes to keep him trotting. The locals couldn't believe it and I came under intense scrutiny.
"Lots of the best trotters race barefoot at times, but Sundons Gift wouldn't have trotted if I took his shoes off or even if I just lightened them."
So, what does Lang expect from Just Believe.
"He's lovely, professional and well-seasoned trotter with a good gait and some speed," Lang said. "Those wide draws make it hard around Solvalla. He's a chance of making the final if everything goes right. That would be an amazing result."
Lilley was just the second and most recent Aussie trainer to tackle the race, but without success when Maori Time made a break in her 2018 heat.
He is already eyeing-off a possible return next year with his brilliant 5-year-old mare Queen Elida.
"There's no doubt it's a whole new level over there, but we're closing the gap, gradually," Lilley said. "Our breed has improved so much over the past decade and a mare like Queen Elida has the speed to say she would be competitive if she keeps developing over the next 12 months.
"I love that they've taken Just Believe across and I'll be watching and cheering. If he could make the final, he's done a mighty job."
Greg Sugars, who drives Just Believe and co-trains with his wife, Jess Tubbs, was realistic after the draw.
"It's not ideal, that's for sure," Sugars said. "We hoped to draw down closer to the inside, but we're just thrilled to be part of the race. It's made it harder. I'll have to come out on the gate as best I can and try and get in somewhere without giving away too big a head start.
"On the upside, he looks to have drawn the easier of the two heats and he's handled the long trip [60 hours from Melbourne to Stockholm] really well. It's a huge step-up, but he's just kept answering every challenge we've asked of him so far. We'll give it our best."
For Sugars and Tubbs, who are an emerging force in Australian harness racing, just being invited to race and being part of it all is a win.
"That's how we look at it," Sugars said. "I mean, we're staying with Stig H. Johansson and get to talk and have time with him… How's that not a privilege and a huge win?
"It's a once-in-a-lifetime opportunity and Jess and I keep saying how it's something we'll talk about for the rest of our lives. Here's hoping he runs a great race on Sunday, but this trip is about so much more than that."