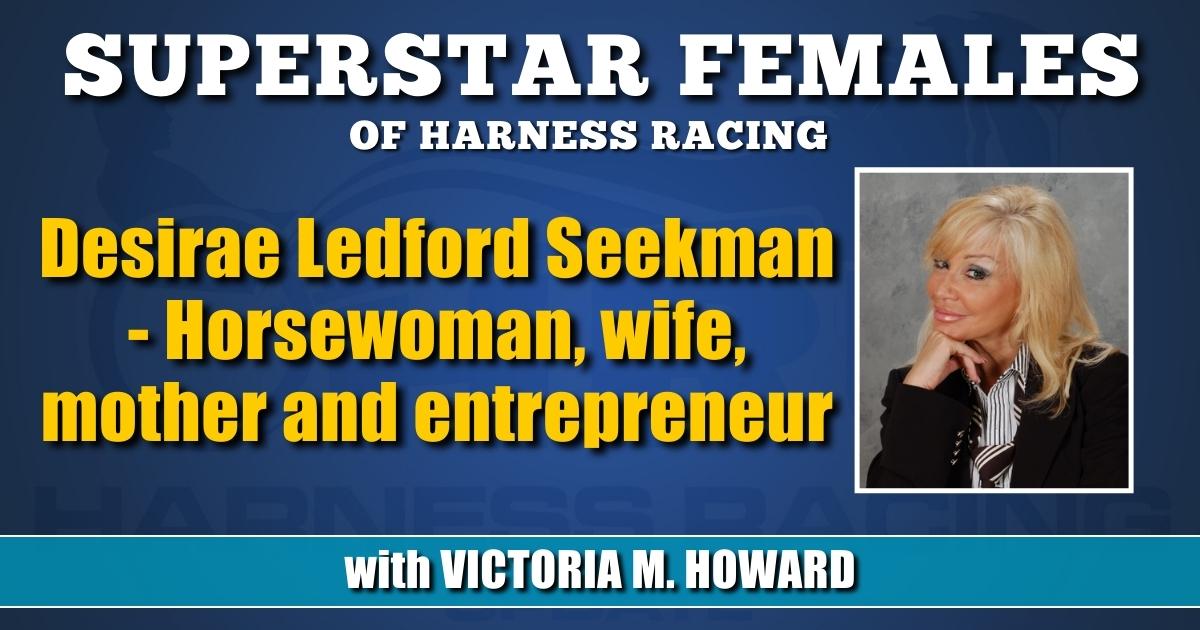 Desirae Ledford Seekman — Horsewoman, wife, mother and entrepreneur
by Victoria Howard
When Rick and Theresa Ledford would visit Balmoral Park, Maywood Park, Hawthorne Racecourse and Sportsman's Park in Chicago, their young daughter, Desirae, would gladly accompany them. They made it a family affair and it remains that way today.
Rick Ledford was a top harness driver back in the 1980s until he was injured in a horse racing accident. That was enough for the family man to reconsider and decide to stick to training for the sake of his family.
"Growing up I was always at the barn in the morning or going to the track to hang out with all of my favorite people," Desirae said. "As a kid I was convinced that someday I was going to marry top horseman Tony Alagna.
"Every day I would bring Tony a peanut butter and jelly sandwich for we were stabled next to each other in Barn 26. I was so infatuated with Alagna that I even gave him a puppy from my dog's litter.
During the summers of junior high and high school, Desirae became involved playing softball where she got a full ride to college to play softball.
"Although this was a great time in my life, I had to leave the horses for a while, but once you're bitten by the horse bug… it never leaves your heart and soul.
"Well, I didn't marry Tony Alagna when I grew up, but I met my husband and father of our two daughters thereafter."
It was actually social media that brought Desirae and her future husband together.
"Travis, my husband of 11 years and I met, believe it or not, on Facebook," Desirae said. "He posted a status saying, 'Like this post and I'll tell you something I like about you.'
"I liked it and he responded, 'I like your name and that you live in Chicago.' That Wednesday Travis had to come to Balmoral Park to qualify a horse so I baked him a batch of my famous brownies. I brought them to the track and to this day I'm not sure if he ate them, or everyone else in the paddock did, but they were all gone. That weekend Travis came back and we've basically lived together ever since."
Travis' parents, Joe and Tina Seekman, are also involved in harness racing — his father at one time was a top trainer — so it was no surprise when their son followed in their footsteps.
"Today, Travis and I run a small stable at the family farm in Gaston, IN, where we train six standardbreds," Desirae said. "I also have my broodmare at home, along with several turnouts and the family pony Bonnie.
"My favorite horse — although I love each and every one of them — it would be Rockin Speed and the fastest horse I've trained is Major Attitude. He went in 1:50.3 at Hoosier Park and he's been a great asset to our small stable."
Travis, 32, recently went over $1 million in purse money, with 102 winning drives in a shortened racing season.
"It was certainly a proud wife moment and I'm so glad all the hard work is starting to show," Desirae said.
As the saying goes first comes love, then comes marriage and then comes the baby in a baby carriage. Well, make that two.
After Desirae gave birth to two daughters, Raegyn and Graecyn, she still managed to help in the barn with the horses.
"I have to admit that it was a lot easier with just Raegyn, but after Graecyn was born, it definitely was more difficult," Desirae said.
Besides being a wife, mother and horsewoman, Desirae runs a small business called Design by Des.
"I make a lot of custom gear for the horsemen and ship the products all over the United States. I've even shipped custom gear to Canada, Switzerland and Australia," she said. "It's really cool watching races from The Meadowlands — all the way to Cal Expo — and seeing you being represented.
"People keep asking me, 'How do you do it all?' and 'When do you sleep?' I answer, 'I just do it.' After all, I don't have an option not to. My family comes first and I want my children to see that hard work pays off."
Luckily for the Seekmans, their two daughters also love horses.
"Raegyn, my oldest, adores them," Desirae said. "She loves going to the barn and getting dirty in her princess dresses. She helps clean stalls, tries to fill the buckets and once in a while jogs with daddy.
"My youngest, Graecyn, is only 14 months so right now she doesn't do much other than yell doggy when we walk in the barn [She can't say horsey yet]. And she is good at eating the horse grain, too. Typical barn kid stuff."
The Seekmans currently race at Hoosier Park in Indiana, but occasionally go to Ohio to race at Dayton or Miami Valley.
As far as sitting behind one of her horses in a race, well that will have to wait.
"I have driven at a few fairs in the past, but now that I'm a mom I am putting my time and energy into the breeding business more," Desirae said. "I love working with my husband and think we make a great team. We implement feedback off of one another pretty well and feel blessed to be doing what I love while raising a family."