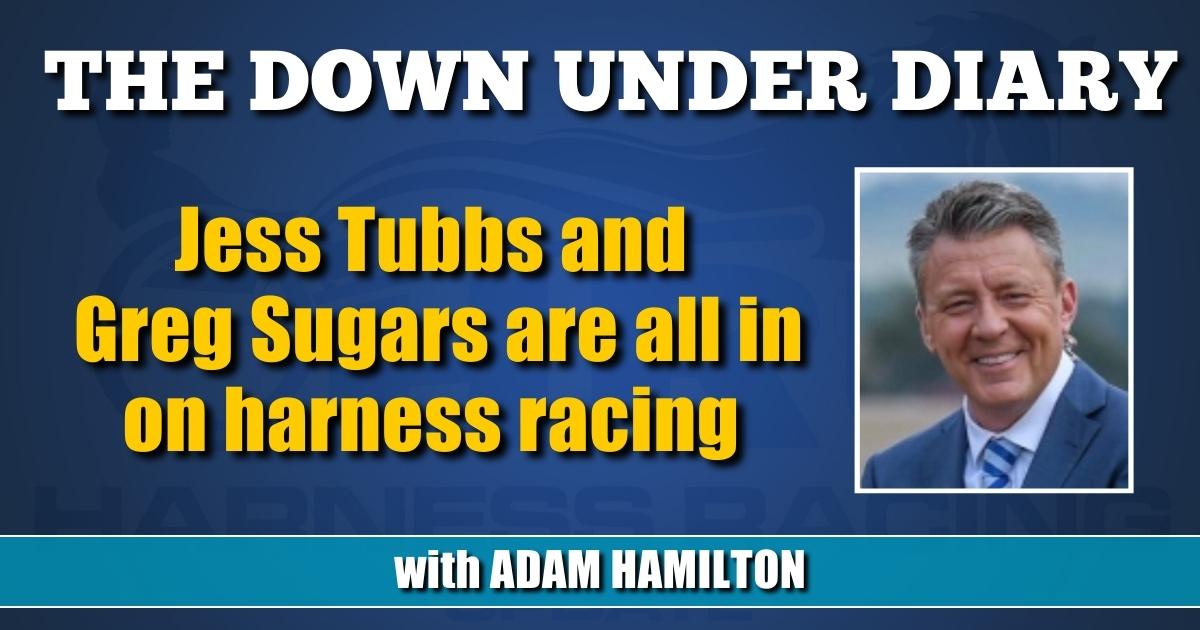 Jess Tubbs and Greg Sugars are all in on harness racing
The Down Under wife/husband, trainer/driver duo are transforming a farm where the sky's the limit.
by Adam Hamilton
Aussie power couple Jess Tubbs and Greg Sugars have gone "chips in" on harness racing.
About 18 months ago, Tubbs gave up a job as racing and marketing manager for The Meadows, Victoria's biggest greyhound racing club, to focus on training.
It was fork in the road time as their stable started to flourish.
"It just became too much, trying to do both roles became too much with the growing team," Tubbs said.
In 2013, they bought an undulating, but picturesque property in Myrniong, about an hour outside of Melbourne. Two years later, they moved into what's now Larajay Farm and, over time, they'd put "everything we have" into it.
It was a huge call given harness racing isn't exactly "flying" in Australia, but you have to go back to the family roots of Tubbs and Sugars to see what drove them and where the passion and commitment to throw everything at harness racing came from.
They were both bred into the game.
Tubbs is the daughter of the late and successful Alan Tubbs, who passed away in 2017, just days after turning 61 and after a long struggle with kidney disease.
Alan oozed pride for his daughters Jess and Amy, who enjoyed a successful driving career and now works for Jess and Greg.
And that pride is mutual. There's not a big win that goes by when Jess doesn't mention and/or think about her late father.
Alan would be so proud of what Jess and Greg have achieved in the short few years since "getting serious" about training.
Group 1 pacing wins with the classy Better Eclipse have been surpassed only by the total dominance Just Believe has enjoyed in Australia's trotting ranks, headlined by his wins in the two biggest trotting races, the Great Southern Star and Inter Dominion final.
More on him soon.
Now to Greg. He's the son of the highly decorated former South Australian (SA) trainer Ross Sugars.
Greg recalls playing on the grass at Globe Derby — Adelaide's harness racing track — with other kids most Saturday nights while his dad chased success on the track.
He caught the bug early.
After a whirlwind start to his driving career in SA, the decline of harness racing in his home state and excitement and opportunities that the much larger and stronger Victoria industry offered was inevitably irresistible.
Not long after Greg moved to Victoria, the rest of the family did, too — Ross and his wife, Kerry, along with their daughter, Kylie.
Then came the meeting of two fantastic harness racing families when Greg and Jess met and later married.
Their meteoric rise through the training ranks in Victoria has been something to behold.
And what they've done in transforming the raw and untamed Myrniong property has been a key to that success.
"You can see it," Jess said. "You wouldn't necessarily choose a place like this to train at with all the hills and valleys, but we've turned it to our advantage. Like the hill up to the top point of the [training] track. It's become a real asset, especially with the trotters. It's taken a lot of trial and error, so has the training track itself with the ups and downs, but we've worked it out now.
"Interestingly, it's going down the main hill which seems to help most with the trotters, it helps their balance and strengthens them up."
Better Eclipse was the horse they needed. A flagship if you like.
The job Jess and Greg did to transform him from a handy pacer into a dual Group 1 winner and Miracle Mile placegetter early last year was stunning.
And Better Eclipse has continued to be a regular player in the biggest races, including his current campaign over in New Zealand where he's run two terrific races against NZ's best pacers.
Around the time Better Eclipse was preparing for a Queensland raid mid last year — where he won the Group 1 Sunshine Sprint — connections of Just Believe were on the hunt for a new trainer after Michael Hughes decided to leave the game.
They chose Jess and Greg.
"We're forever grateful to get that opportunity," Greg said. "He was an exciting trotter on his way to big things and he'd run third in the Inter Dominion at the end of 2021.
"We knew pretty much as soon as we started to work him seriously at home, he was something special."
Greg had driven Maori Law to beat Just Believe in that 2021 Sydney Inter Dominion trotting final and told friends he faced a tough decision.
"Greg said he wasn't looking forward to having to decide which one he drove in the big races, that's how big an impression Just Believe made as soon as he joined their stable," a friend said.
Ultimately, Maori Law's old legs gave out on him and he was retired before Greg had to make that call.
Just Believe ran second at his first start for Jess and Greg at Melton on Sept. 10, last year. But he then won eight of his next 10 starts and ran second in the other two.
Those wins included a rare and outstanding clean sweep of the Inter Dominion series last November/December where he won all three heats and overcame an outside back row draw and sitting parked outside the leader to win the Grand Final.
Just Believe then added the Group 1 Great Southern Star final at Melton on Feb. 3.
It was that race which, with the crucial help from Harness Racing Australia's Andrew Kelly, put Just Believe on Solvalla's radar for the Elitloppet.
Clandestine talks ensued.
"We were told it all had to be hush-hush until Solvalla announced it," Jess said. "I lied to a few people along the way, which didn't feel great, mainly about why we weren't taking him to New Zealand like we'd discussed.
"So, it was a huge relief when it finally became public."
Just Believe is booked on a flight out of Melbourne, which starts a 60-hour plane, road and boat trip from Melbourne to Stockholm, via Singapore, Amsterdam, across Denmark and then up from Malmo to Stockholm.
And that's just where the adventure begins.
"We'd love to race in the U.S. one day, too," Jess said. "We've got horses racing in New Zealand now and Just Believe going to Sweden soon… America is certainly on the wish-list, too."