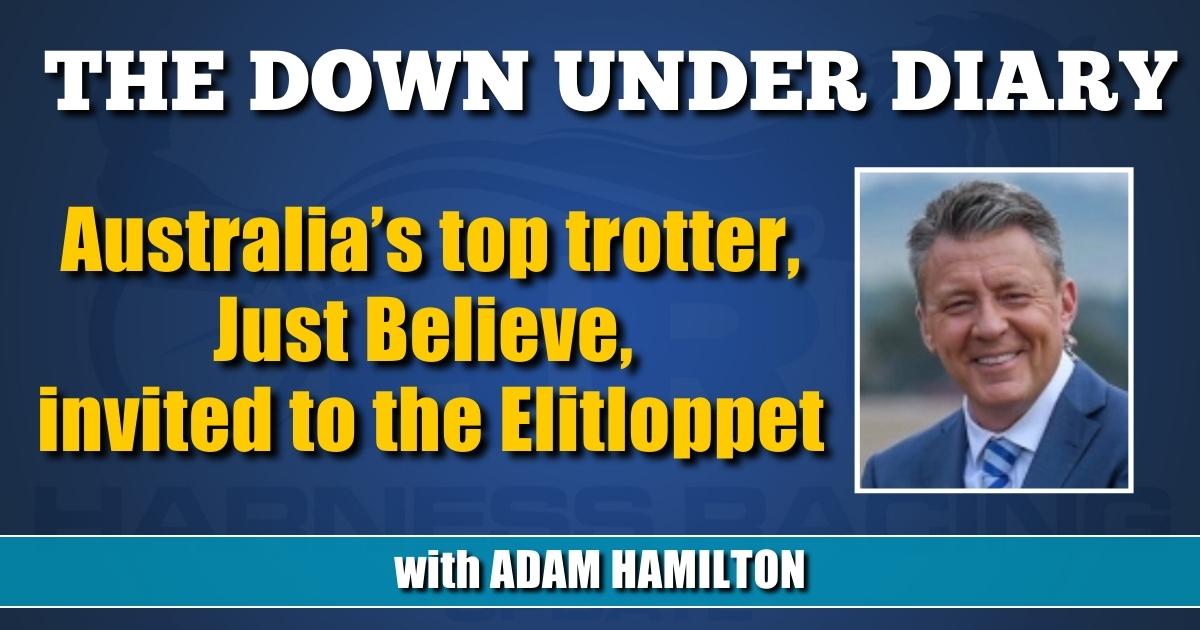 Australia's top trotter, JUST BELIEVE, invited to the Elitloppet
Becomes only the third Australian-trained trotter to accept an invite.
By Adam Hamilton
You can see the Aussie headlines now… "When Harry met Stig."
Harry, best known by his racing name Just Believe, will become just the third Australian-trained trotter to tackle the great Elitloppet at Solvalla in Stockholm, Sweden on May 28.
And Just Believe, Australia's standout trotter, will be stabled with legendary Swedish horseman Stig H. Johansson during his Elitloppet campaign.
Trainer Jess Tubbs admits she and husband Greg Sugars, who drives Just Believe, are still pinching themselves.
"It's beyond our wildest dreams… absolutely huge," Tubbs said. "Harry hasn't even been in our stable for a year and he's won the Inter Dominion, Great Southern Star and is now taking on some of the world's best trotters in one of the most famous races. Just when the news was sinking in, he'd been invited, they then said we'd be staying with Stig. That in itself is incredible. What a legend, what an icon.
"I remember saying to Greg, 'We're staying with Stig: Wow!' I can't wait to meet him. I doubt he'll know who we are, but we certainly know him. We're so grateful to stay with him and the chance to learn from him is an absolute privilege."
Tubbs is from a trotting family. Her late father, Alan, was a trainer of note and loved his trotters. He first introduced her to the Elitloppet.
"My first memory of the race is watching Pride Of Petite [a New Zealand-trained mare] run in the Elitloppet when I was eight or nine," she said. "I was in awe of the crowd, the atmosphere and the spectacular event it is.
"The horses are incredible to watch and the participants are truly superstars. It's going to be pretty amazing when we get there."
Just Believe is booked to leave Melbourne for a 60-hour plane, trailer and boat trip before he arrives at Johansson's stables just outside Stockholm.
"We've got plenty of horses at home who just wouldn't cope, but it won't bother him," Tubbs said. "Working out the logistics has been the daunting part, but we've got Andrew Kelly and his team at HRA [Harness Racing Australia], along with the Swedes, who have made it all possible. Without them it wouldn't happen."
Despite having one of Australia's largest, best and blossoming stables, Tubbs said she and Sugars would both be at the Elitloppet.
"I really believe it's something we will talk about forever and I doubt we'll ever get the chance to do it again," she said. "I'm just so grateful we've got this chance and we want to make the most of it.
"We've got horses racing in New Zealand at the moment and a trip to Sydney to fit in as well, but we'll both be at Solvalla on the day for sure."
The previous two Aussie-trained Elitlopp invitees — Sundons Gift (2009) and Maori Time (2018) — failed to make the final.
When you include New Zealand, the only Down Under trotter to qualify for the final was Pride Of Petite, who finished fourth in a heat and sixth in the final, in 1997.
"We know the enormity of the challenge, albeit we don't know much about the actual opposition we'll face," Tubbs said. "Greg and I have got lots of homework to do. I'm glad I'll be watching from the sidelines and Greg can carry the pressure of driving Harry.
"It's hard to compare horses, but we are confident with our fella. He's stepped-up and done everything asked of him. We have no reason to question him, so why start now."
Just Believe's rise to prominence has been stunning with 16 starts since being transferred to Tubbs' care, netting 10 wins, five seconds and a third.
The best pointer to his Elitloppet prospects surely comes through his win in the Great Southern Star final at Melton on Feb. 3. Both races have qualifying heats into the final on the same race card.
"For a race like the Elitloppet, the fact he is so professional is the best thing," Tubbs said. "On Great Southern Star night, he was looking for carrots after the heat and then not at all fussed when we geared him up for the final, which he won so well.
"He's got electric speed when he needs it, but he's tough, too. He doesn't like letting other horses get past him. He's not always flashy, but he gets the job done. If he found himself in the right position, I don't see why he wouldn't be competitive with those great horses he will meet."
Tubbs and Sugars won't be the only supporters Just Believe will have on Elitloppet Day.
"There are 27 people in the Iona Trotting Syndicate which races him and I've heard 14 of them are already booked for the trip," Tubbs said. "They cheer, too. They're loud and they start with a lap to go. Everyone will know they're at Solvalla, that's for sure, but it'll be great to have them there."
Just Believe could also stay on in Scandinavia for a couple of races after the Elitloppet.
"We're open to that," Tubbs said. "It's not a part of the world we are familiar with, but if we've gone that far, why not have a look around?
"We know there are some options for him afterwards and we could race him in a few different places if he's feeling good and they'll have us."
So, what's the final word from Tubbs?
"You've got to dream in this game and a dream has already come true by just being invited," she said. "We'll be representing Australia as best we can and we can't wait to get there."