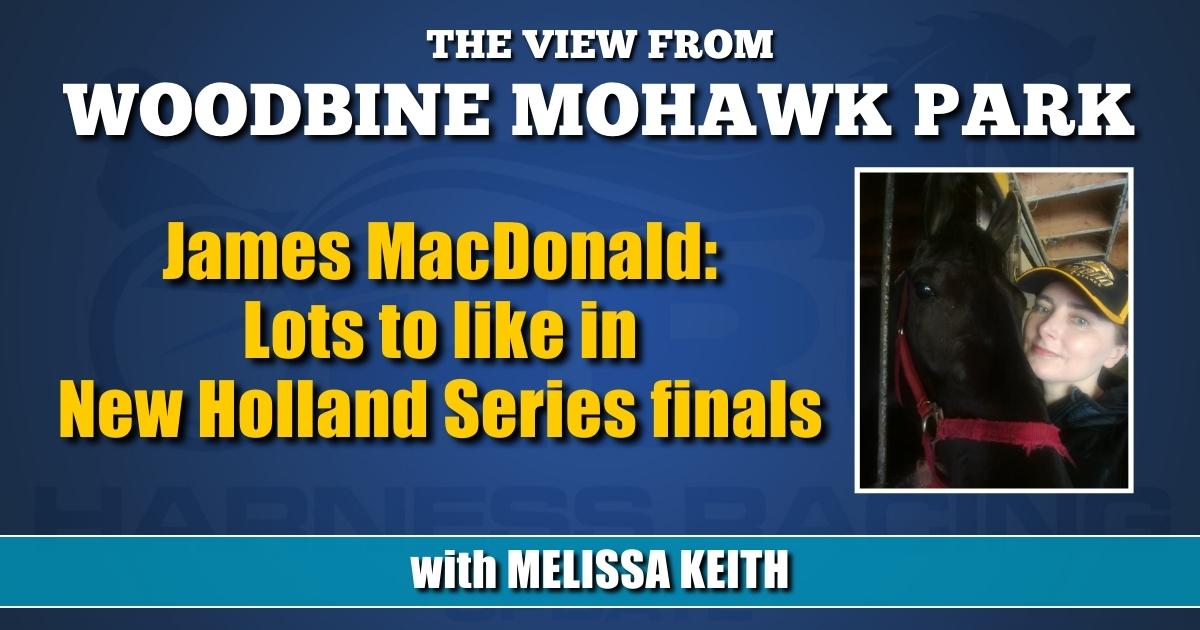 James MacDonald: Lots to like in New Holland Series finals
by Melissa Keith
The inaugural New Holland Series concludes with finals this Saturday (March 25) night at Woodbine Mohawk Park (WMP), with a $72,000 final for trotters and a $70,500 final for pacers. Preliminary legs for each gait took place this month at the Campbellville, ON, track, providing a local opportunity for non-winners of $150,000 last year.
Nautical Hanover (p, 3, 1:50.3f; $258,404) has been the story of the series so far, sweeping past rivals in well-timed victories March 11 and 18 for driver James MacDonald. He dazzled at WMP on March 3, closing in a sharp :25.3 behind winner Camara Moment and runner-up Backstreet Gambler in 1:52.2s before going into the series.
Owned by Richard Berthiaume of Pointe-Aux-Trembles, QC, the son of Captaintreacherous—Naughty Marietta equaled his lifetime mark at Mohawk, in the first leg of the New Holland Series. He returned to his current home track on Dec. 3, 2022, when the now 4-year-old pacer debuted for trainer Benoit Baillargeon and driver Sylvain Filion, finishing second by a head to Rockme Rollme in nw12000l5cd company.
Nautical Hanover faced the top 3-year-old pacing colts of 2022 in his Adios elimination and final, finishing third and seventh, respectively. He also finished sixth in a Meadowlands Pace elim, third in an MGM Messenger Stake elim at Yonkers and fourth in the Messenger final. Campaigned by Tony Alagna during his stakes seasons at age 2 and 3, Nautical Hanover won just one race as a freshman and three more times the following season, taking a 1:50.3f mark at Harrah's Philadelphia against other male 5-year-old and younger pacers, non-winners of three pari-mutuel races or $38,500 lifetime.
MacDonald said he was pleasantly surprised by Nautical Hanover.
"Honestly, I didn't know what to expect," MacDonald said. "He was flying his last start [for Filion] but it was a different caliber of horses."
The pacer's late speed is an asset, but no guarantee of a series sweep, in MacDonald's estimation.
"Not necessarily," he said. "It's great to have that move in your back pocket, but with more money on the line you have to be very versatile to win these races."
The reigning O'Brien Driver of the Year will also be driving one of the top horses in the New Holland Series final for trotters. Although Locatelli (4, 1:50.4s; $324,562) went inside consecutive pylons on the first turn in a March 6 opening leg, finishing double-lapped at the wire and set back from third to fifth, the beaten 1-2 favorite redeemed himself on March 13. In line to MacDonald, the Muscle Hill—Girlie Tough gelding held off a fast-closing Franks Angel for the 1:54.3s win.
Trained by Harry Poulton and owned by Thestable Locatelli Group, Guelph, ON and Hutchison Harness Llc, North Ridgeville, OH, the 5-year-old trotter climbed the class ladder at Mohawk late last season, capturing the Dec. 5 preferred in a perfect pocket trip. The 1:50.4 victory was MacDonald's seventh driving win of that memorable card, plus a new personal best for Locatelli, equaling Mohawk's track record for older male trotters.
Locatelli became a Mohawk regular in December 2021, with MacDonald handling early driving duties. They began 2022 with two victories together in WMP conditioned company.
The gelding began his 3-year-old season with trainer Nancy Takter in the New Jersey Sire Stakes at The Meadowlands, eventually moving to Poulton following a number of break-marred efforts, including the Hambletonian final, in which he ended up tenth, the Earl Beal Jr. Memorial at Pocono, in which he was eighth and then failing to make the Breeders Crown final.
"I think he has a great shot to win," MacDonald said. "The post [nine] will make it more challenging for sure, but he has all the tools to get the job done."
He attributed Locatelli's trouble in the opening leg to the gelding requiring a tightener.
"It was his first start back after a short break," MacDonald said. "I don't think he was right on top of his game. Having another start will help his chances. It's a wide-open race, but I definitely like him."
There is no trotter who stands out like Nautical Hanover has done on the pacing side of the New Holland Series finals. There were four winning trotters on two nights with two preliminary series legs apiece: the Carmen Auciello trainee Itstimetogohome (Doug McNair); the Shawn Steacy trainee Ritson (Scott Young); the Per Engblom trainee Sermon (Bob McClure); and Locatelli.
New Holland Series finals night has something extra for racing fans venturing to the track. The trotting and pacing finals are races 5 and 7 respectively on the Saturday night program. And the first 300 racegoers through the doors will receive a special New Holland collectors cup and a free $2 wagering voucher, courtesy of sponsor New Holland, the agricultural equipment and farm machinery manufacturer. The company will also have an equipment exhibit set up to check out and photograph at Woodbine Mohawk Park.
MacDonald said the late-closing series is a nice addition to the early season lineup at WMP.
"I like it. Anytime you try and make the product better I think it helps," he said. "It's always fun driving top horses and it's a great way to bring some new ones to the circuit."
Note: Live racing at Woodbine Mohawk Park takes a short break after Saturday, March 25, resuming on Saturday, April 1 with a special 6 p.m. post time.