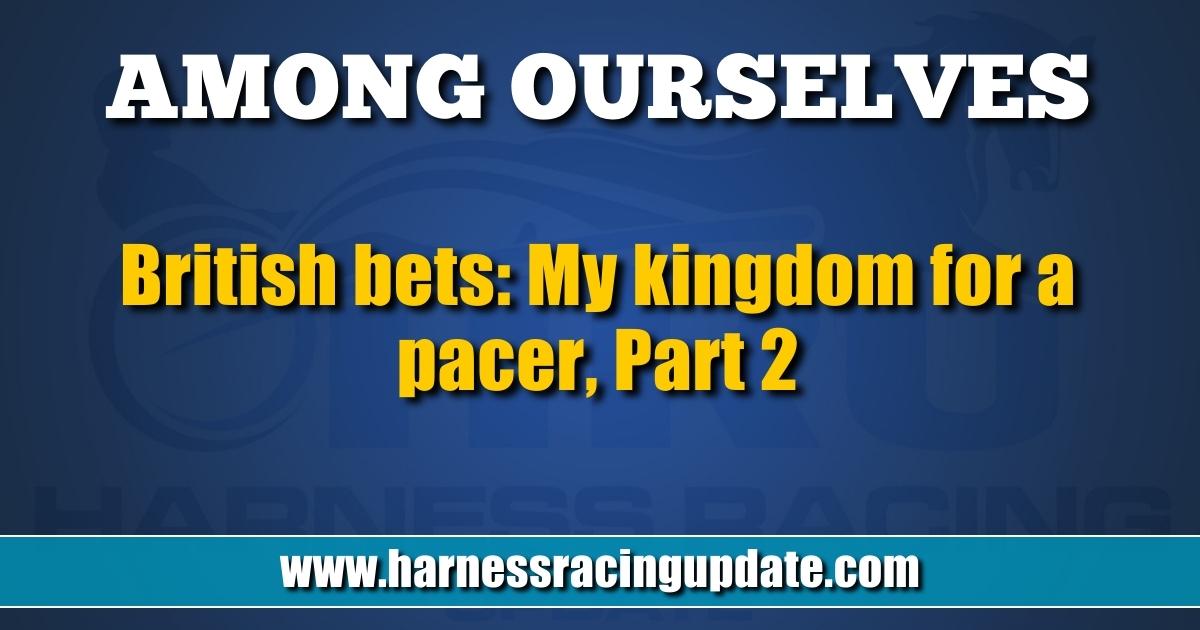 British bets: My kingdom for a pacer, Part 2
by Frank Cotolo
Part 1 is here.
Endurance. That is what George recommended I study when handicapping British thoroughbreds. He said, "Speed's for the dogs," meaning the nighttime punting at greyhound tracks.
"I've been to dog racing," I said. "In Florida."
"Bright, comfortable, clean and safe, I gather," George said. "Quite different from over here, where it's like wandering with blokes in a Dickens novel."
To endure in serious thoroughbred punting, however, was exhausting. Track meets lasted a few days at a time and horses took long rests between races and shifted from downhill no-turn to curlicue-shaped tracks; and there was rain and wind and endless incalculable factors to empty a wallet. I told George I wanted endurance only to find harness racing in the U.K.
"Admirable," George said. "Perhaps you should talk to an expatriate. Someone in the race game come to Britain from your side of the pond. He may know a bit about other types of race horses."
"Do you suggest anyone in particular?"
"The Cauthen kid."
"Steve Cauthen? The jockey?"
"That's him."
"You know someone that can introduce me to him?"
George said, "Just find out where he's riding and introduce yourself."
I was skeptical of George's suggestion. There was no way in the States to approach a jockey on the other side of a racetrack apron and have a casual conversation that easily.
Anyone in the U.S. reading a sports page heard of Cauthen. He was a star; the youngest jockey to win a Triple Crown; he was Sports Illustrated Sportsman of the Year in 1978. Yet, I did not notice his name in all of the British racing pages I used to handicap. Until I looked for it.
As if predictable, I found Cauthen would be riding at the upcoming Ripon Racetrack meet. Ripon was the nearest track to Harrogate and it took only a short bus trip to visit. On the ride there, I looked through my Sporting News while thinking of angles to tell security why I wanted to meet the Cauthen.
Strolling up the path to the apron I saw a bobby leaning against the white fence at the entrance.
"Pardon me," I said, "would you know where I may find a particular jockey?"
"Looking for a rider?"
"Yes. Steve Cauthen."
He did not seem to care which jockey. He looked over his shoulder to his left and pointed and said, "They come out of the door under the stands over there," he said. "You know what he looks like?"
"I know what he looks like."
"Then go find him, why don't you."
"Thanks," I said and walked away, almost expecting him to blow his whistle and catch up to me.
George was right. But, I was still amazed by the nonchalant atmosphere around the public and the performers. I blended into it, though, leaning against a rail post reading the newspaper until jockeys began to stroll out of a door under the stands. They sauntered around, holding their helmets, smiling and chatting, twirling their whips and inhaling the afternoon chill.
I noticed the Kentucky kid among them and I approached him calmly. I introduced myself as an American sportswriter and I was surprised when he said I was among the first American journalists to find him working in his new venue. He was calm and attentive and did not appear in any hurry; it made me relax.
He said he was enjoying the change, though it was vastly different than in the states. I mentioned that I caught a twinge of a British accent. He said that after a while it came naturally. We shared the many adjustments needed to live the U.K. lifestyle as well as be a horseman or a bettor, but he could not say enough good things about how the experience of racing in the sport's classic theater of horsemen embraced him.
In a short time, the British press embraced his talent and one respected racing correspondent said, "He's matured into the perfect jockey." He was amused when I told him I thought he already achieved that in America. He thanked me and said he had "certainly matured."
I steered the conversation to harness racing. Growing up in Kentucky around horseracing, he knew of the standardbred breeding posture in the Bluegrass State and about Louisville Downs being the home of the Kentucky Pacing Derby. He also knew about Messenger.
"I was talking horses with punters and only one knew Messenger and the Hambletonian line."
Cauthen told me it was because there was so little harness in the U.K. He knew about the "harness clubs" but nothing about improving their profile. He thanked me and took his first mount.
Back in the U.S., Turf & Sport Digest published my article about meeting Cauthen. Ironically, years would pass before I learned how harness was growing in the U.K. and won a John Hervey writing award for my endurance.