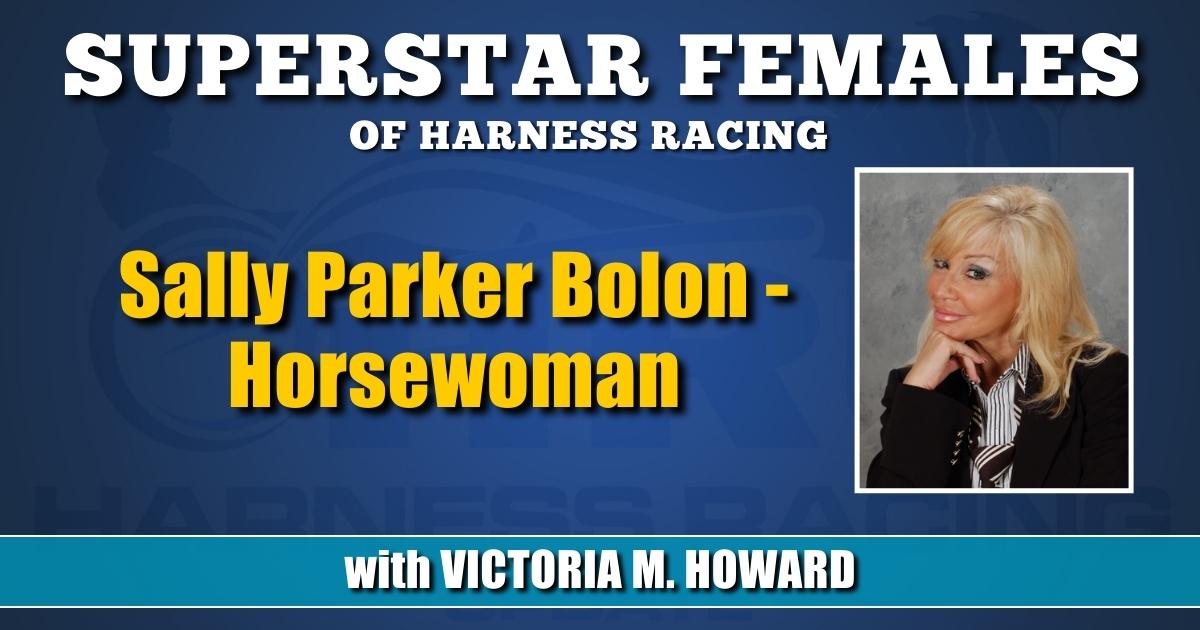 Sally Parker Bolon —Horsewoman
by Victoria Howard
Sally Parker Bolon comes from a renowned harness racing family.
The legacy began over a half-century ago with patriarch Dwayne Parker. He originally raced in Lebanon, OH, before making a move to the new hot track in Washington, PA, The Meadows.
Parker was raised on the family farm in Morrow, OH, where his love of animals began. His neighbor who helped teach him to farm, also had an interest in harness racing.
One day while at the Warren County Fairgrounds in Lebanon, OH, Parker bought a harness for $425 and gave a mare he had to the late Omar Hiteman to train.
Before long, Parker began training horses on his own full-time at The Meadows. With the help from a friend and support of a local owner, Parker began buying better quality horses to race.
His most consistent horse was the pacing mare Sparda and his classiest was the pacer Nairobi.
Perhaps his best horses during his 60 years in harness racing were Arbitration p, 4, 1:52 ($727,129) and North America Cup consolation winner, Anticipation.
After going all in, Parker's entire family decided to follow their father's passion.
This includes his daughter, Kathy Parker, who today is the editor of Hoof Beats magazine; his son Norm, who in his father's later years helped build and run a very successful stable together, and daughter Sally, who eventually married horseman, Rodney Bolon.
The Bolons, another long-time harness racing family from Ohio, has also been a regular at The Meadows, starting with patriarch Paul and followed by sons Ben and Rodney.
The collaboration of the Parker/Bolon marriage continues with Rodney and Sally's son, Kyle, also a driver at The Meadows who is married to Sarah.
"I met Rodney when I was in the 10th grade," Parker Bolon said. "At the time I wasn't allowed to date him for he was six years older than I was, but 37 wonderful years later, we are still going strong.
"I worked with Rodney in the barn up until two years ago. We ran a successful stable throughout the years, and we worked well together: definitely putting in a 50/50 effort."
When the Bolons' business partner, Jim Snyder, died they decided to scale back.
"Rod decided to keep a few horses to train and helps train babies with our son Kyle," Parker Bolon said. "Kyle went to college after graduating from high school, but he missed the horses so much he decided to follow his father and grandfather. One winter he went to Florida and trained for Tony Alagna. Today Kyle enjoys having his own stable and also drives."
Presently Kyle has about 10 horses including a few 3-year-olds coming back and some 2-year-olds.
In addition to helping out friends Jim and Christy Pantaleano with their horses, Parker Bolon never had an outside job, until she got one with one of the sport's top trainers, Ron Burke.
"I really enjoy working with for the Burkes," Parker Bolon said. "I take care of Bythemissal, Bronx Seelster and others. Bythemissal had a hell of a year last year and just came in from a well-deserved rest in Kentucky. He's got a big year planned ahead of him and hopefully lots of success. He is the fastest horse I've cared for, winning in 1:48.3. Like any job in harness racing, the work is very demanding, but the Burkes are very good at accommodating what life throws at us. It's definitely a team effort.
"My all-time favorite horse is Real Hanover. After having much success racing at The Meadowlands, he became an open pacer at The Meadows. He was really a tough horse who liked to grind it out and wear them down. He was lovable and had a great personality. As good as he was on the track, he has gone on to do wonderful things in his retirement."
Parker Bolon is one of the few people who has spent almost her entire racing career at The Meadows.
"When I was 16, I worked as a party group hostess at The Meadows and gave barn tours on the weekends," Parker Bolon said. "Besides being a mother, wife and now grandmother, the horses have been my entire life."
Parker Bolon has seen and been there through it all while working at her home track. Those wonderful years when you couldn't get a table in the dining room, the packed grandstands and the horsemen were all family looking out for one another.
Many famous people in our sport have at one time called The Meadows home. Besides the Bolons and Parkers, there's the Burkes, Dave Palone, Dick Stillings, Dan Altmeyer, the Dunns and many more.
"Unfortunately, the changes I've seen at The Meadows aren't exactly the changes I would have liked to see," Parker Bolon said. "I don't think that day racing is helping our sport and of course the casinos have hindered our sport, but no matter what, we have the greatest people and horses and continue to do what our family loved and lived for."