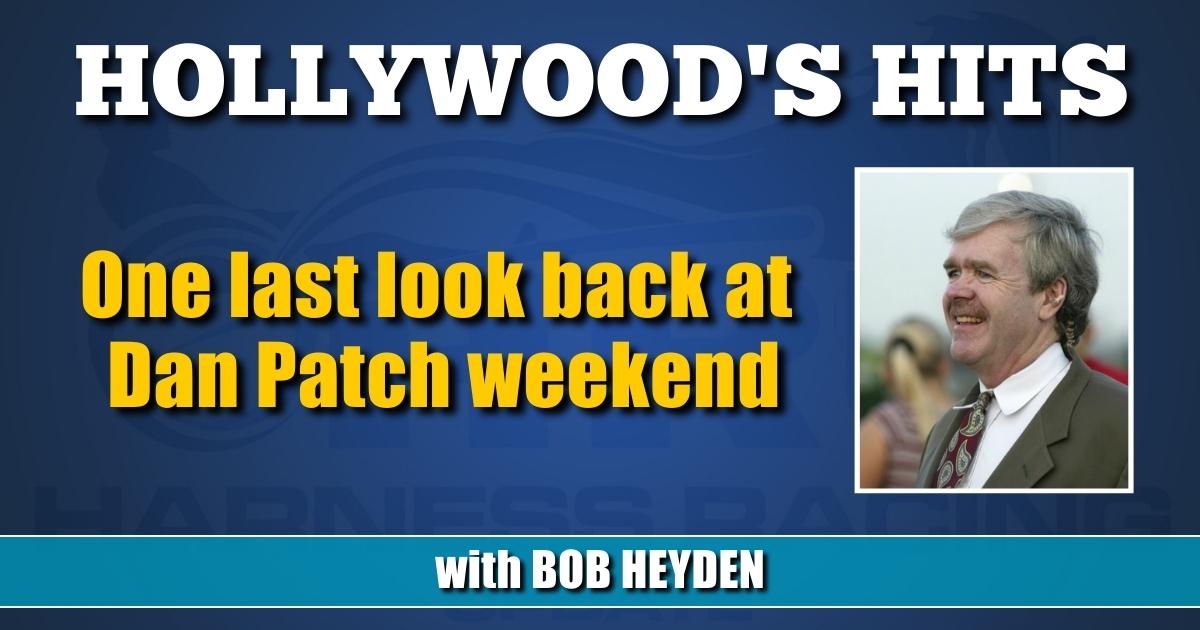 One last look back at Dan Patch weekend
Some of the best things to come out of banquet honoring the best of 2022.
by Bob Heyden
A few facts about some 2022 Dan Patch honorees:
1. Breeder of the Year — Hanover Shoe Farms won the award for the 12th time: 1948, 1964, 1965, 1966, 1974, 1981, 2005, 2007, 2015, 2017, 2021 and 2022. This year was the first back-to-back win since their trifecta in the '60s with Bret Hanover, Romeo Hanover and Bonjour Hanover.
Every sub-1:47 mile in the sport in the last three years was either by a horse named Hanover — Bulldog (1:45.4 in 2022), Allywag (1:46 in 2022) and Rockyroad (1:46.2 in 2022) — or a horse sired by Hanover stallion's Somebeachsomewhere or Captaintreacherous: Cattlewash (1:46.4 in 2020) and Catch The Fire (1:46.4 in 2022).
2. Horse of the Year — For the first time ever there was a unanimous winner, 136-0. Bulldog Hanover was also the unanimous choice for Pacer of the Year.
Bulldog Hanover became the first pacer to win Horse of the Year and average over $100,000 per start without ever being in a million-dollar race. Chapter Seven on the trotting side did the same in 2012.
3. Glen Garnsey Trainer of the Year — Jim Campbell turns 61 next month (3/9/62), almost the age when his brother John Campbell retired at the age of 62 in 2017. 
4. USHWA Driver of the Year — Four-time winner Dexter Dunn averaged nearly $10,000 per start in 2022 with $15,197,579 in earnings from 1,574 starts.
5. Rising Star Award — Lucas Wallin (30) is training 35, including four for Mal Burroughs. Carter Pinske (27) is also training 35. Rising Star for 2023?
6. USHWAn of the Year — In the first 17 years, only men won the award, until Virginia O'Brien broke through in 1996. In the 26 years since then 11 ladies have been honored including Debbie Little in 2022.
7. Women caretakers — Over 80 per cent of the caretakers for the 2022 divisional champs were females. And that list does not include Betthany Graffam who was honored by Art Zubrod and Leah Cheverie as the Fair Island Farm Caretaker of the Year.
8. Divisional champs — For the first time in 45 years, both 2-year-old pacing divisional winners never left Canada. Stockade Seelster (8-for-11, 686,268) and Sylvia Hanover (8-for-9, $675,565) only raced at Woodbine Mohawk Park.
THIRTEEN BEST SIGHTINGS ON HOY WEEKEND
1. Tim Bojarski — On the ballot for the 2023 Communicators Hall of Fame. For those of you who are unfamiliar with him, this is a man to be trusted implicitly, extremely knowledgeable, well-versed on anything new, a gentleman and a bonus to any entity or group of any kind.
2. Debbie Patterson and Barbara Dresser — Thanks for the major breath of fresh air you brought from Maine. Two ladies who were not shy about rolling up their sleeves, they added a lighter, breezier element to the weekend that had on occasion in the past gotten a touch stale.
3. Walter Wlodarczyk — A New York City photographer who was kind of the "Accidental Tourist" in the room. His picture of Pompano Park on their last night of racing before they closed for good, with the sunset in the background, was a classic. Well done. Even better is that harness racing has a brand new fan. Do not be surprised to see this unbelievable class act at the Hambletonian, Jug or Red Mile this year.
4. Tony Beltrami — Amateur Driver of the Year. Another gentleman, from a family that has raced a lot in the past. He has grabbed the torch and any involvement this real good guy has in our sport will be simply bonus time.
5. The Kentuckiana crew — Bob Brady, Mel Segal and Ken Jackson. Oh my, do they ever care about the business.
6. Joe Sbrocco — So good to see Sbrocco involved with two champions from the Noel Daley barn. Talk about paying your dues. If there was an easier guy in the room to root for, please, point him out.
7. Mel Segal — Technically he's not a part of the Kentuckiana group, but even if he was, he deserves to be mentioned again as the part-owner of Test Of Faith. She says it all.
8. John Berry — Talk about paying it forward. Berry is a longstanding good guy, gentleman, promoter and master of many, many tricks of the trade. Oh, and an auctioneer too, 1,861 of them including the one he conducted at the Dan Patch banquet.
9. Rachel Ryan — That really helpful person for all these years at The Meadowlands who is the exact opposite of a photo bomber. More please.
10. Jennifer Warkentin — She somehow has not changed even a spec in two decades plus, thankfully.
11. Cathy Boughton and Bill O'Donnell — "The Saint and The Sinner?" In either order give them a lifetime pass.
12. John Kopas — Enjoy the guy's company. Simple as that. Today's generation likely has lost sight of the impact that Team Kopas had on the industry. It is well worth looking up.
13. David McDuffee — He had a Horse of the Year in 2013 with a female trotter. Now a Trotter of the Year with a homebred. With a boatload in between. How high does McDuffee rank on your list of those you would prefer to see next year on this very weekend?