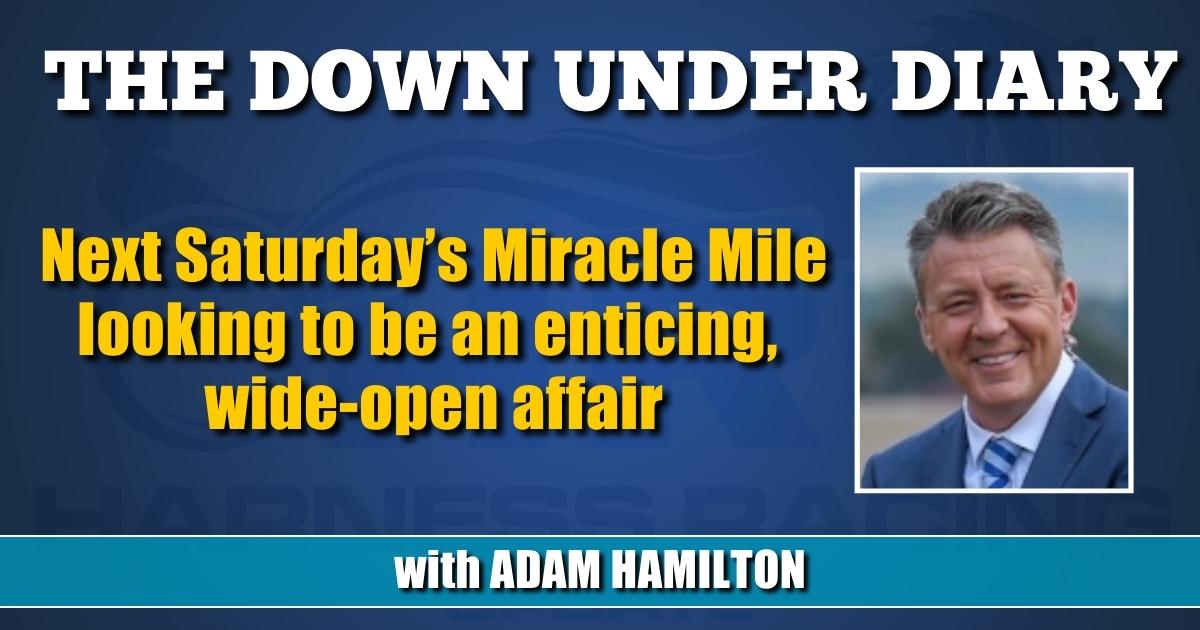 Next Saturday's Miracle Mile looking to be an enticing, wide-open affair
As of yet, no Down Under pacer has stepped up to take King Of Swing's throne. But the $1 million race may produce a serious successor.
by Adam Hamilton
Is there a changing of the guard Down Under?
It's almost a year since champion pacer King Of Swing retired and nothing has stepped-up to definitely snatch his crown as Australasia's best pacer.
Open-aged pacers such as Copy That, Honolua Bay, Spirit Of St Louis, Expensive Ego, Better Eclipse and even Rock N Roll Doo have had their chances, without taking the ultimate step.
Honolua Bay is making the best fist of it. More on him later.
But, ultimately, the title as Down Under's best pacer remains up for grabs.
That's why this $A1 million Miracle Mile next Saturday night (March 4), fittingly the race King Of Swing won a record three times, looms so large and excitingly.
The usual open-aged suspects are mostly back, minus Copy That after a minor bleed and Rock N Roll Doo due to a form slump.
But it's the new blood who will create the most interest.
It is universally felt that this Australian 4-year-old crop is very special, led by Captain Ravishing, Leap To Fame and Catch A Wave.
Two of them, Captain Ravishing and Catch A Wave, will tackle this Miracle Mile and add so much intrigue to the race.
Let's delve deeper into these 4-year-olds.
It was a huge shock, an upset of epic proportions, when Catch A Wave sat outside and beat Captain Ravishing in the Group 1 Chariots Of Fire — Australia's biggest 4YO feature — last week.
Captain Ravishing was the talk of the sport, and deservedly so, after winning by some huge margins, posting some record times and being labelled the best horse champion pair Emma Stewart and Clayton had ever trained.
Captain Ravishing was pushed out of the gate for the first time since his very early juvenile days and held the lead in a slick :26 opening quarter in the Chariots, which left Catch A Wave outside him.
Driver Mark Pitt backed it off for a cozy :28.5 second split and went down the back in :27 flat.
Just when most expected Captain Ravishing to slip into overdrive and put a gap in them, Pitt had to go for him and he started to move about and duck-in under pressure.
The crowd held its breath… would the $1.15 favorite and potentially next big thing hang on and win?
No, he did not. Despite doing all the donkey work, driver Kate Gath asked Catch A Wave for one final effort and stormed past Captain Ravishing to win by 2.6m.
The time was slick: a 1:49.1 mile and probably equated to a 1:48 mile given the heavy rain on the night.
But most felt that was second-gear stuff for Captain Ravishing.
Catch A Wave's win got him automatic entry into the Miracle Mile where he will be just the second entrant in Australasia's premier sprint race for trainer Andy Gath, a hugely successful trainer for more than 30 years.
And he will be racing with his passionate and late owner, Richard Matthews, looking down. Matthews lost a long battle with illness last September.
"This horse, this race [Miracle Mile] just means so much," Gath said. "There are so many layers to it. Richard was such a loyal owner and friend. I just wish he was here to see it, to be at Menangle."
Captain Ravishing relied on the Miracle Mile field selection panels' discretion to get a berth. Menangle CEO Bruce Christison unashamedly admitted the young star's previous form and flair made him an attractive option.
"We want the biggest names and best horses in our biggest race," said Christison.
They've certainly got that.
Can Catch A Wave reproduce that monstrous Chariots Of Fire win?
Did Captain Ravishing have an off night or is he not the horse we thought he could be?
Captain Ravishing is one of a staggering four pacers from the eight starters in the Miracle Mile for champion Victorian trainers Stewart and Tonkin. The others are: Honolua Bay, Mach Dan and Hurricane Harley.
Of the open-aged horses, none are going better than Honolua Bay. He won all three heats of the Inter Dominion late last year before a huge third in the final.
Honolua Bay then brilliantly won the Hunter Cup on Feb. 4 before his astonishing last-to-first Miracle Mile qualifier win in a 1:49.2 mile at Menangle on Saturday night (Feb. 25).
Maybe he's improved since the Hunter Cup, but it's worth noting Tonkin's comments in the moments after Captain Ravishing won on the same night Honolua Bay won the Hunter Cup.
Asked by the media who would be the better chance of the two in the Miracle Mile, without hesitation, Tonkin said: "Oh, Captain Ravishing, no doubt."
This should be a race to remember.