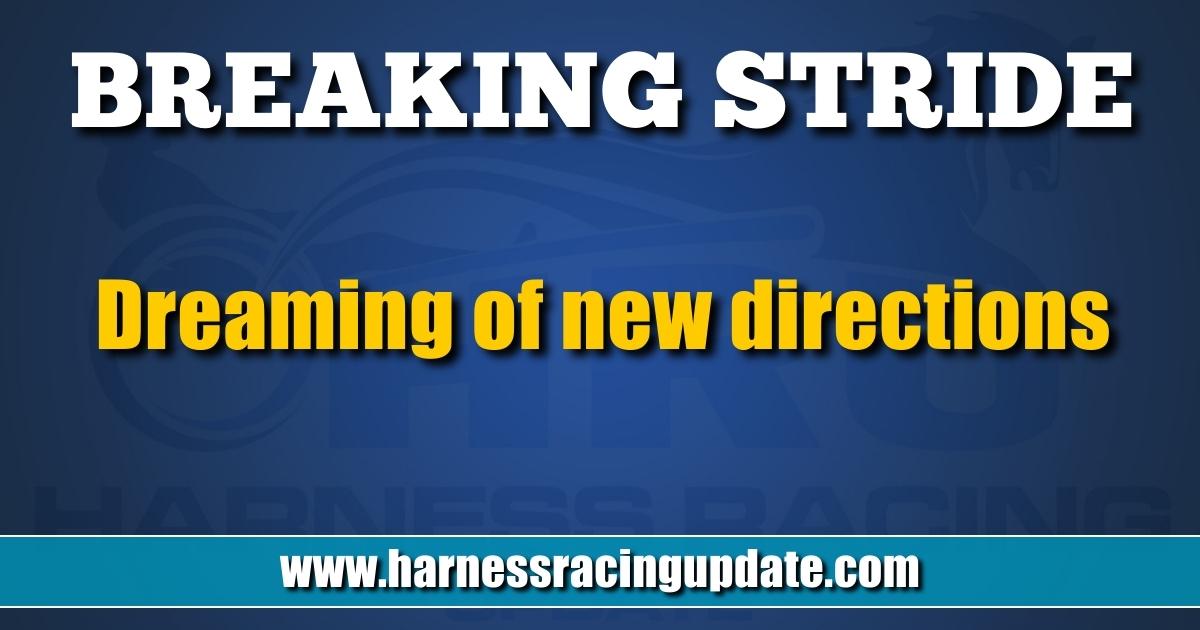 Dreaming of new directions
"It is never too late to be what you might have been." — George Eliot
by Trey Nosrac
Winning a $1,000 wager on a horse race is nice but not much of a dream. The reward is fleeting. Money comes and goes. Raising or selecting a yearling that evolves into a fine racehorse is a much more fulfilling dream. The best future for our sport may be to shift away from dependence on pari-mutuel gambling toward participants chasing long-term dreams.
Reality will force our hand. The battles for sports gambling dollars are fierce and our horse racing warriors face long odds against the giant invaders. References to Custer's Last Stand, The Alamo, The Charge of the Light Brigade, and Napoleon's Invasion of Russia are tempting, but let us remain positive. And we should be positive. The assault may force us into an exciting and enjoyable future.
We did not ask to change course, but complete reliance on pari-mutuel wagering for a slow-paced sport in a universe where everyone can wager on everything is beyond challenging. Should the money streams dry up, where do we go? Who will lead us out of the harness racing wilderness?
A consortium of our breeding farms taking the reins for planning and implementation may be an answer. We should emphasize that every racehorse is a personal franchise and lean heavily into stakes racing. Of course, we cling to every dollar available, including the casino funding. Perhaps we should reallocate the money towards a new harness racing structure and create a self-contained ecosystem where individuals and groups compete for the best yearling. Many already play this game, and reconstruction may simply be jettisoning the segments we do not need.
Make a mental list of the aspects of our sport that give you the most pleasure.
Here is mine:
• The birth of a foal.
• Signing the sales ticket for a yearling.
• Visiting a training session in the winter and early spring.
• Qualifying day.
• Buying or selling a horse on-line.
• Reading sales catalogs looking for a hidden gem.
• Fractional ownership.
• Competing for a check in a stakes race at any level.
• Planning and dreaming about the career of a yearling.
• Being part of a unique sport with great people.
• The opportunity to own and manage a young harness horse.
• Long-term dreams.
On the other side, this is a list of things that lessen my pleasure in our sport:
• Overnight racing.
• Winter racing.
• Claiming races.
• Monotony.
• Races filled with horses that are meaningless to me.
• Sharp gambling minds who will crush me in a pari-mutuel world.
• Artificial intelligence wagering conglomerates.
• Boredom and treadmills.
• Empty racetrack grandstands.
• Aged racehorses grinding out a living.
• An endless racing season.
• Selling a stale product.
We need to sell something to dreamers. Ask yourself, would you prefer watching the same movie 10 times or taking a stab at making a movie? Would you rather watch a golf tournament or play a round of golf, visit a cottage or build a cabin or read or write a book? Would you prefer to wager on a trotting race or own a trotter? Many people are passive in their pleasure pursuits, but a solid core long to be in the game. We have one of the few pursuits that allow deep immersion via ownership. Ownership is a unique asset, a unique niche.
The ability to tailor expenses allows individuals of all pocketbook sizes to play the horse ownership game, perhaps our sport's best selling point. Many of you are familiar with the joys and disappointments of raising, buying, selling, training, dreaming, studying and researching the career of a young harness horse. It is exciting to calculate what racing level your horse should compete at and meet friendly competitors in the same world. Sure, it has heartbreaks, but ownership is fun and could be more fun in an age of high technology and instant communication if we focused on this part of our sport.
The past five years have been my favorite in my harness racing preoccupation because I leaned into the items in the first list and avoided the second one. My money situation was not favorable, several horses never made it to the racetrack, but my overall experience was positive. I remained pumped about the next racing season for a single reason: there is a place in this sport that allows me to dream actively.
Let me approach my theme from a different direction: the future.
Consider me as a canary in the coal mine. My horse racing gambling days have dwindled to almost nothing. You all understand the internal, external, monetary and demographic indicators pointing to the likelihood that our traditional wagering engine will sputter.
However, if the current purse structure for stakes racing at each level remains relatively stable (improvements appreciated), people like me will continue to play. If the stakes payments and other revenue streams that support expanded stakes racing are palatable in my state or any state we choose to race in, if we have enough opportunities to race our stakes horses, everything else can go.
Participants in a new, condensed structure could find a fun little sport. We may become a boutique sport, a niche sport, and a pay-to-play sport. But we will have a future and have fun racing and paying for our dreams. If someone builds this friendly little sporting universe for racing our horses, we will come and we may create a situation where new people with active sporting dreams will want to join us.