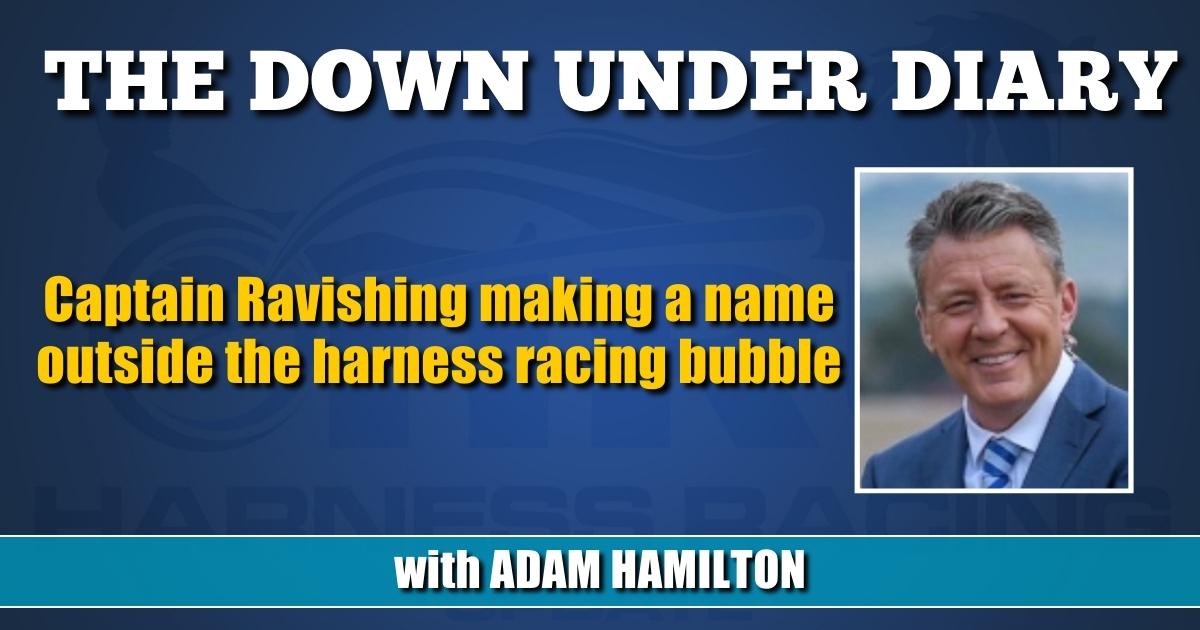 Captain Ravishing making a name outside the harness racing bubble
by Adam Hamilton
Captain Ravishing could be a once-in-a-generation horse.
It's a heck of a tag to give the young pacing sensation, but the times he's been posting and margins he has been winning by speaks to something very special.
And he's raced just 13 times.
The son of Captaintreacherous is a bundle of speed and excitement.
Captain Ravishing has won nine of his 13 starts, but it's his seven-out-of-eight victories for champion trainers Emma Stewart and Clayton Tonkin which have set tongues wagging.
Those seven wins have been by a total margin of 133.4m: that's an average of more than 19m per win.
He paced in a career-best 1:50.9 mile rate for 1,720m winning the $A100,000 4YO Bonanza while never seeing the pegs until moving to the lead down the back straight at Melton on Feb. 4.
But his greatest speed blitz came in his previous start, in the Group 1 Breeders Crown 3YO final at Melton on Nov. 19 last year.
Captain Ravishing again sat parked, this time over the longer 2,240m trip, and powered away to win by 28.8m.
His 1:51.1 mile rate for the longer trip obliterated the all-aged Melton track record and it came on a cold and wet night when the track was anything but lightning fast.
Australia's best known race caller, Dan Mielicki, admits being obsessed with Captain Ravishing. He called that Breeders Crown win and said: "Captain Ravishing, we salute you. You are a star.
"He's gonna be the most talked-about horse anywhere in Australasia."
Captain Ravishing is so captivating to watch in full flight, he's getting that crucial cut-through outside of the harness racing bubble.
Champion Australian jockey Blake Shinn tweeted after his latest win: "What a champion!"
While he is still a young star on the rise, Stewart and Tonkin don't even try to hide their huge opinion of the colt.
They won the feature race, the $A500,000 Hunter Cup, at Melton last Saturday night (Feb. 4), but spent more time talking about Captain Ravishing's win in a support race earlier in the night.
"He's just a complete excitement machine," Tonkin said. "I wouldn't say I've trained a better horse. To see him come out first-up, sit parked and go 1:50.9 is something else. Horses don't do that. [Driver Mark Pitt] didn't even pull the plugs."
Stable driver Pitt, who has driven many of Tonkin and Stewart's stars headed by the injury-plagued but freakish Ride High (16 wins from 18 starts), is in awe of Captain Ravishing.
"It's hard to explain how awesome that felt," Pitt said. "When you say go, he just takes off. He is so explosively fast. It's a long time since I've had a feeling like that. I'd go back to Ride High.
"He did that easily tonight, too. He switched-off a bit at the finish, but if I'd given him a flick or pulled the plugs, there'd have been a lot more there."
Back to Tonkin, who was asked straight after stablemate Honolua Bay won the Hunter Cup whether he thought he or Captain Ravishing was the stable's best hope in the upcoming $A1 million Miracle Mile at Menangle on March 4, without a moment of hesitation, said: "Captain Ravishing for sure."
It's that Miracle Mile when Captain Ravishing will be tried for the first time against Down Under's best open-class pacers.
Before then, he looks to take Australia's biggest 4-year-old race, the Group 1 Chariots Of Fire at Menangle on Saturday (Feb. 18).
Everything says Captain Ravishing will test the Down Under record mile time of 1:46.9 — set by My Field Marshal winning the 2018 Miracle Mile — if he's asked to in the Chariots Of Fire.
Do the math and it's logical, given he's gone 1:51.1 for 2240m around the tighter and slower 1000m Melton track. Now he'll go to the 1400m Menangle track, which is at least two seconds faster, and drops back to a mile.
Everyone will be watching the clock on Saturday (Feb. 18).
It's already clear how fast Captain Ravishing is and his next pair of mile assignments are right in his wheelhouse, but the majority of Down Under's biggest races are contested over staying distances, like the Inter Dominion and Hunter Cup.
And that's the unknown with Captain Ravishing.
His one defeat for Stewart and Tonkin over 2,760m in the Victoria Derby final on Oct. 8 was when he was simply outlasted by his very exciting contemporary Leap To Fame.
He tried to go toe-to-toe with Leap To Fame, who led with Captain Ravishing sitting parked, but was beaten rounding the home turn and finished 14.3m away in fifth.
It's hard to see how Leap To Fame could beat Captain Ravishing in a sprint race, but stretch to middle distance or staying tests and things become interesting. And that's why the world's richest harness race, the inaugural $A2.1 million TAB Eureka looms as the most exciting race of the year at Menangle on Sep. 2.
It's very likely to be the next time Captain Ravishing and Leap To Fame clash.
And — and this is a big and — it's over 2300m at Menangle.
More immediately, it would be a shock if Captain Ravishing doesn't win the Chariots Of Fire before we get to see him against some serious, more seasoned rivals for the first time in the Miracle Mile.
Long may the excitement continue.