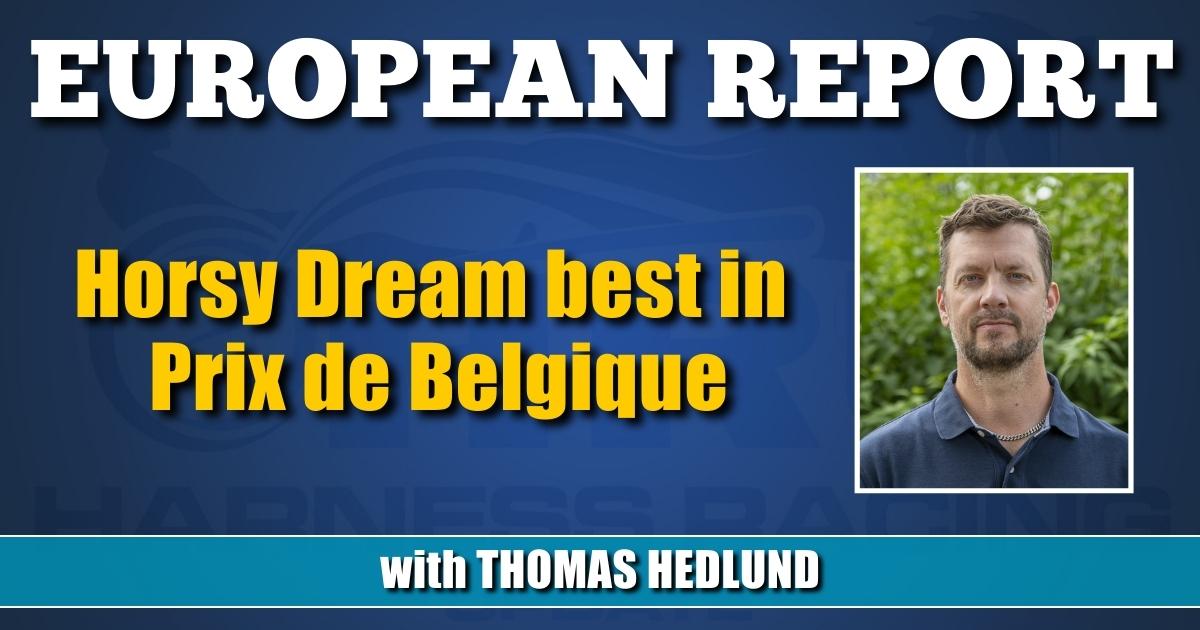 Horsy Dream best in Prix de Belgique
by Thomas Hedlund
The last B-race, Sunday's (Jan. 15) $125,000 Prix de Belgique, resulted in two new names for the $1,075,000 Prix d'Amérique to be raced at Vincennes on Jan. 29.
Pierre Belloche's Horsy Dream (Scipion du Goutier) was already qualified for the Prix d'Amérique after his victory in the $215,000 Prix Tenor de Baune on Dec. 24 and in the hands of Eric Raffin, the 6-year-old showed that he will be a serious factor even when most of the top names in Europe contest next week's big event.
From fourth over, Horsy Dream quite easily sprinted to win in a mile rate of 1:58 over 1.7 miles while Decoloration claimed his spot in Prix d'Amérique as runner up. Philippe Allaire trained Hohneck was basically already in the Prix d'Amérique since his lifetime earnings are enough to qualify, but he finished third after some decisive work done by the judges in Paris.
Replay here.
In fact, Hirondelle Sibey finished quickly from far outside on Vincennes' home stretch and she was second to the winner Horsy Dream, but her gait was not satisfactory enough for the judges and she was disqualified.
Gu d'Heripre was seen in position outside of leader Beads and he could have secured a spot in the Prix d'Amérique after the disqualification of Hirondelle Sibey, but he too showed problems keeping his gait in the stretch and it was very close that he made a break shortly before the wire. Instead of grabbing the bronze medal, the judges disqualified Gu d'Heripre, so Hohneck, the horse who finished fifth in the race,, got his free ticket due to the mistakes of some of his opponents.
Horsy Dream and his crop brother Hooker Berry both
showed that they are well prepared ahead of the Prix
d'Amérique. Hooker Berry, who won the $125,000 Prix du Bourbonnais in December, was fourth after the two disqualifications and he will be one of the hottest contenders in the big race next week.
TROTTERS QUALIFIED FOR PRIX D'AMÉRIQUE 2023
$125,000 Prix de Bretagne (Nov. 20)
Hip Hop Haufor
Italiano Vero
Ampia Mede Sm
$125,000 Prix du Bourbonnais (Dec. 12)
Hooker Berry
Hussard du Landret
Etonnant
$215,000 Prix Tenor de Baune (Dec. 24)
Horsy Dream
$215,000 Criterium Continental (Dec. 24)
Idao de Tillard
$125,000 Prix de Bourgogne (Jan. 1)
Delia du Pommereux
Flamme du Goutier
Ampia Mede Sm
$125,000 Prix de Belgique (Jan. 15)
Horsy Dream
Decoloration
Hohneck
SAME STORY IN PRIX DE CORNULIER?
Thierry Duvaldestin's Flamme du Goutier will race Prix d'Amérique next week, but already this weekend the 8-year-old mare will try to defend her title in the world's biggest monté race, the $755,000 Prix de Cornulier.
Flamme du Goutier had the same schedule last year and the tough mare proved to be strong enough to handle two demanding races of this kind and she will most probably be one of the favorites to win Sunday's (Jan. 22) Prix de Cornulier.
Several well-merited monté horses are on the list for Sunday's race. Though, thedefinitive entries list wasn't ready when this column was written on Wednesday evening.
Eighteen horses remained in the race at that time and Flamme du Goutier is the richest of them.
Horses announced to enter Prix de Cornulier:
Flamme du Goutier
Etoile de Bruyere
Fado du Chene
Zarenne Fas
Granvilleaise Bleue
Freeman de Houelle
Gladys des Plaines
Jerry Mom
Hanna des Molles
Hirondelle du Rib
Happy And Lucky
Fantaisie
Dynasty Peji
Edition Gema
Vaprio
Faubourg
Galipette Pierji
Europa de Chenu