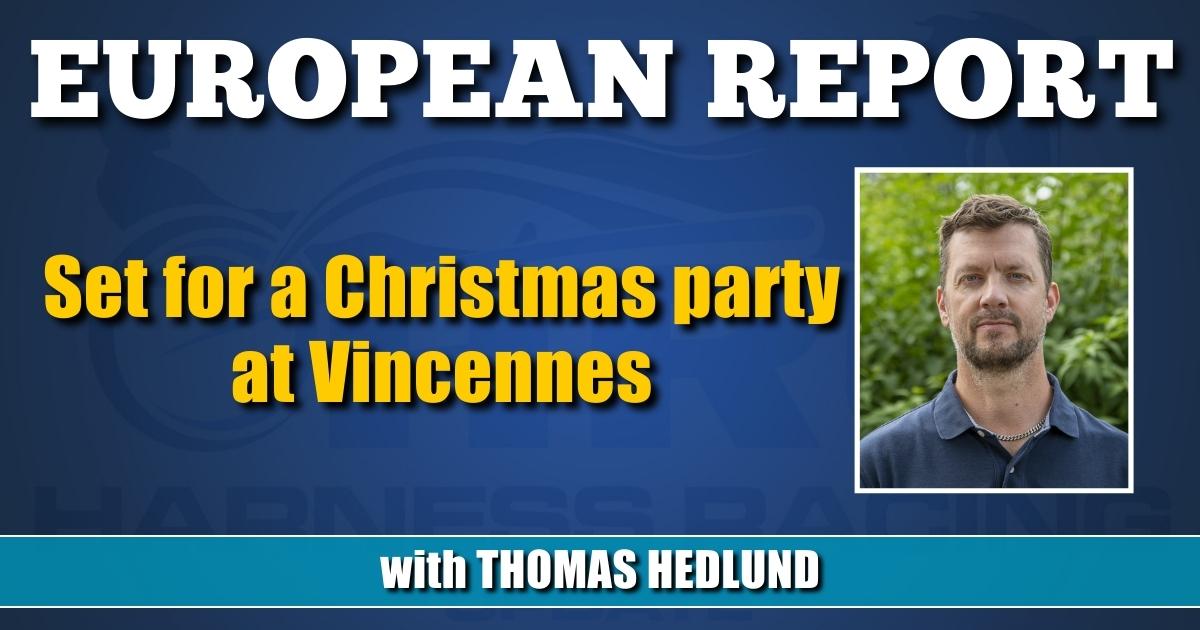 Set for a Christmas party at Vincennes
by Thomas Hedlund
Two spots in the 2023 Prix d'Amérique are at stake when Vincennes holds a great race card on Christmas Eve (Dec. 24).
The $210,000 Prix Tenor de Baune for 5-year-olds over 2,700 meters is extremely interesting this year since Timo Nurmos super trotter Calgary Games (Readly Express) will try to secure his spot in Prix d'Amérique in this race.
Björn Goop will drive Nurmos' horse and the duo will most probably be heavy favorites for the win.
Philippe Allaire-trained Hohneck is the race's most merited trotter in terms of lifetime earnings.
The $210,000 Criterium Continental for 4-year-olds behind the gate over 2,100 meters is the second qualifying race for Prix d'Amérique and some big names show up in the entries list. Idao de Tillard has belonged in the top of the French "I-crop" and he got post 2 behind the gate in Saturday's race.
CRITERIUM CONTINENTAL 2022
2,100 meter
Horse – Driver -Trainer
1. Inoubliable – Eric Raffin – Philippe Moulin
2. Idao de Tillard – Clément Duvaldestin – Thierry Duvaldestin
3. Callmethebreeze – Andrea Guzzinati – Philippe Allaire
4. Ideal Ligneries – Franck Nivard – Fabrice Souloy
5. Charmant de Zack – Jean-Michel Bazire – Alessandro Gocciadoro
6. Imhatra Am – Björn Goop – Jörgen Westholm
7. I Love Me – Yoann Lebourgeois – Tony Le Beller
8. Capital Mail – David Thomain – Fabrice Souloy
9. Inmarosa – Leo Abrivard – Laurent-Claude Abrivard
10. Cash Bank Bigi – Benjamin Rochard – Fabrice Souloy
11. Cash Maker – Florian Desmigneux – Junior Guelpa
12. Instrumentaliste – Gabriele Gelormini – Sébastien Guarato
13. Condor Bar – Mario Minopoli Jr – Salvatore Minopoli
PRIX TENOR DE BAUNE 2022
2,700 meters
Horse – Driver – Trainer
1. Hulken Sisu – Alexandre Abrivard – Jean-Michel Bazire
2. Chandelles – Nicolas Bazire
3. First Blood – Christophe Martens – Jean-Michel Bazire
4. Heraut d'Armes – Jean-Michel Bazire
5. Horsy Dream – Eric Raffin – Pierre Belloche
6. Hip Hop Haufor – Christian Bigeon
7. Happy Valley – Jean-Philippe Dubois – Philippe Moulin
8. Barbro Kronos – Franck Ouvrie – Markus B Svedberg
9. Bengurion Jet – Matthieu Abrivard – Alessandro Gocciadoro
10. Beads – Yoann Lebourgeois – Jean-Michel Bazire
11. Calgary Games – Björn Goop – Timo Nurmos
12. Honey Mearas – Örjan Kihlström – Daniel Redén
13. Hohneck – Francois Lagadeuc – Philippe Allaire
UPSET IN BIG MONTÉ RACE
The $250,000 Prix de Vincennes for 3-year-old trotters racing under saddle was held at Vincennes on Sunday (Dec. 18) and the exciting race ended with an upset winner from Christophe Clin's stable.
Florian Desmigneux rode 3-year-old Jessy de Banville (Boccador de Simm) and waited far back in the field as the pace was set high in front, where Joyeuse controlled the field in the lead. When the field was midway into the race, Jessy de Banville was still last and her finish was really strong. Shortly before the wire, Jessy de Banville got advantage and the big prize check landed at her bank account. The mile rate over 1.6 miles was 1:58.
Replay here.
The newly established group 1-race $210,000 Prix Jag de Bellouet for 4-year-olds racing under saddle was held on the same day at Vincennes and Julien le Mer-trained Ideale du Chene (Bird Parker) was pushed to the lead with some half mile to go. Ideale du Chene won the Prix de Vincennes in 2021 and collected another big win under saddle in Sunday's race in a mile rate of 1:57.2 over 1.6 miles.
Replay here.
One more big monté race was held during Vincennes' Sunday card and the $210,000 Prix Bilibili for 5-year-olds ended with victory for Laurent-Claude Abrivard's Hanna des Molles (Village Mystic). Hanna des Molles was placed as third horse, covered by Happy And Lucky and when Alexandre Abrivard pushed on the gas pedal at the top of the stretch, Hanna des Molles flew on the inside as new leader Happy And Lucky had problem holding a straight line on the stretch.
The mile rate for the winner was 1:55.4 over 1.6 miles.
Replay here.
Tomas Malmqvist trained Kamehameha (Uniclove) hit the lead after 600 meters in the $1250,000 Prix Emmanuel Margouty for 2-year-old colts at Vincennes on Saturday (Dec. 17) afternoon.
Driver Eric Raffin seemed pretty confident in the lead behind the talented 2-year-old trotter and the victory became safe in a mile rate of 2:002 over 1.6 miles.
Replay here.
The 2-year-old fillies battled in Sunday's (Dec. 18) $125,000 Prix Une de Mai over 2,700 meters and a strong winner was Fabrice Souloy-trained Kalamity d'Heripre (Un Mec d'Heripre). Franck Nivard opted a position outside of leading favorite Katchina de Simm when a kilometer remained off the race and Kalamity d'Heripre fought bravely for the win in a mile rate of 2:03 over 1.6 miles.
Replay here.