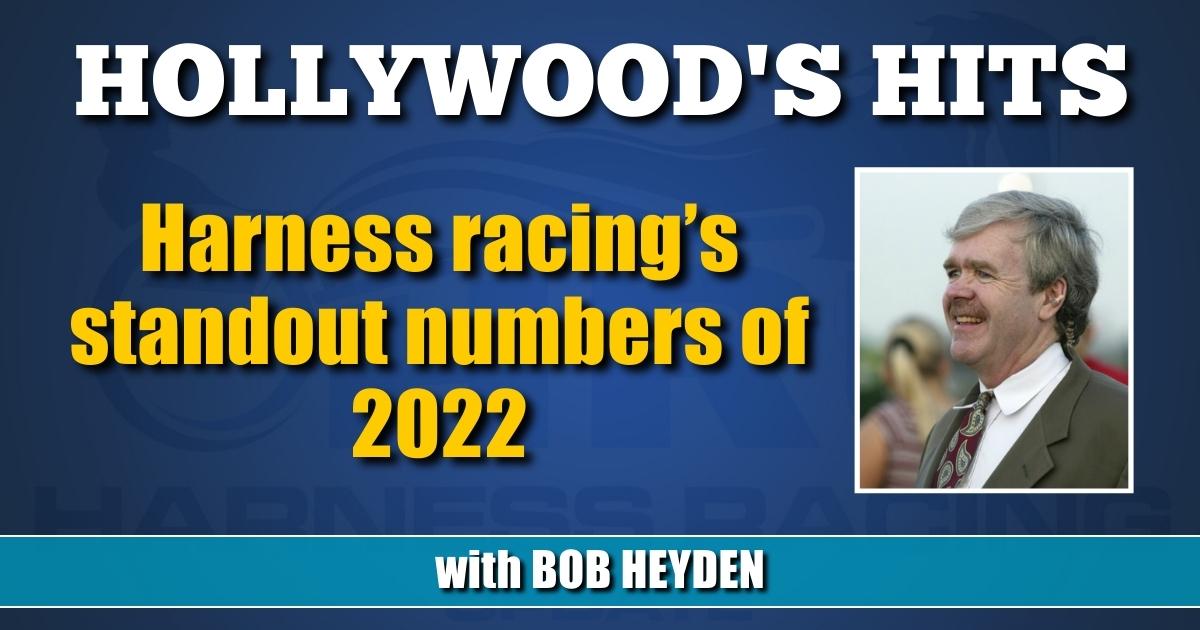 Harness racing's standout numbers of 2022
With three weeks left, these are the most outstanding numbers this year.
by Bob Heyden
Dexter Dunn has become just the fourth member of the single-season $15 million driver club.
He leads North America in 2022 with earnings of $15,077,534 through Thursday.
Currently, it is the 11th highest earnings season by a driver.
Tim Tetrick, who is second this year with earnings of more than $14.2 million, amazingly owns eight of the 12 $15 million seasons.
Yannick Gingras is on the list with the fourth richest season ever.
Brian Sears owns both the fifth and 12th best seasons.
Dunn also has a chance to join five other drivers who have piloted both the Trotter and Pacer of the Year in the same season. He drove both pacer Bulldog Hanover and trotter Bella Bellini.
In 1972, Stanley Dancer had Albatross and Super Bowl.
In 1985, Bill O'Donnell had Nihilator and Prakas.
In 1994, John Campbell had Cams Card Shark Pine Chip.
In 2012, Tetrick had Captaintreacheous and Chapter Seven.
In 2014, Ron Pierce had Sweet Lou and Shake It Cerry.
Dunn is also about to wrap up his third straight money title. At least three in a row is a very exclusive club.
Billy Haughton — eight straight from 1952-1959.
Herve Filion — five straight from 1970-1974.
John Campbell — three separate times from 1986-1990, 1992-1995 and 2001-2003
Tetrick — seven straight from 2007-2013
BRENNAN ON THE CUSP OF $200 MILLION
Driver George Brennan is some $2.1 million shy of becoming the seventh member of the $200 million club. As of Friday, he sat at $197,885,268.
BURKE'S 14TH CONSECUTIVE TITLE
Ron Burke has just passed $295 million lifetime and is wrapping up his 14th consecutive training title. Those are also the 14 biggest seasons in harness racing history. The 15th, 16th and 18th richest belong to Jimmy Takter. Mickey Burke, Sr. owns #17 and #19.
MILLER STILL GOING STRONG
Driver David Miller will be 58 on Dec. 10 and is still going strong.
Last year at 57, Miller won three divisional titles with Venerable, Perfect Sting and Horse of the Year Test Of Faith.
Only one other driver has had three division titles at age 58 or older. In 1981, Billy Haughton turned 58. That year he had divisional champs Final Score, Kading and McKinzie Almahurst.
TETRICK'S SEVEN SEEMS SAFE
Tim Tetrick's remarkable seven divisional titles in one season looks like a record that will remain untouchable for the foreseeable future. In 2012, he scored with:
Market Share, Chapter Seven, Heston Blue Chip, Captaintreacherous, Check Me Out, American Jewel and Androvette.
Dunn is the next closest with five divisional champs in 2021.
BULLDOG'S LOST STAT
When you did what Bulldog Hanover did in 2022, it's easy to overlook or forget something, right? Me too. But, after further review, Bulldog is the sport's highest-earning horse in six years. He earned $1,649,908 this year.
2021 — Perfect Sting $1,273,847
2020 — Tall Dark Stranger $1,302,681
2019 — Bettors Wish $1,643, 745
2018 — McWicked $1,573,364
2017 — Downbytheseaside $1.60 million
Betting Line, with just under $1.7 million in 2016 was the last to earn more.
One more thing on Bulldog. Care to guess how long it has been since a horse that set that all-time world record was named Horse of the Year and was also the leading money winner all in the same year?
It was 1985 when Nihilator earned $1,864,286 and set a mark off 1:49.3. What's even more amazing is the Nihilator had the pedigree to do this as much as any horse ever. Both his sire, Niatross, and his sire's sire, Albatross, turned the very same trick.