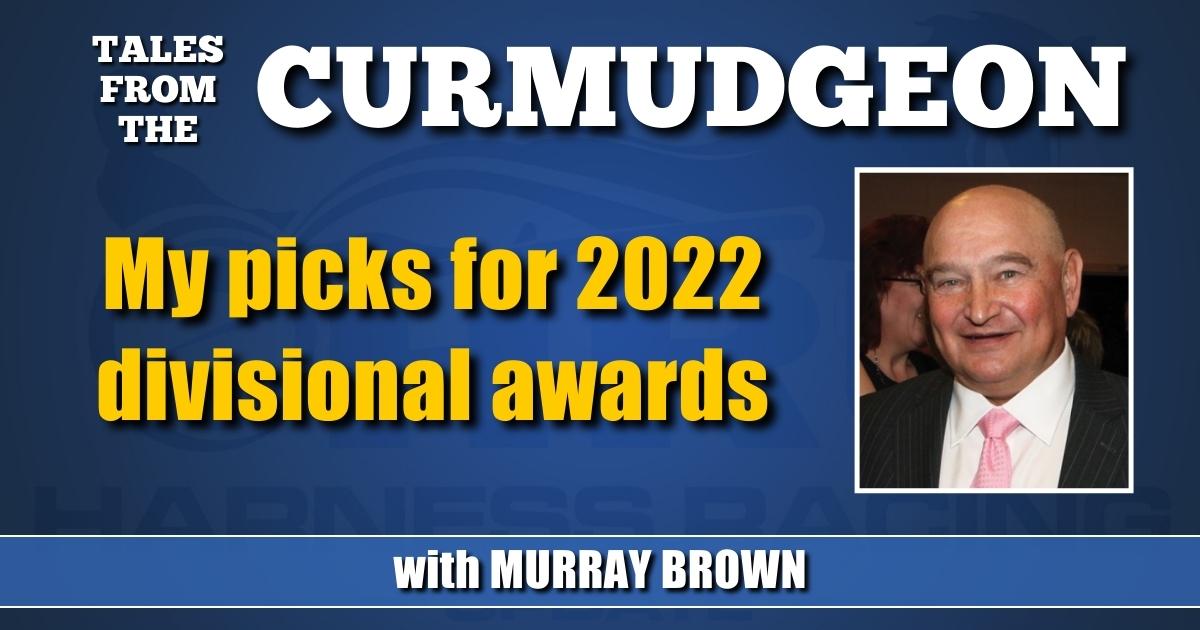 My picks for 2022 divisional awards
by Murray Brown
I believe it was 1967 when I first filled in the ballot for Horse of the Year and all the various categories. I'm fairly certain I haven't missed a year since then. If my arithmetic is correct that makes 55 consecutive years. There may be some who can beat that, but I'm guessing they are very few. Without further ado here are my picks for the 2022 season:
TROTTERS
Two-Year-Old Trotting Colt
Volume Eight
In all the years I have been going to the races and watching youngsters making their debut and early starts, there have been three colts who I said, from the very first time I saw them, "Wow! That's going to be a great one."
The first was Valley Victory. I was in Lexington and this relatively unknown colt won a race in a then spectacular 1:57 and change. My first thought was there was something wrong with the timer. That couldn't have been. He went on to show the kind of colt he was, but health issues got in the way stopping him at 3. We all know the impact he had on the breed. The second was Walner. I remember seeing him in a baby race at The Meadowlands. My first thought was "Who the hell is that!" He now appears to be dominating the breed as a stallion, as well. The third was Volume Eight. Much like Valley Victory, he emerged late. The colt exudes class. At this point he stands out over all the other colts. I was tempted to vote him as Trotter of the Year. I would have if he had raced more than he did.
TWO-YEAR-OLD TROTTING FILLY
Special Way
Much like Volume Eight stood out among the colts, so did Special Way stand out over the fillies. She won seven of her nine starts and earned $697,475 the most of all fillies and second overall leader among two year old trotters.
THREE-YEAR-OLD MALE TROTTER
Cool Papa Bell
I don't believe that there were any standouts among the male 3-year-olds. But this gelding did the job in our sport's most prestigious event, the Hambletonian. He was also the leading money winning 3-year-old male trotter earning $843,025.
THREE-YEAR-OLD TROTTING FILLY
Joviality S
This was perhaps the most difficult decision to make. If you were to say you preferred Jiggy Jog S, the only argument I could come up with is Joviality earned more money than Jiggy Jog – $1,083,642 to $924,319, respectively. They were the two leading money earners among all 3-year-old trotters. I'm not saying that either one of these outstanding fillies would do it for sure, but my feeling is they would put up a good fight against their male counterparts.
OLDER MALE TROTTERS
Ecurie D
There was lots of talent in this lot, but few of them stayed around long enough to think that they were blessed with great endurance and/or soundness. Ecurie D won three races from eight starts and earned $733,499, the most of any male trotter in this category. Back Of The Neck and Alrajah One It showed signs of brilliance but didn't show it enough.
OLDER FEMALE TROTTERS
Bella Bellini
We were blessed to see three of the greatest female trotters of this generation — Atlanta, Bella Bellini and When Dovescry do battle. They are three of the greatest fillies I've ever seen, but Bella Bellini stood out. She was good throughout the year earning $936,702, the most of all older trotters and winning nine of 19 starts; finishing first, second or third in 18 of them.
TROTTER OF THE YEAR
Bella Bellini
I was tempted to vote for Volume Eight, but ultimately decided that his limited number of starts might not might have warranted it. Bella Bellini was around from beginning to end racing against and dominating over a group containing two of the greatest female trotters ever.
PACERS
Two-Year-Old Pacing Colt
Stockade Seelster
A winner of eight of 11 races and earnings of $686,268. Some might argue that he never left Canada. I would say he beat the best that the U.S. was willing to send in winning the richest race for 2-year-olds, the
$900,000 Metro. He was excellent from beginning to when he was shut down.
TWO-YEAR-OLD PACING FILLY
Sylvia Hanover
She's another 2-year-old that never left Canada. She's big, she's strong and she's fast. That's usually an unbeatable combination and Sylvia Hanover came close to being unbeatable. She won eight of nine starts earning $675,565 and defeating everything that came her way.
THREE-YEAR-OLD PACING COLT
Beach Glass
Some might say Pebble Beach. Others might say Bythemissal. I say Beach Glass in a very close race. It came down to the last race of the season and Beach Glass decisively conquered Pebble Beach. Beach Glass won nine of 13 races and earned $1,079,649. I also thought that Beach Glass was more consistent except for a period when he had a throat issue for which he was operated on and came back stronger than ever. Pebble Beach appeared to be off his superlative game in Kentucky where he could not race without the benefit of Lasix.
THREE-YEAR-OLD PACING FILLY
Treacherous Dragon
Winner of six of 15 races and $717,835 and the richest 3-year-old pacing filly of 2022. She was good at the beginning, had a bit of a lull in the middle and was dominant at the end.
OLDER MALE PACER
Bulldog Hanover
One of a kind! A horse for the ages! What is there that can be said that hasn't been said?
OLDER FEMALE PACER
Test of Faith
Last year's Horse of the Year returns to carry divisional honors. Winner of 11 of 19 races and $820,043.
PACER OF THE YEAR
Bulldog Hanover
See above.
HORSE OF THE YEAR
Bulldog Hanover
In this scribe's opinion, anybody that votes otherwise should lose his or her voting privileges.
Have a question or comment for The Curmudgeon? Reach him by email at: hofmurray@aol.com