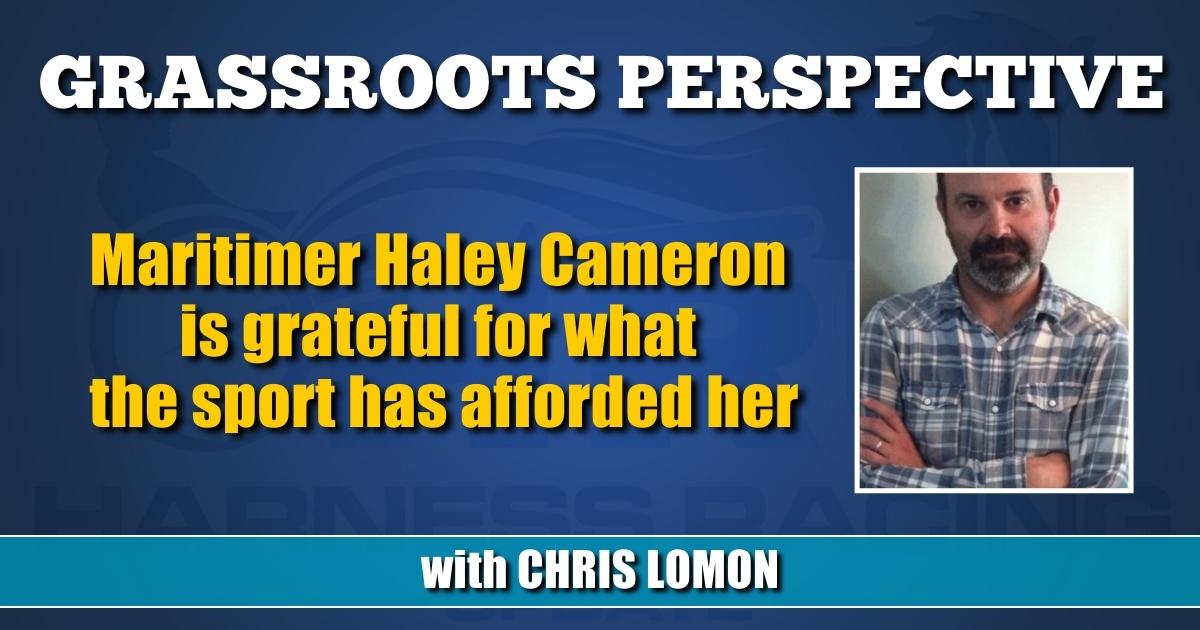 Maritimer Haley Cameron is grateful for what the sport has afforded her
by Chris Lomon
Wherever the horses are is where Haley Cameron feels most at home.
For as long as she can remember, well before she began a career in standardbred racing, the native of Antigonish, NS has always enjoyed everything equine.
So, when an opportunity arose to work with a breed of horses she had no association with, Cameron decided to accept the offer.
"I've always been around the horses and always had a love for them since I was a little girl," she said. "Around seven years ago, I heard through the grapevine that (driver/trainer) Clare MacDonald, who is pretty big in the Maritimes, was looking for a groom and farmhand, so I jumped at the opportunity. At the time, I had no sweet clue about standardbreds. I was a regular show horse girl and I also showed draft horses, but seven years ago, I set foot in the barn, and I never got away from it ever since."
It would be the start of a journey Cameron had never anticipated embarking on.
Last year, her standardbred travels took her west and south of Nova Scotia, including time spent at one of racing's most celebrated venues.
"It was a pretty big opportunity to work for Clare and her husband Kenny. Clare is the top female driver in the Maritimes and is an unbelievably talented horsewoman. I worked for her for about five years, but in December 2021, I moved to Ontario by myself and worked for (driver/trainer, and head of TheStable.ca fractional ownership group) Anthony MacDonald for a couple of months. That went well. They have an amazing operation and some really nice horses.
"I trained yearlings and broke them for them, and after that, (trainer) Brandon Mongiello and I are very close, so he asked me to come down to New Jersey. I groomed for him from February to April this year. Since I'm a Canadian citizen, I could only stay down there for a certain period of time, so I came back home. That was probably the biggest highlight for me so far. The Meadowlands is a special place, that's where Brandon raced the most. We also went to Freehold, too. I got to see a couple of horses I actually trained here, so it was nice to reconnect with them."
Upon her return to the Maritimes, Cameron experienced one of her most treasured racing highlights.
Held at Red Shores at Charlottetown Driving Park, the annual Gold Cup & Saucer race traces its roots back to the early 1960s and has drawn some of the older paces in North America over the years.
This year, multiple stakes winner Sintra took top honors in a track record-equaling 1:50.1.
"I was chosen as one of the ambassadors for the Gold Cup & Saucer, which was fantastic. I had the privilege of representing one of the horses for a fellow Maritimer, Neil MacInnis. The horse, Rhodena Road, finished in, so that was another big highlight for me."
One particular pacer, who launched his career in eastern Canada, stands out as Cameron's personal favorite.
The son of Sunshine Beach—Pacific Playmate overcame a devastating injury to earn north of $230,000 along with 21 career wins from 51 starts.
"When I was working for Clare, she started out first with Mappos Lion. He is my heart horse. He didn't race at 2, but he had his first qualifier in Truro and won his first start. He was one of the first horses I started working with and one of the first horses I jogged. I really developed a love for him. He's such a special horse."
Cameron has closely followed all of his triumphs.
On a trip to Ontario, her first order of business was to see an old friend.
"He went to Ontario because he was doing so well. The first thing I did when I got to Ontario was to go to see him. I went straight to Paul MacDonell's barn to see Mappos Lion. He definitely knew it was me. He doesn't like carrots, and I noticed there was some in his stall. I had an apple in my hand, and he loves those, so I brought it to him. He loved it. It was a really good connection to see him again, and I love watching him race."
Back in the barn of Clare MacDonald, Cameron is grateful for what the sport has afforded her.
She laughs at the recollection of how it started with one phone call.
"I'll go to Truro, (Prince Edward Island), or wherever she is. She's my go-to person. Her and Kenny are like my second parents. They are wonderful. They taught me pretty much everything I know about horses. I owe it all to them for getting me involved. I wouldn't be here if it wasn't for them."
As for what the next chapter of her racing might be, Cameron has some plans on the table.
One of them could include being closer to Mappos Lion.
"I'm definitely staying with the horses. I'd like to get my trainer's license. I'd like to move to Ontario at some point and race out of there. I'd also like to get back to New Jersey. I have some good friends there and I really enjoy the atmosphere and the racing."
When she isn't spending time with pacers and trotters, Cameron, perhaps not surprisingly, is working with other horse breeds.
And just like her standardbred life, travel is a big part of her gig.
Her latest road trip took her to the Hoosier State.
"My life is all about horses, and then repeat. I also show heavy horses, like Belgians and Clydesdales. Every summer, I go to exhibitions around the Maritimes and show them. A couple of weeks ago, I was in Indiana showing horses and we sold five, which was amazing. I love them almost as much as the standardbreds."
Regardless of where she happens to find herself, the one certainty is that horses will be front and center.
"Where they are, that's where I'll be."