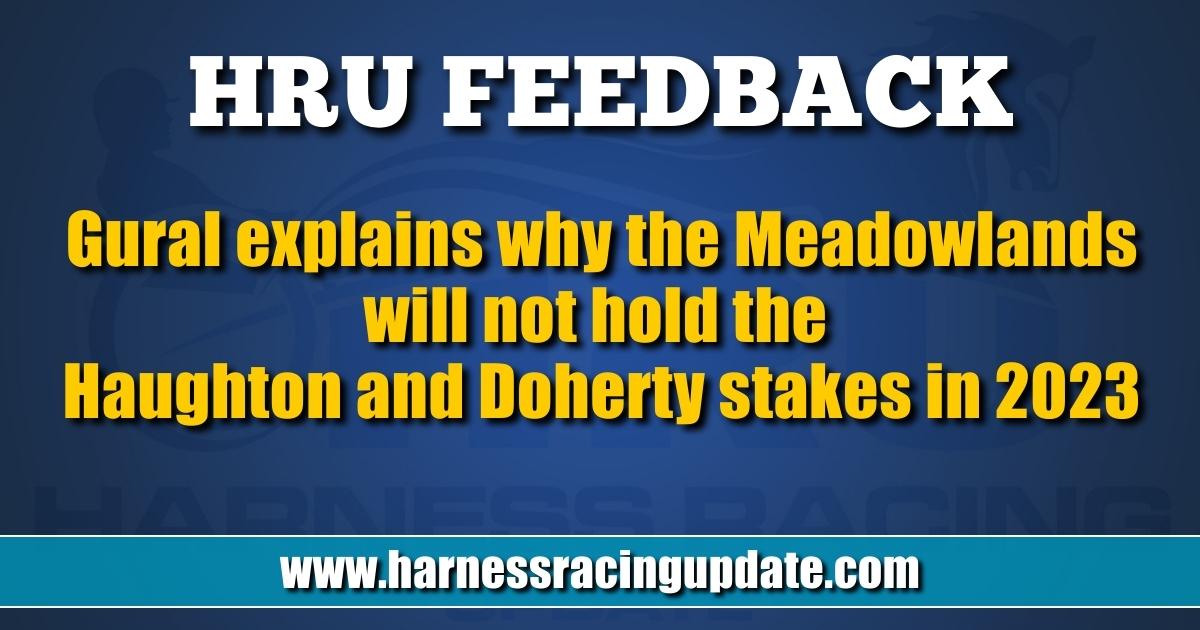 Gural explains why the Meadowlands will not hold the Haughton and Doherty stakes in 2023
Several people have asked why the Meadowlands would give up two major, prestigious 2-year old races (click here) and the answer is very simple. Unlike all of our competitors who receive massive subsidies from slots, the standardbred industry in New Jersey only receives $10 million which we share with the breeders and Freehold. Because I am a horsemen I also give $3 million to $4 million per year from our sports betting profits for purses, even though this year I expect we will lose over $5 million on racing.
Next year is the last year of the subsidy and without it we will be doomed because I am obligated under a law that the horsemen advocated to race a minimum of 90 days at the Meadowlands in order to have sports betting. Without the subsidy, we would have to drop all of the stakes races and use the money from sports betting and the handle to cover the cost of our overnight races since they would have to be competitive with the purses offered at Yonkers, Pocono and Chester. Now that Kentucky has more money than they know what to do with and breeders are either sending mares to Kentucky so that they are duel eligible or breeding to Kentucky stallions because of the lucrative purses available I have to do everything possible to protect the Jersey breeding industry. By making this change we are able to start the NJ Sire Stakes two weeks later which everyone has asked for and have the finals on Hambletonian weekend followed three weeks later with the NJ Championship Series for 2- and 3-year-olds. I have no choice but to utilize the funds we have to support the Jersey breeding program so that we have a fighting chance to get the subsidy extended.
One other factor is the fact that so few horses entered this year because of the competition, but that was not the main reason. The other question that comes up involves The Gural Rule where people tell me why don't I drop it because it is not working and I agree it's not working. Having said that, we saw with Bulldog Hanover that it would have worked if the breeders had not forced WEG and the Hambletonian Society to drop their support. Most of the breeders, like myself, are older and have no one in the next generation interested in taking over. As a result, they are more interested in short term gains than the long term future of the sport. As the owner of the Meadowlands I feel a moral obligation to try to create interest in our sport like we saw in Dayton when Bulldog raced around midnight and the place was packed. I have no intention of changing the rule and hopefully the young people in the sport remember that at least I tried. I hope that answers the questions that have been raised.
Jeff Gural / owner Meadowlands Racetrack
Doc in defense of Shadow Play
Just reading your story on HRU about Bulldog's final race (click here), and quite a horse he is indeed. Very good article, but I do take exception to your "sired by an unfashionable stallion Shadow Play" comment.
Amongst active Canadian based stallions today, Shadow Play stands a solid third with total progeny earnings of almost $58 million and the sire of six millionaires, including two x $2 million earnings, one of which happens to be Bulldog, the fastest standardbred in the world, of course.
Compare the stats to Sportswriter who has bred more mares and only has one millionaire in Jimmy Freight and a much lower average per eligible starter.
Other Ontario stallions are far behind and Shadow Play never books like Somebeachsomewhere or what you might perceive as fashionable stallions, he did it all the hard way and we (RG McGroup, Serge Savard and myself) are very proud of him and his accomplishments on the track.
How many Canadian-based 3-year-olds have made $1.5 million racing in the past 20 years?
And I am not sure what the Canadian Harness Racing Hall of Fame did by nominating such an unfashionable sire to the HOF.
Dr. Ian Moore, DVM / Ontario