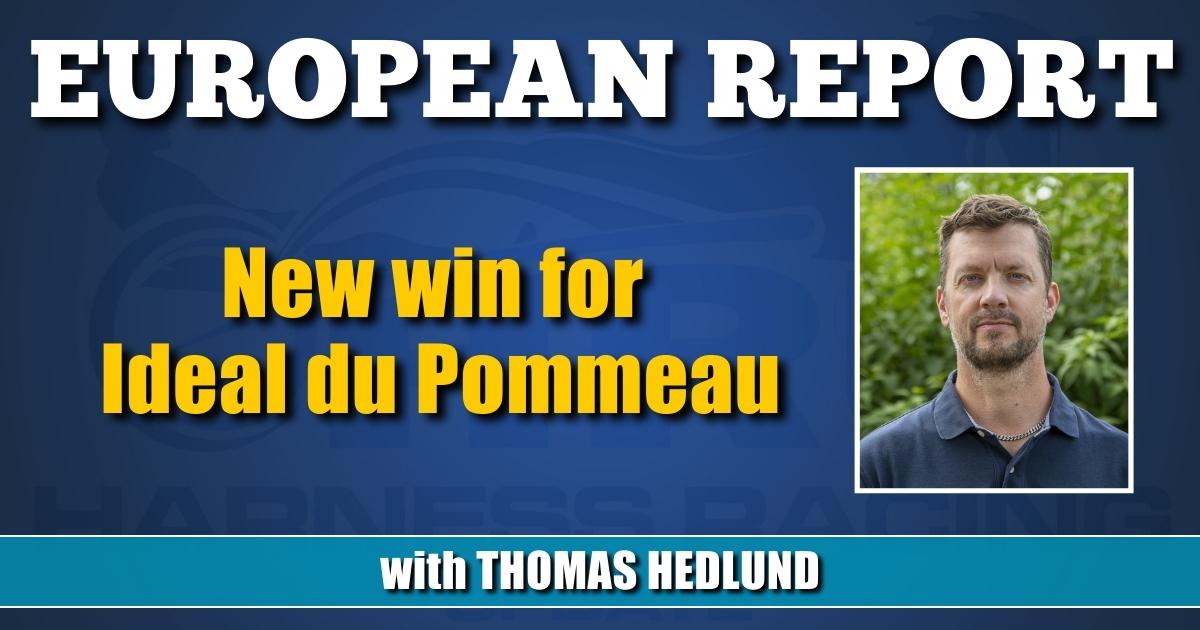 New win for Ideal du Pommeau
by Thomas Hedlund
Sébastien Guarato's European Derby winner Ideal du Pommeau (Ready Cash) showed up at Vincennes on Saturday (Nov. 26) afternoon and in a tight finish, the 4-year-old held on to victory from the lead in the $85,000 Prix de Chenonceaux over 2,700 meters.
Driver Matthieu Abrivard played it safe from the start as he let Ideal du Pommeau begin his journey towards the lead three wide the first half mile. Just before the uphill part of Vincennes' track, the favorite was pushed to the lead and everything seemed calm, but the home stretch became exciting when outside attackers Heliade du Goutier, Inmarosa and Ideal Ligneries closed the gap to the leader.
Ideal du Pommeau won in mile rate 1:58.2, stable mate Heliade du Goutier was runner up and Inmarosa finished third.
Replay here.
KARAT RIVER BEST IN SOLVALLA GRAND PRIX
A 4-year-old trotter who debuted on the racetracks this year was best when the $80,000 Solvalla Grand Prix was held at Solvalla on Friday (Nov. 25) night.
Johan Untersteiner's Karat River (Muscle Hill) made his debut in March this year and the season has been very successful for the 4-year-old horse. After his bronze medal in $320,000 Breeders Crown two weeks ago, Johan Untersteiner aimed for the race at Solvalla Friday night and after a nice second over trip, Karat River was strongest on the stretch when leader Asteroid seemed to have the race in his hands.
Nine wins in 15 starts and $135,000 in earnings is the summary of Karat River's 4-year-old season, his first on the tracks.
Asteroid finished second ahead of first over trotter Sourire Frö and Karat River won in a mile rate of 1:57.2 over 1.3 miles. Replay here.
Saturday's (Nov. 26) highest-rated race at Solvalla was the V75 final for older elite trotters, the $80,000 Silverhästen, where Timo Nurmos' Brother Bill (From Above) was the big favorite. Magnus A Djuse drove Normos' horse and when the duo hit the lead after a half mile the race was over. Brother Bill continues to win prestigious races in the elite during the fall, just like last season and without much effort the 6-year-old strolled to a safe win in a mile rate of 1:55.3 over 1.3 miles.
Replay here.
Honey Mearas (Readly Express) continued to establish her position as number one among mares in Sweden as she claimed the $60,000 Stoeliten Final after a fourth over trip for driver Örjan Kihlström. The mile rate was 1:55.4 over 1.3 miles.
Replay here.