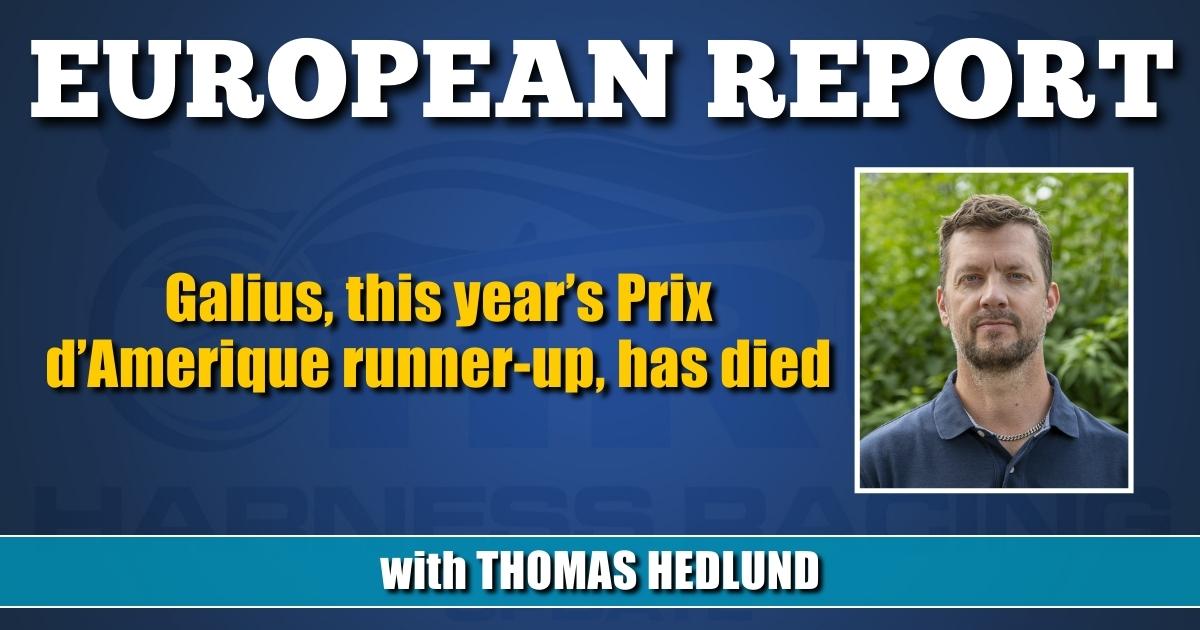 Galius, this year's Prix d'Amerique runner-up, has died
by Thomas Hedlund
Galius, this year's Prix d'Amérique runner up and a probable favorite in last Sunday's (Nov. 20) $125,000 Prix de Bretagne, died the day before. He was 6.
The cause of death has not been determined, but according to French media Galius could have been poisoned in some way. Why and how Galius died are obviously questions that need to be answered, but, for now, this is a tragic moment for all of Galius' connections.
BIGEON IN PRIX DE BRETAGNE
Christian Bigeon sat behind his 5-year-old Hip Hop Haufor (Up And Quick) when the first B-race, the $125,000 Prix de Bretagne, was held at Vincennes on Sunday (Nov. 20) afternoon.
Hip Hop Haufor left fifth over on the back stretch, covered by Hussard du Landret and at the top of the stretch Bigeon attacked four wide with good speed.
Four-year-old Italiano Vero finished as well as the winner as runner up and third was Hussard du Landret, but he was moved down in the result list due to an interference towards Flamme du Goutier on the stretch.
Instead, Ampia Mede SM claimed the third and last spot for the Prix d'Amérique from Sunday's race.
The mile rate for Hip Hop Haufor was 1:56.3 over 1.6 miles.
HORSES QUALIFIED FOR PRIX D'AMERIQUE 2023
Prix de Bretagne
Hip Hop Haufor
Italiano Vero
Ampia Mede SM
JUST A GIGOLO BY A NOSE
Philippe Allaire trained Just A Gigolo (Boccador de Simm) has been dominant in the French "J-crop" of 3-year-olds
and in Sunday's (Nov. 20) $125,000 Prix Guy Deloison he was saved by the wire as Juninho Dry seriously challenged for the win.
Just A Gigolo attacked from third over with a half-mile to go in the 2,700 meters long race and before the last turn he was in front. Juninho Dry's last attack was strong and he approached the leader the closer the wire got, but Just A Gigolo held on with a nose in a mile rate of 1:58.1.
Philippe Allaire's trotter has collected 13 wins in 18 attempts so far in his career
FRENCH TROTTER BEST IN MODENA
Laurent-Claude Abrivard had his 4-year-old Carlomagno d'Esi (Love You) in the race when the $215,000 Gran Premio Unione Europea was on the card in Modena, Italy on Sunday (Nov. 20) afternoon and the trip was successful.
Alessando Gocciadoro claimed the filly division, the $80,000 Gran Premio Unione, with his Clarissa (Exploit Caf), who was strongest after a first over trip, and the dominant Italian trainer had a great shot even in the open division. His Charmant de Zack didn't get his chance to challenge for the win until it was too late, since Carlomagno d'Esi's driver Andrea Farolfi made sure that Charmant de Zack wouldn't get enough room to sprint.
Farolfi opted a first over trip with Abrivard's 4-year-old and Carlomagno d'Esi proved to be strongest when Charmant de Zack's last attempt was staged too late.
The mile rate was 1:57.4 over 1.3 miles.
GOCCIARDO AND SMORGON WINNERS IN ROME
Two finals of the $160,000 Gran Premio A.N.A.C.T for 2-year-old trotters were held in Rome on Saturday (Nov. 19) night and Marco Smorgon-trained Ebano d'Arc (Bird Parker), paired with Andrea Guzzinati, impressed via a first over triumph in 1:59.1 in the division for colts and geldings.
Gocciadoro continues to capture big trophies in his home country and the trainer and driver won the filly division with his Ete Jet (Maharajah) after a trip in front. Ete Jet came home in 1:58.3